Coping with the growing stray animal problem
February 01, 2008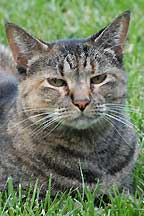 It's tough not knowing where your next meal is coming from...but still better than being picked up by the animal control warden..... (File photo by Vince Rosati)
If the fact that 71% of the pets received by the Joplin Humane Society are eventually euthanized or that the number of stray pets through the years is trending upwards along with your tax dollars, then you as a Joplin citizen would be pleased that a newly revised chapter of the animal code is now in force.
Effective January 1, 2008 changes were made to Chapter 18 - Animals of the Joplin City Code by an ordinance passed by the city council last November. Statistics are revealing that of the 4557 animals in the care of the Joplin Humane Society in 2006, only 12 percent were reclaimed and 14 percent adopted.
While the overall theme of the revisions was to reduce the number of animals brought to the Joplin Humane Society, Dan Pekarek, director of the Joplin Health Department, said that other changes redefined what was considered a "potentially dangerous" animal.
As an example, Pekarek spoke of someone who was afraid to mow the last three to four feet of her yard because it was near a fence in which a neighbor's dog leaned and snarled. He said that "acts aggressive" has been watered down to include "causes fear." The new language, he said, helps the court deal with problems occuring in one's own backyard.
The January 2008 edition of "The Joplin Citizen" had rather strong language about "stray cats not to be fed," but Pekarek qualified the warning. While the revision is aimed at the one person feeding 15-30 cats and causing a nuisance in a neighborhood, anyone feeding one stray cat whose breeding may be controlled, that is not a risk of disease or injury and does not cause a neighbor to complain, is not subject to the code.
Changes aimed to reduce the animal population that will hit pet owners' pocketbooks include an increase in the annual license fee for dogs or cats not altered from $5.00 per animal to $20.00. In addition, owners retrieving their pets from the care of the Joplin Humane Society will be paying an increased fee of 45-cents to $4.70 daily for normal care or 50-cents to $6.00 for quarantined care. The increase, according to Pekarek, was to allow daily charges to be set based on changes in the consumer price index.
Most revisions attempting to reduce the number of animals that potentially could run at large require citizen complaints for enforcement. New regulations state that each residential household would be limited to one litter of cats or dogs per year and any young produced in a household already containing the allowed maximum of four cats and/or dogs must be found new owners before the eleventh week...but not on public or private property without appropriate permission.
A new section has been added dealing with outdoor cats. "Any cat allowed to be in the outdoors and unsupervised for any period of time [as if cats allow supervision when outdoors] shall [not must?] be spayed or neutered," section 18-96 states...unless "a licensed veterinarian states in writing that the animal is unfit to undergo the required surgical procedure due to an extreme health condition" [but then why would the cat be allowed to wander?].
Hikers, especially those who use the Campbell Parkway paths, might be disappointed to find out that a pooper scooper section has not be added by the council. Pre-existing language may be found regarding the disposal of litter and droppings from animals like chickens but pet owners who walk their dogs along hiking paths still are not required to remove their dogs' poop. [See an article posted here.]
The changes so far have not been posted on the city's website. However, those interested in becoming acquainted with the code now or when the changes are made should go here.