Young professionals set groundwork for new network
May 15, 2008
The Joplin Area Chamber of Commerce assembled them, but the consensus of those attending a forum for the organization of a Young Professionals Network was that although the chamber was a natural fit in coordinating efforts in the early stages, if the group wants to be a dynamic force, it should stand alone.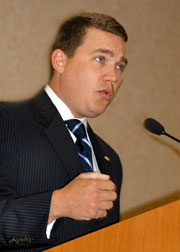 Moderated by Ryan Stanley, pictured left, a young financial planner for Edward Jones Investments, the forum held May 14, 2008 at the Holiday Inn, focused on how a young professional group would be an asset to the community and how it could assist its members' professional development.
Organizing a young professionals group was the combined vision of Nancy Good and Dan Stanley. Both have reputations for working tirelessly to make the Joplin community a better place in which to work and live.
Good, owner of the Title Place on 32nd Street, told of how she got her training in how to be a "leader of tomorrow" as a member of the Jaycees but she lamented over how the mission of that group had changed and how in the community it no longer was the powerhouse it once was in the 1960s.
We're not all born leaders. We need to be trained. Schools cannot assume total responsibility for this, Good said. She concluded by quoting the Jaycee Creed written by C. William Brownfield which credits the importance of faith in God, brotherhood of man, free enterprise, a government of laws and service to humanity.
A financial planner like his son Ryan, Dan Stanley considers preparing for a shift in the mantle of leadership significant. He quoted an article in Fortune about how coddled by their Baby Boomer parents, members of Generation Y, represent an almost untenable influence in the workforce, yet how this new independent-thinking group needs to be included in today's decision-making.
He spoke about the sudden death of his father at age 62 and how he at age 24 was thrust into a role for which he had no training nor experience. He credits a group of business leaders--J.T. Jones, Bunny Newton, Larry Hickey, among others--who taught him civic involvement and leadership. But in mentioning his experience he isn't leaving out that the old guard should be open to new ideas.
Gary Duncan, Freeman Hospital's president and CEO, reminded the young audience that they were the future and that the future is now. How to get young people tuned in, he said, would be an absolute first for Joplin. What should they be doing about housing revitalization, what to do about Main Street's block of homeless and how to attract contemporary jobs to town. He also reminded everyone that in 2010 Wilson, Stevenson, Ruestman and Nodler will have timed out in their present political positions. Who will replace them and how to merge the values of past generations with those of the future, he emphasized, should be addressed. (In dealing with a disconnect between the young audience and politics, it was subsequently decided that a focus group within the main organization should center on establishing a relationship between them and their political representatives.)
Further pin-pointing areas that should be considered, Dan Stanley spoke about the area's doubling of population by 2030 and the need to deal with quality of water issues, providing vocational training for the homeless, addressing wellness issues especially among children raised unhealthily, providing adequate math and science education to compete with those trained in the provinces of China and, last but not least, to address the inadequacy of Joplin's Memorial Hall and the need for construction of a new cultural arts center.
How then to get young people involved
Suggestions from the audience in involving young people included doing a better job of linking people to organizations and in capturing their passions, involving them in long range planning rather than remaining close-minded to new ideas and taking into consideration the issue of time constraints.
Focus is switched
The major focus of a young professional organization undeniably would be to foster individual success and prosperity. The group decided, that in professional development, business networking whether casual or structured, leadership skills, and etiquette needed to be defined. It was suggested that a major project of the group would be to coordinate a mentoring relationship--bringing together the old guard with the new and working together to benefit the community. In allowing employees to become more involved in community affairs, a consensus was that bosses need to embrace the idea that employees who are known in the community bring in more business.