Flight leaves new terminal; community visits
September 10, 2008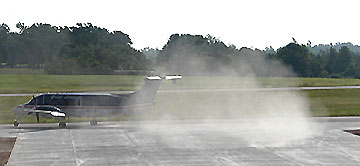 ...A fiery horse with the speed of light, a cloud of dust and a hearty....
Hi yo, Great Lakes Airlines...
by Mari Winn Taylor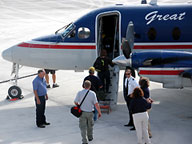 Four passengers from the Joplin area joined others on a Great Lakes plane that had been diverted to the Joplin Airport. The Beechcraft 1900 turbo prop touched down at the Joplin Airport on Monday, Sept. 8, 2008, and became a substitute for the plane that was to serve as Great Lakes's inaugural flight out of Joplin's new airport terminal.
One might say that diverting the plane rather than sending another one was efficiency at its best although Larry Graff, spokesperson for the airline, said rather that weather at Kansas City was the reason.
Catching the expressions on the passengers who unexpectedly deplaned at Joplin, if not one of resignation, may have been indicative of unexpected circumstances created by new economic policies regarding air travel. However, the Joplin passengers were in the air by 9:29 a.m. on the flight that arrived, according to Steve Stockam, airport manager, "a bit early."
For last minute booking, two flights now are available from Joplin to Kansas City. Flight ZK-5029 is scheduled to leave Joplin at 9:28 a.m.; flight ZK5048 leaves at 5:13 p.m. A refundable one-way ticket for the 48-minute flight is $194.00. While this fare might send anyone jumping into a car rental, it should be noted that with a little planning a ticket might be purchased for as low as $79.00.
Return flights from Kansas City are at 8:30 a.m. and 4:15 p.m. Effective October 1 flights from Joplin will leave 5:45 a.m., 9:28 a.m. and 2:15 p.m. with return flights from Kansas City at 8:30 a.m., 1:15 p.m. and 5:30 p.m.
So, you're now in Kansas City. What then?
Great Lakes has a codeshare agreement with United Air Lines and Frontier, which means that a person using a ticketing agent is able to book a pass-through ticket from Joplin to a destination those carriers serve out of Kansas City (MCI). Of course, a separate ticket may be purchased through any other airline served by MCI. It's just that the passenger is on his or her own in making the connection.
Adolpho Castillo, president of the Tri-State Hispanic Chamber of Commerce, whom we met on another occasion, thinks that Joplin needs service south rather than north. Speaking on behalf of the growing Hispanic population in the area, Castillo believes that traffic at the airport would increase dramatically if there were a connection to either Houston or Dallas/Fort Worth. When asked, Stockam said he obviously was not opposed to such a suggestion becoming a reality, hoping that another carrier would consider the possibilities.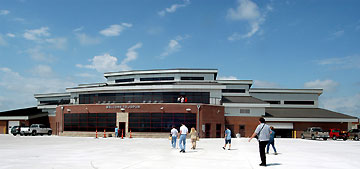 New terminal is dedicated
During a ceremony on Sunday, Sept. 7, 2008, dedicating the new Joplin Airport terminal, credit was given to Harold McCoy, former director of the Joplin Public Works Department, for commenting in 1982 that a new terminal should be in the master plan submitted to the FAA. In 1992 he restated his opinion that the terminal constructed in 1948 should be replaced. That Joplin government officials dragged their heels over change is an understatement.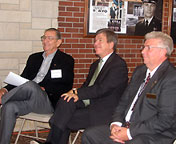 At left, Joplin Mayor Gary Shaw provides a brief history of aviation before introducing Rep. Roy Blunt (R-7) who spoke at the dedication of the Joplin Airport terminal. At right, (from L-R) are Jim Zerkel, chairman of the Joplin Airport board and a 60-plus year member of the Airport Pilot's Association; Rep. Roy Blunt, credited with Sen. Kit Bond in getting airport funding; and Steve Stockam, Joplin Airport manager.
It wasn't until 2002 that funding for the project finally was discussed. Vision 100, addressed locally by Senator Christopher "Kit" Bond and seventh district representative Roy Blunt, was a response to the need to make security changes to terminals throughout the US after it was noted that the destruction of the World Trade Center on September 11, 2001 "changed aviation history." The only problem was that small communities needed federal support to make the changes.
The hardest to get was the million and a half planning money, Blunt said. But, once secured, he said, "other money follows." The $15 million, he said, brought in a project on time and on budget.
In reference to the comment made by Stockam regarding seeing 24 water towers from the airport tower, Blunt defined the significance of the 24 water towers as "24 communities and 24 school districts," all served by the airport.
The airport is "truly the front door of the community," Blunt said, in his dedication speech. While he reminisced over standing in a tent during dedication ceremonies in 1948, he quipped that if terminals are replaced once every 60 years that he was "lucky to be here this time."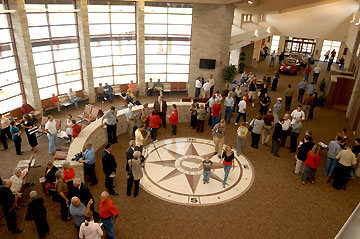 The finishing touches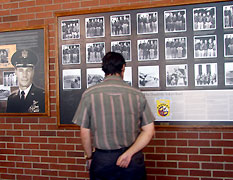 Just in case passengers arriving at the new Joplin Airport terminal need a reference point, they are greeted by a large "compass rose" inlay, an outline of the US and a star pinpointing Joplin's location. Pictures depicting scenes from Joplin's history stare at them from the main wall and include a tribute to Ret. Col. Travis Hoover, a Joplin man who flew behind Jimmy Doolittle on a mission to Tokyo in response to the bombing of Pearl Harbor.
A photo of John F. Kennedy during a quickie campaign stop at the airport in Joplin also is prominent. Bond mentioned how Ted Powers, JFK's traveling companion, credited the president's victory with being able to garner votes from communities he visited like Joplin.
What's missing?
When asked about the obvious incompleteness of the parking lot, Stockam said that vehicles would be parking temporarily on rock. While he said that the lot was due for completion last week, the job was delayed because of rain. By the way, parking is still free, a benefit for using the facility.
---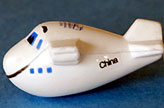 We can't resist a comment about the key chain, pictured, that was handed out as a souvenir to visitors who came to the Joplin Airport terminal dedication, but, on second thought, perhaps, we should just let it speak for itself.

---
While vending equipment from the old terminal with food supplied by airport staff from Sam's has been refurbished and replaced for snacking passengers, several truer "amenities" are still missing. A baggage carousel is coming and the much touted covered walkway to the plane is back to the drawing board.
"The covered walkway should be established the first of the year," Stockam said, adding that the "one ordered won't work with Great Lakes planes." As a reminder, the original carrier servicing the Joplin Airport was supposed to have been Island Air but the company backed out in part for economic reasons.
---
Photos by Vince Rosati
---