Users express shock over water rate hike proposal
September 20, 2008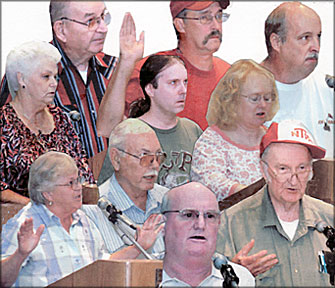 A montage of faces shows some of the people who spoke out against the latest proposed rate increase by the Missouri American Water Company. (from photos by Vince Rosati)
A public hearing was conducted by the Missouri Public Service Commission on September 16, 2008, on the campus of Missouri Southern University in Joplin. At issue, a 32 percent rate hike requested by Missouri American Water allegedly to cover the cost of improvements at Joplin's Bledville Treatment Plant on 21st & Murphy, as well as increases in operating costs. The request comes on the heels of a 64 percent increase awarded to the company last October. If approved, the latest increase would go into effect in 2009.
In a release that was handed out at the hearing, Missouri American reported that from June 2007 to September 2008 they invested approximately $32.5 million in improvements to Joplin's water system with most of the investment dedicated to expanding and improving the treatment facility that, they remind everybody, dates back to the early 20th century and has not had a major upgrade since the 1950s. In addition, they report that "more than half a mile of water mains will have been installed or upgraded from June 2007 to September 2008."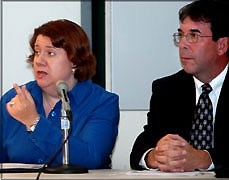 Christina Baker, P.E., J.D., senior public counsel for the state of Missouri Department of Economic Development and Matthew A. Barnhart, operations manager for Missouri American Water are on the firing line at the public hearing for Missouri American's latest rate hike. (photo by Vince Rosati)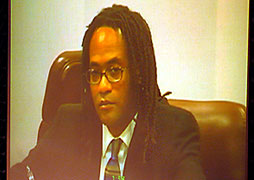 Judge Kennard L. Jones, a regulatory law judge for the Missouri Public Service Commission, is seen on a video conferencing screen. His appearance at the hearing in Joplin was broadcast from Jefferson City and was fraught with frequent squeals while a technician attempted to adjust microphones from both locations. Some of those who had come to testify said that the continuous shrill noise almost was successful in driving them from the hearing room. (photo by Vince Rosati)
In spite of the appeal by the Public Service Commission to testify regarding how the proposed rate increase affects them and their families, several audience members did leave in frustration during a question and answer period that preceded formal testimonies after it appeared to them that no one was acting on their behalf.
"My office is very adamant that each district pay for its own costs," said Christina Baker, senior public counsel for Missouri's Department of Economic Development, in response to questions about what rate increases were being meted out in other Missouri locations. Baker's further comment, that a "payment in arrears system" was used for the immediate recouping of expenses incurred by public utilities, came under fire when audience members questioned how they were supposed to pay for expenses that would not be budgeted over time. And her response that "we would have ended up at the same place if we added four percent since 1995" became empty words to people whose fixed incomes constantly were being depleted by major expenses.
Testimonies from the public
David Sizemore, a councilman from Galena, KS, exemplified the tone of most who testified when he said that the rate increases were "really causing hardship on us." While he said that the city absorbed half of the prior 60 percent increase to help out its population of the elderly on Social Security, it's currently having budget problems and finding another bail-out difficult.
Others on fixed incomes testifying to the hardship a rate increase would create included Jane Daniels, Russ Leinmiller, Maurice Filson, Novella Webster, Everett Giles and John T. McDonald. Tammy Walker, community development director of the Economic Security Corp. said that she was aware of H20 Help, (the customer assistance program to help provide supplemental funding to those who have trouble paying their bills) but implied that even with it the families her agency serves cannot afford an increase. And Cathy Wilson, a representative of Hope House Ministry, shared concerns over her agency's ability to subsidize the homeless population it serves, that, she said, "was increasing dramatically."
Darby Marcum wondered why improvements to the water system weren't made through the years. Others had called attention to leaks, some like the one at 26th and Main that have been there for decades. While Marcum said that she begrudged "no man an honest profit," she did have concerns regarding what she labeled "profiteering."
"We [the consumers] have become 'cash cows,'" Marcum said. All that company executives seem to be able to do is to raise prices. "Home ownership is being threatened every day," she said and that the PSC should consider other increases, like that of gas and electric, costs that are exceeding one's ability to pay.
Speaking on behalf of small business was Lynette Higginbotham, a representative from Cliffstar, a private label fruit juice manufacturer with a subsidiary on Enterprise Avenue in Joplin. Higginbotham called her company a "large volume user but not a large company" and that it didn't have the "luxury of passing along increases." She said the water rate hike last year cost the company an additional $55,000.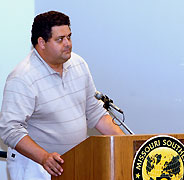 Missouri Representative Bryan P. Stevenson (R-128), pictured at left, said his phone was "ringing off the hook." Several of his callers, he said, had threatened not to flush their toilets and that their comments concerned him as being a "health issue."
Stevenson, a local attorney who also is the owner of several rental properties, had tenant-related water issues that needed to be addressed (water costs generally are included in the rents). While he said he could easily get a hold of a Rotary Club member, he was put off by American Water's 800# service. In a city with a population of over 40 thousand he saw the need for a customer service center like that of the local electric and gas companies.
Ralph Beasley, who testified, agreed with the need for a face-to-face office. He so far has not had addressed his concerns that his estimated bills were way higher than his average use. Also, getting no answer as to why her bill was high when she said she was "careful with water usage," was Webster.
Other financing options
What the audience didn't know and what we found out from Dan Stanley, a broker with Edward Jones & Company, was that a 30-year municipal bond was issued on March 1, 2000 for Missouri American under the Missouri State Environmental Improvement Agency & Energy Resources Authority-Water Facility. The bond (cu# 60635EPY0) that has a maturity of March 1, 2030 is subject to repayment at a rate of 5.9% We mention this because at today's favorable interest rates this method of funding for capital expenses is a better alternative from the standpoint of the public (but not necessarily the stockholders) than having to pay for similar expenses through excessive rate increases.
A recent history of American Water
On January 17, 2002 the common share stockholders of American Water Works, whose corporate headquarters is in Voorhees, NJ, gave resounding approval to a merger with RWE Aktiengesellschaft of Essen, Germany and in exchange received $46 a share plus a dividend. They became the largest investor-owned US water and waste water utility company. Although filings since that time with the Securities and Exchange Commission have attempted to justify a sea of red ink, investors seeking a safer haven in public utilities recently have revived the stock from a 52-week low of $31.89 to $39.95 at the close of trading on September 19.
One of the SEC reports shows a net loss of $49.2 million during three months ending June 2008 versus $45.5 million for the same period in 2007. In spite of the apparent red ink, shareholders of record on August 15 were paid a dividend of $.20 per share. In June 2008 159,950,765 shares of outstanding stock were reported.
The poor financial results seemed to have been responsible for a shift in top management when on February 15, 2008 Don Correll of Franklin Lakes, NJ became president and CEO and Ellen C. Wolf of Voorhees became senior vice president and CFO. Their negotiated benefit packages in addition to base salaries of about half a million dollars (she got a bit less) included a sizable "annual incentive plan," "completion bonus," "retention bonus," "vehicle allowance," and "severance package." Correll also was awarded $350,000 toward the purchase of a house.
And if the total salaries weren't enough to attract managers who could lead the company in the right direction, on July 28, 2008 two more high paying executives were added. John S. Young was appointed to the position of president of American Water Services, a newly created executive officer position and Walter Lynch assumed the newly created position of president of regulated operations. Young was hired to "support the company's growth initiatives" and Lynch to "lead the company's two national customer call centers."
Privatization of water resources
Yanuar Nugroho, director of Business Watch Indonesia in a report entitled, Profit amidst misery: Water is not a commodity in 2003 said that "privatization was transforming scarce resources into profitable commodities." He cited the fear that if privatization of water corporations took control of water, an essential scarce resource, that there would be "a loss of livelihood."
Today there are 10 multi-national corporations who control the water markets and related industry worth more than $150 billion dollars.
"If we got a lot more improvements...will we be hit again?, an audience member asked. And someone who was described as a "smug official in an expensive suit" from Missouri American replied, "Yes, we have to recover costs."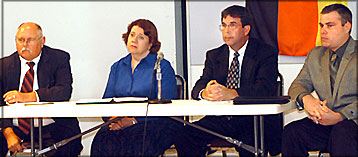 Those fielding questions from the audience attending the hearing of the Missouri Public Service Commission include, from L-R, Jim Merceil, a member of the PSC; Christina Baker, Missouri Dept. of Economic Development senior public counsel; Matthew A. Barnhart, operations manager for Missouri American Water; and Denny Williams, senior manager regulations for Missouri American. Ironically, Missouri Southern, where the hearing took place, is celebrating its German Semester. A German flag appears behind the representatives from Missouri American, owned by a German company. (photo by Vince Rosati)