Irena Sendler: preserving her place in history
October 06, 2008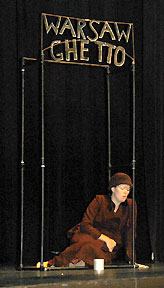 Beth Perrey of Joplin, a McCauley High School and Pittsburg State University graduate, laments her fate as an orphan confined to the Warsaw Ghetto in Poland during the Nazi occupation. She was one of five cast members of Life in a Jar, a tribute to Irena Sendler performed at Pittsburg Memorial Hall in Pittsburg, KS, on October 5, 2008.
Oskar Schindler became a household word after the release of Schindler's List, a movie directed by Steven Spielberg in 1993 that won seven Oscars. But few people may be able to recognize the name, "Irena Sendler," and this even after she was nominated in 2007 for a Nobel Peace Prize. (She lost out to Al Gore and the Intergovernmental Panel on Climate Change.)
While Schindler during the Holocaust is credited with saving about 1200 Polish Jews by employing them in his factories, Sendler, a diminutive Polish Catholic social worker--she was only 5-feet tall-- is said to have saved 2500 Jewish children from incarceration in the Warsaw Ghetto and potential death. She also did what she could to save many adults in Poland from extinction by Nazi occupiers bent on carrying out Adolph Hitler's pure race theories that caused the annihilation of millions of Jews throughout Europe.
Current and former students at Pittsburg State University are making sure that the legacy of this woman is not forgotten. Last Sunday before a large audience at Pittsburg Memorial Hall in Pittsburg, KS they topped the 250th mark in their performance of Life in a Jar. They called their performance art, "a journey picking up people along the way." They told the audience that their role was "to continue the journey and share the story."
The play, that Sendler helped revise before she passed away in May 2008, recounts how she used her role as a "nurse" to access the Polish camp (see comments below story), and through various devious methods and with the help of others, to sneak children past the Nazi guards to freedom. One line in the play tells how she used a barking dog to create chaos and cover up any noise made by the frightened children who were being transported in boxes or even body bags to the outside.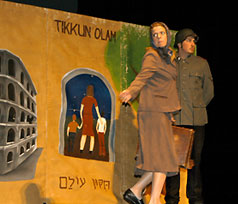 One particularly poignant scene that opens the play depicts the angst of a mother who must choose between keeping her children with her or agreeing to their separation and freedom. She is seen closing a suitcase and gathering her children who are characterized only symbolically as being attached to her outstretched hand. She tells them not to look at the German soldier who hurries them along. Her decision eventually becomes moot as she is told there is "no time for tears." Her argument that they were "going to be resettled...things will get better...it can't get worse resonated with the audience who knew the answer.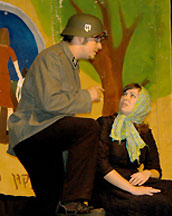 Irena Sendler, portrayed by project coordinator Megan Stewart Felt, often had to talk her way out of dangerous confrontations with German guards. However, Felt repeats the philosophy of Sendler when she says, "Intense love and concern will always defeat fear."
Sendler's further challenge also was in convincing non-Jewish families to accept the children as their own. Two scenes reflect how Sendler finds homes for the children, one in which she talks a physician into adding to his own family and another in which she thanks a Mother Superior for her supervision over many convents that become safe havens for the Jewish children.
The title of the play suggests how the identities of the children were preserved. Sendler chose to place the Jewish names of children together with their new Christian names on individual slips of cigarette paper and then to bury them in jars in a sympathizer's yard. Someday she had hoped to dig up the jars and share the information.
Before this happened, however, Sendler was captured by the Germans and put in a prison where she was tortured, having her legs crippled in the process. A member of Zegota, the underground that she assisted, was said to have bribed a guard insuring her freedom.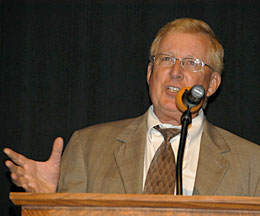 Initially a nine minute play when it was submitted as a National History Day project in 2000 by Uniontown High School students from the class of Norm Conard (pictured at right), Life in a Jar was more than quadrupled in scope. Three ninth grade girls--Megan Stewart now Felt, Elizabeth Cambers now Hutton and Jessica Shelton--together with eleventh grader Sabrina Coons had accepted the challenge of expanding upon a brief clipping from US News & World Report that mentioned how "Sendler had saved 2500 children from the Warsaw Ghetto in 1942-43." After visits to Poland where they met their heroine in person and through subsequent correspondence with her, they enlarged the script.
Former Pitt State student Jaime Walker plays three roles including that of a bitter person who seeks blackmail money in exchange for her silence as well as that of Mrs. Rosner, the mother asked to give up her children. Walker credits Sendler with "opening up her eyes to the world."
The German soldier was played by Travis Stewart, Megan Stewart's older brother. He was part of the group that visited Sendler in Poland and who received her gratitude for their roles in continuing her journey by sharing her story. In Polish, he said, she told him that "she never thought she'd be hugging and kissing a German soldier."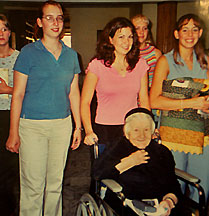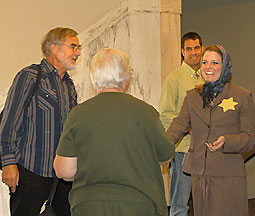 Above, Irena Sendler, seated, is shown with the Uniontown High School students who visited her in Poland. At right, Prof. Joachim Wieler of Weimar, Germany visits with members of the cast of Life in a Jar. Wieler was given recognition after the performance for having known Sendler and having presented her with a distinguished social worker award.
Uniontown, which is located 15 miles west of Ft. Scott in Bourbon County, KS, didn't have a Jewish family for miles, Conard explained, but everyone wanted "good to triumph over evil." In performing the play he said they were "reaching over walls of bias and prejudice."
Referring to the completion of this project, Conard said, "It's been a joy." He described at least 15 working projects in which he is involved as director of the Lowell Milken Center based in Ft. Scott, KS. While teaching respect and understanding through history, Conard says that his projects focus on unsung heroes who are in need of recognition for their efforts.