Children's Haven gets new look
October 14, 2008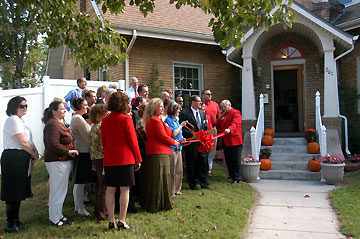 The Joplin Area Chamber's red coats were doing their schtick again today armed with their big wooden scissors and long bowed ribbon. This time they were at 7th & Picher. They were there to help the Children's Haven commemorate its fifth year providing a temporary home to children ages birth through 17 whose families experience a crisis.
A group of well-wishers gathered in the front yard as staff thanked those supporters who provided funding for new windows and doors, demolition of the house they acquired adjoining their property, grading for an expanded backyard, and replacement of a fire damaged fence that will circumvent a planned expanded play area.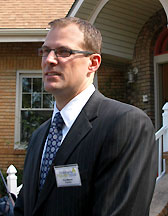 Troy Stovern, Children's Haven president, pictured right, spoke of the accomplishments his organization made in the five years since it was established. He especially noted the contributions of United Way.
Open 24/7, Children's Haven provides a home-like environment for up to 12 children at a time while their families are seeking the help they need. Crises situations may be the hospitalization of one or both parents; treatment of parents for mental health or substance abuse; fear of abusing or neglecting the children; lack of food, shelter or utilities and death or incarceration of a parent or parents. Their object in protecting children is to reduce family stress, protect children from abuse and neglect and to keep families together.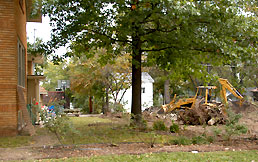 A back hoe driver works to level the land on adjacent property recently acquired by the Children's Haven. Initially the area will be used to increase the backyard play area but in the future may be used as space to expand the facility.

In addition to a paid staff numerous volunteers assist in many household chores from maintaining the yard to cooking. A current wish list includes clothes such as pajamas, underwear and socks; gas cards, cereal, diapers and pull-ups, "sippy" cups, trash bags and stamps.
For more information on how to contribute phone (417) 782-4453 or send an e-mail here.