Voters informed on environmental issues
October 20, 2008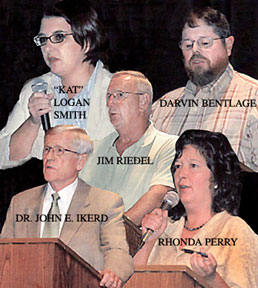 They came as an appeal to the public. Those who spoke at the Community Awareness Meeting held October 14, 2008 at Thiebaud Auditorium in Lamar wanted it be known that what they were discussing was not a political issue but a moral one. With election day drawing nearer, they wanted the audience to be more informed voters from that point of view.
Referencing God's will, Darvin Bentlage, event organizer, said, "You made us stewards of the Earth." What that meant, according to this Barton County livestock farmer, was that no one should remain silent while CAFO operations in Barton County, 285 of them,--specifically the concentration of one half million pigs--continue to provide what was considered non-point source pollution for the entire length of the North Fork of the Spring River.
As for involvement of Missouri's politicians Bentlage said that compared to nutrient feeding operations CAFOs received 40% of federal and state funding. And based upon the attitude of members at a January 2008 meeting of the Missouri State Park Advisory Board, those that gave testimony supporting a buffer zone around state parks came away frustrated with the belief that state agencies are using tax dollars to defend CAFOs. (As an aside, one of those regulatory board members has the same last name as Gov. Matt Blunt's newest appointment as head of the Missouri Department of Agriculture.)
Setting the mood for the discussion was the showing of a documentary, Everybody Lives Downstream. Written and produced by Tyler Swezey of Drexel, MO and Anthony Monteleone of Carl Junction, two seniors from Pittsburg State University, the work earned PSU's cable station a finalist berth in the best documentary/public affairs category in the National Student Production Awards, a competition that awards the best in student electronic media production from across the US.
The film began by tracing the history of Roaring River State Park and its popularity for trout fishing enthusiasts. Against a backdrop of flowing pristine water spokespersons for the park described its trout fishing as a 10-year tradition, wanting to restore the park's native landscape, and how people come to the park to enjoy its beauty. Then the subject of the Osbuns' 65,000 chicken CAFO on a few acres within two miles of the park was introduced and opponents to the CAFO spoke of their fear that if chicken manure is stored within such close proximity to the park that a big rain would send it into the river.
The Missouri Department of Natural Resources under the guidance of Doyle Childers approved the stacking of litter outside on the Osbun property for up to two weeks. Opponents of the operation, including Mark Stephenson who owns property nearby, point out that the CAFO spreads a ton of manure on their hillside and it is not "if" but "when" the poop hits a determined "losing" stream, especially because of the slope of the ground and the karst topography that fosters it.
A statement they say was made by Childers that they (the Osbuns) are not supposed to spread it (the poop) when it's going to rain is considered laughable by Stephenson and others like Jim Riedel, president of the Roaring River Parks Alliance. They call the DNR "a political machine" fostering big business at the expense of the environment and the health of its citizens. In criticizing the modus operandi of the DNR, they say that until the lake, river, etc. gets contaminated, the DNR isn't going to do anything about it and then will use Missourians tax dollars to clean it up. The DNR has concluded that they have no right to deny a permit even if 386 tons of litter are produced annually and 80,000 dead birds need to be disposed of.
"Radical environmentalist" or voice for the people?
Kathleen ("Kat") Logan Smith, executive director of the Missouri Coalition for the Environment, had a lot to say about the issue and the protection of Missouri's 175,000 miles of streams. The coalition was the agency that sued the state of Missouri for its disregard of provisions of the 1970 Clean Water Act. The goal to make streams fishable and swimable didn't make it on the books in Missouri for 30 years, she said.
Smith criticized the government for not requiring public notice for big farm construction permits, for their constant threat of eliminating permitting for no discharge facilities (what CAFOs are considered) and for Missouri's manipulation of the 303d list of impaired streams that further triggers a manipulation of the streams' total maximum daily loads (TMDLs) or the maximum amount of a pollutant that bodies of water can receive while still meeting water quality standards.
As an example of how the role of impaired streams became politicized, Smith called attention to the mercury contamination by coal fired power plants that polluted so many waterways that the steams were taken off of the 303d list. She equated the measurement of TMDLs with a concept of "dividing pollution until the evil is manageable."
"Do we want clean water?," Smith asked the audience, and "what are we willing to pay for it?" She concluded that we "have a whole lot to lose."
Voice of the independent farmer
Howard County livestock grain farmer Rhonda Perry, a spokesperson for the Missouri Rural Crisis Center, came to define the differences between industrial agriculture--about 500 CAFOs--and the 104,000 farms still operating in Missouri. MRCC is a membership based organization with 5,600 farm and rural families.
"It matters who's raising the livestock," Perry said. CAFOs brought about the loss of 90 percent of the independent hog farms in the state, forced out by declining profits. She blamed the EQUIP program for raising the matching share independent farmers have to pay for subsidies, essentially cutting many of them out.
CAFOs create less jobs."For every 1.5 jobs created, three jobs are lost," she said.
Perry criticized the National Resources Conservation Service, a USDA federal agency, for providing $5 million in taxpayer funding to move animal waste from one over-spread watershed to another. She wanted the audience also to know that their property rights were impinged upon when CAFOs representing less than one half of one percent are given precedence. She called for an increase in state standards in setbacks required for the location of CAFOs and for the removal of Class IA hogs that generate as much litter as the city of St. Louis.
She said that all health groups are calling for a moratorium on CAFOs. She cited a report that concluded that more children living near CAFOs suffered from asthma than those who lived away as well as the April 2008 report of the Pew Commission on Industrial Agriculture that based upon a 2 1/2-year study concluded that the current industrial farm animal production (IFAP) system often poses unacceptable risks to public health, the environment and the welfare of the animals themselves.
Pulpit should have been his calling
"Rural America is at a critical point in time," warned John E. Ikerd, professor emeritus, agricultural economics, University of Missouri-Columbia. "You need to make informed decisions," he told the audience. "Rural America has systematically been plundered and polluted by people who have money making interests...by powerful economic and political interests. Rural America is simply a place to dump something nobody wants...to dump waste so shareholders can make money."
Ikerd wanted to dispel the notion that industrial farming was the future of agriculture or, as CAFOs are promoted, that they increase jobs, are the working of the free market or even decried by God. He described CAFOs as low paying, attracting different ethnic groups and causing the destruction of the middle class. While first concerns typically are about odor, Ikerd said that further studies of the pollution problem, as those that spoke before him said previously, have led to concerns about human health.
He defined "rural inequity" as when "few people in a community benefit at the expense of all" and that he's not seen a decrease in tax rates or an increase in public services to prove that CAFOs were a positive influence. "These corporations are not people regardless of what the Supreme Court says."
He criticized the old industrial ag mentality that is locked into universities and ag departments and hoped that movements that certified the proper treatment of farm animals and organic products would prevail. He called for the support of buying clubs and co-ops. He told the audience that they had a fundamental right to defend their health, promote the right of local control and shape their own destiny. While he said that CAFOs stood for conflict, controversy, consolidation, control and corporate cash cow, he concluded that "change" stood for "children." And he wasn't being too obtuse in suggesting which political party stood for that.
---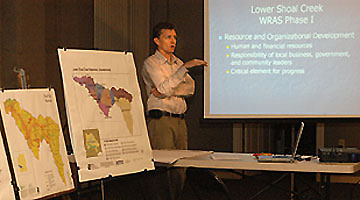 Watershed restoration action strategy meeting called in Neosho
Craig Jones, pictured, has been a planner for the city of Neosho for only a few weeks. The former member of the Harry S Truman Coordinating Council organized a community meeting at the Lampo Building on October 15, 2008. His goal was to foster a Shoal Creek Watershed Partnership that would initiate a road map for how citizens and communities can preserve the creek and reduce the wasting of water. Funding for what he was doing was provided by USEPA Region 7 of the Missouri Department of Natural Resources via Section 319 of the Clean Water Act.
While the word "CAFO" may have been mentioned once, the gist of Jones' talk was in preserving the watershed by fixing ailing waste water systems--to specifically identify the problems in Neosho, pursue solutions, and make the city a model for other cities to follow.
Neosho residents approved an $8.5 million bond issue last August to address the problem of the septic systems' contribution to water issues and to establish a connection using scientifically defensible data between people and degradation of the streams. Considered of utmost importance is the need to establish a buffer zone between human activity and the streams that contribute to the drinking water supply.
Jones blamed non-point source pollution for the problems in water degradation that is being faced today. His examples included run-off from parking lots, over-fertilization of lawns and outdated waste water treatment facilities.
Important components in moving forward his plan are the establishment of standards for nutrients and E-coli levels, the use of stream team volunteers, a financial commitment and cooperation from members of the community in part in preventing stream embankment erosion and creation of sub-divisions using low impact development.
Jones began his talk by commenting, "Lawsuits benefit lawyers, not the people who live in the watershed." He later commented that we can "benefit from a fuller understanding of the issues we're going to tackle."
About this time, Dale Jobe spoke up. He was one of the outspoken members of the Newton County Health Department in its failed attempt to create a health ordinance that they wanted approved by local voters.
Jobe, who has been on both sides of issues, complimented Jones on his approach and the time he has put into it but believes that upon investigation there's no such thing as non-point source pollution. He agrees that everybody needs to work together but in the end "it all boils down to property rights" and that those rights are usually defined by court action.
He defined poop as being only an asset if it is managed and that management costs money. Jobe related a sewer system story as the need for cooperation between the two sides: those who create poop and those who want to protect the watershed. He said that armed guards were needed during the construction of a new sewer system because landowners had problems with a potential $50 use fee (presumably monthly).
About this time Mark Adams who had come armed with data regarding the health risks associated with confined animal feeding operations left without making his case. Bill Miller, health department administrator Bob Culp privately told the Joplin Independent, went scuba-diving instead of attending. Miller, who was very instrumental in testing the E-coli levels in the streams of the Shoal Creek watershed, Culp said, was very disconcerted over the lack of interest by the state of Missouri in recording the data he collected.
We had to leave, but Jones continued on to phase two and three of his plan.