Movement to protect secret ballots is launched
December 30, 2008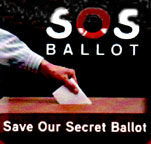 Congress is a single vote away from passing H.R. 800, a.k.a the Employee Free Choice Act. The controversial bill, that was first introduced in January 2007 by California Congressman George Miller and supported by Massachusetts Sen. Ted Kennedy, died after a Republican filibuster. Revived and renamed the "Forced Choice Act" by its opponents, the bill calls for amending National labor relations law by "streamlining union certification" and creating penalties for employers who threaten their union organizers. But it's the language in the bill, stating that "signed valid authorizations" favoring unionization would replace holding an election, that has led to a counter movement.
Save Our Secret Ballot (SOS), a newly formed national 501 c(4) organization set up a conference call, December 30, 2008, to launch the movement that, they say, counters the political might of Big Labor and seeks to protect secret ballots in state constitutions. The group announced that representatives of Arizona, Arkansas, Missouri, Nevada and Utah would be the first to form state level initiatives that would create guarantees for the secret ballot process.
Sen. John Loudon (R-07) and a Sedalia sub-contractor named Dave Rouchka are spearheading the movement in Missouri to have a constitutional amendment put to a vote in 2010 that would protect secret balloting on the state level. Loudon says that although 151,274 signatures are needed from six out of nine Congressional districts, that Missourians representing an independent bell weather state "don't want their rights taken away."
Language for a 47-word initiative that states may choose to adopt comes from Clint Bolick of the Goldwater Institute whose belief is that "unrestrained government has proved to be a chief instrument in history for thwarting individual liberty." It reads:
"The right of individuals to vote by secret ballot is fundamental. Where state or federal law requires elections for public office or public votes on initiatives or referenda, or designations or authorizations of employee representation, the right of individuals to vote by secret ballot shall be guaranteed."
American Rights at Work chaired by former Michigan liberal Democratic Congressman David Bonior, a supporter of the bill, is going head to head with Workforce Fairness Institute, a group that opposes it, led by former McCain adviser Republican Mark McKinnon. The Democrats are aligned to protect unions, the Republicans--well, some are careful to disassociate themselves from business interests that would support them.
Former Oklahoma Congressman Ernest Istook, a Republican of Warr Acres who is chairman of the SOS advisory board, considers the bill anti-American. He questioned having fought to secure individual rights in Iraq, yet lose them here. As for being funded by big business, Istook couldn't deny its support but downgraded its importance to "change you find in a sofa." Needless to say, his campaign is just underway.
---
Labor's contributions to leading Democrats:

$1,044,700 - Ted Kennedy, $1,389,489 - Harry Reid, $882,225- Dick Durbin, $854,685 - Hillary Clinton and $479,677 to Joe Biden.

---
Istook also cited a letter to the Mexican government which advised that secret ballots were absolutely necessary. Calling attention to the hypocrisy of the correspondents, the letter, he said, was written by 16 Congressional supporters of the current bill.
Most Americans believe we have a Constitutional right to a secret ballot," Istook said. "This is not true."
A caller from Clinton, MO prefaced his remarks by alluding to an agreement that he said non-union Walmart broke with elders of his town, He told SOS members that they didn't know "diddly" about unions and that you "can't survive without the union," In response to the caller, Istook said that "whatever challenges he may have, you don't solve them by taking away people's rights."
President-elect Barack Obama made a campaign promise last April to pass the bill in order to stem the tide of declining union membership. Comments from a PSEA unionizer from Philadelphia suggested that the act seen as a power grab would "backfire." He blamed problems on the union movement's failure to modernize.
While there's a compelling argument to protect against management's intimidation of unionizers --unions, therefore, being a "necessary evil"-- many believe that paying dues is not a guarantee of better pay or working conditions. And representing the status quo the consensus among union members who called in was that the secret ballot process their unions currently employed had no problems.