Bobby Norfolk becomes Jesse B. Semple once more
February 04, 2009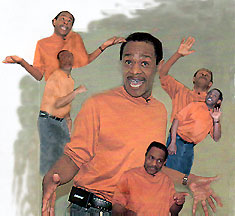 The many gestures of storyteller Bobby Norfolk entertained the latest Coffee Talk audience at the Joplin Public Library.
Some critics believed that the verses of Langston Hughes, unquestionably the most recognized black writer of the twentieth century, dwell too much on what they considered racial defects in the black race...by concentrating too often on lowly types. Others have thought that Hughes' poetry reflects the spirituality of the blacks and a significant contribution to the art life of the Harlem Renaissance of the 1920s.
That performer Bobby Norfolk brilliantly is able to capture the unique expression of the characters that Hughes created is not subject to debate. Those that attended Coffee Talk at the Joplin Public Library yesterday were privileged to share in Norfolk's artistry.
What Norfolk introduced himself as being able to do was to "channel the image and spirit of Langston Hughes" right there in the library. Norfolk, a three-time Emmy Award winner, had nothing more than his hands, his facial expressions, occasional vocal sound effects and a bit of amplification from a mic and speaker. Norfolk claimed that their use was to keep his audience "in focus" during his recitations.
Norfolk recreated the character of Jesse B. Semple, a composite/character that Norfolk explained was created by Hughes while often sitting in the Wishing Well Bar in Harlem watching people come and go. The characters interacting with Semple included his girlfriend Joyce--whom Norfolk chose to portray with a little wiggle, and his irate landlady--whom Norfolk surrounded with a few sound effects like that of a slamming door.
"If I had four feet, I could have stayed in places longer," Norfolk in the role of Semple emotes. "His right foot kicked out the window--his left foot kept running as soon as this right foot came down." This behavior, Norfolk explained, while not necessarily to be emulated, was something to which Hughes' black audience could relate and was motivated by inequalities that Hughes sought to dispel. "I, too, am America. I shall eat at the table," were Hughes' words that Norfolk repeated.
The poem, "A Dream Deferred," narrated by Norfolk, focuses on Semple getting married. His girlfriend, he told his landlady, was Joyce Lane no longer. And why did he want to marry that girl? His response that she gave him "fever" was Norfolk's excuse to sing the song of the same name and remind the audience that Hughes' poetry contained quite a few jazz elements.
The stand-up routines to which Hughes' poems about Semple lend themselves pit two comics against each other using fast-paced dialogue and a quick exit. Norfolk played both of these roles well.
Claiming that his being able to recite poems by heart was "like riding a bicycle"--something one never seems to forget, Norfolk admitted at first to seeking the sanctuary of a library to hide behind books. He said he had no self-esteem and a very bad stutter until a teacher took him under her wing, put him in plays, and told him to meditate.
With a background in history, Norfolk says he is "enthralled to take the stories of people with him on the road. For more about this performer go here.