Winning images from PhotoSpiva 2009
March 21, 2009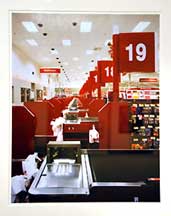 The "big box" store was the subject exploited by photographer Keith Yahrling of Philadelphia, PA. His photos took first place honors in PhotoSpiva 2009.
PhotoSpiva 2009, the 33rd annual national photography competition hosted by the George A. Spiva Center for the Arts in Joplin has been labeled the "most competitive in PhotoSpiva history," according to Spiva director Jo Mueller. Out of 985 entries submitted by 185 photographers, this year's juror Jim Stone selected only 77 images by 51 artists. The work will be hung in Spiva's main gallery until May 3.
The exhibit has celebrated the gamut of styles and tastes from outlandish digital manipulation to a more traditional use of photographic reproduction, with the contest recognizing the work of both professionals as well as amateurs building a resume.
Stone, an associate professor of photography in the Department of Art and Art History at the University of New Mexico, is a social photographer. He gave special consideration to those photographs that represented a theme that would engage the imagination.
First place went to Keith Yahrling of Philadelphia, PA for his archival digital prints depicting "big box" stores in Philadelphia and Cherry Hill, NJ. The unpopulated spaces included the front end of Target, the massive inventory of a building supply store like Home Depot and the packed showcases of a hunting and fishing store like Cabela's. Yahrling uses a large format camera to capture the dehumanizing effect of current American consumerism.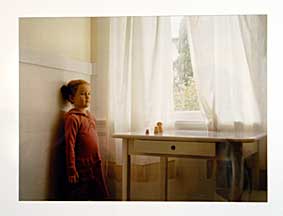 "Francesca" by Springfield photographer/instructor Andrea Land
Andrea Land of Springfield, MO received second place for three digital C-prints—"Stella," "Francesca," and "Angelina." The young children in various poses are compelling. Land says of her work:
"...My portraits of children contain various layers of information relating to the artist, the subject and a mutual exchange between the two. The work seeks to explore the psyche of complex individuals. Each young girl, while physically existing in the natural world, also thrives in another realm, an insular dream state, with her gaze turned inward. The photographs exist as both fictional and autobiographical creations (growing up in an all female, Midwest household). Relating to the temporary situation of childhood, I am fascinated by young individuals' imagination and intensity of experience. My curiosity about childhood, as a state of limbo and a game of illusion, creates additional layers with which to contemplate. Visually exploring the girls' stances and embellished environments, the audience enters into a private world of vulnerability, isolation, imagination and memory. A delicate balance exists between the real and the imagined, the beautiful and the grotesque."
Land, whose award-winning work has been displayed in galleries across the US, currently is a photography instructor at Missouri State University.
Third place honors were awarded to David Gardner of San Francisco, CA for his body of work including "Balance #2" and "Labyrinth. San Francisco," archival digital prints. Gardner says that although he found his voice and vision through photography at an early age, he became frustrated by the limitations in using film and nearly stopped photographing for a while until the advent of the digital age reinvigorated his passion. His winning photos depict not the grand landscapes of his former experience but as he says, "little meditations on a place" and the "beauty of..simple moments in time."
Three photographers received Honorable Mention Awards: Joe Cornett (Flagstaff, AZ) for "Grubsteak" and "Harris' Mural," archival digital prints; Cathryn Griffin (Cullowhee, NC) for a trio of archival inkjet images taken in Bondsville, Massachusetts, 2006—"Globe," "Baby Shoes," and "AM Radio." Gwen Volner Walstrand (Springfield, MO) received an Honorable Mention for two toned gelatin silver prints, "Ean and Quin" and "Elizabeth."
Stone assigned Merit Awards to Christina Z. Anderson (Bozeman, MT) for "Family of Origin: Skiers," a tricolor gum bichromate print; Daniel W. Coburn (Topeka, KS) for "Water Foul," archival inkjet print; Robert Sulkin (Roanoke, VA) for "Snapshot #4" and "Snapshot #35," archival digital prints; and Kimberly Arveda Witham (High Bridge, NJ) for "Green Jacket (from the series Aunt Dot's House)," c-print.
PhotoSpiva 2009 is presented with financial assistance from the Joplin Convention and Visitors Bureau, the Freeman R. Johnson Trust, Friends of St. Avips, and the Missouri Arts Council, a state agency. On tap for March 31, 2009 is "1,000 Words in Poetry Inspired by PhotoSpiva2009." The event will feature readings by Missouri Southern State University students and faculty beginning at 7 p.m.
Spiva Center for the Arts is located at Third and Wall in downtown Joplin. The galleries and gift shop are open Tuesday through Saturday, 10 a.m. to 5 p.m., and Sunday, 1-5 p.m. Admission to the AT&T Main Gallery is by voluntary contribution. The center is closed Mondays and major holidays.
Additional photos of the winners may be found here.