Sen. McCaskill deals with heated audience
April 08, 2009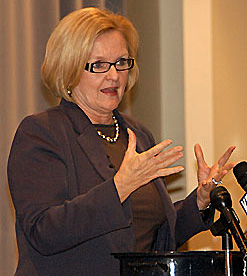 Sen. Claire McCaskill addresses an audience at Missouri Southern State University in Joplin on April 7. (Photo by Vice Rosati)
Joplin was Democratic Senator Claire McCaskill's final stop, the fourth she had scheduled across Missouri for the day. A frenetic hum in the auditorium of Missouri Southern's Criminal Justice Center ebbed and flowed as people assembled for what had been advertised by McCaskill as a "Kitchen Table Talk." She was about 20 minutes late. Advanced word was that her plane was encountering head winds on its way from Sikeston.
The audience clapped when McCaskill took the podium but as soon as she mentioned "the economy," she could feel a tension in the room. She described those shouting to be heard as a "bunch of unhappy, angry, frustrated" people. "Be Missouri polite; hear what's on people's minds," she suggested.
McCaskill was given a "roaster pan" from which randomly to draw out questions audience members had written on slips of paper just prior to the meeting. She didn't miss the irony in that.
The local economy
Don Starr of Joplin, whose question was picked first, wanted to know what should be the first steps to stabilize the local economy.
McCaskill replied that Joplin's unemployment rate was 7% or over a percentage point lower than Missouri's average and that 40% of the federal stimulus bill would cut taxes for 95% of Joplin's residents. The answer, she said, that also would work on the state level, required pumping money into creating jobs and inventing green technology. She called attention to Gov. Jay Nixon's authorization of $3 million in tax incentives for the creation of a new battery-powered van and truck plant in Kansas City as a vehicle to create jobs. In spite of McCaskill's suggestion that it was better to stimulate the development of a domestic battery plant over importing the product, many in the audience, who didn't feel the connection to a plant somewhere else, weren't appeased.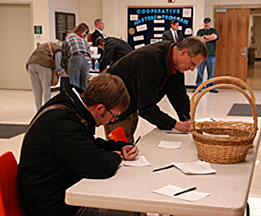 Those registering for McCaskill's "Kitchen Table Talk" in Joplin were asked to submit questions about subjects that troubled them. McCaskill attempted to answer them after drawing them from a small roaster pan. (Photo by Vince Rosati)

Obama birth certificate controversy
John Putnam of Carthage, who said he was a fee agent for the Joplin license office, wanted to know why people had to show their birth certificates and not Obama. The issue of Pres. Barack Obama's citizenship rocked the Internet blog world, especially after a number of self-proclaimed experts pronounced the "certification of live birth" produced by the Obama campaign in June 2008 a forgery.
McCaskill assured everyone that Obama was a citizen of the US. [He was born in Honolulu, Hawaii on August 4, 1961.] After mentioning that McCain was born in Panama [that didn't seem to be as much an issue], McCaskill told the audience that she didn't know where this birth certificate controversy came from. "You guys find something else to talk about," she said.
TARP funding
The subject of TARP (Troubled Assets Relief Program) funding was broached. McCaskill said that four out of five banks paid back the loan at 5% interest this week. "If no money is being loaned, then our country shuts down," McCaskill warned. She assured the audience that credit was flowing again and that she believed that lenders should have to pay taxpayers back before borrowing more.
Illegals and jobs
A discussion ensued regarding illegal immigration. McCaskill, who last year voted "no" on the Dream Act, said that immigrants are coming here because they are sure of getting work. "Enforce laws against folks hiring illegal immigrants" was her response to the problem. She also said she was a big supporter of E-verify.
CAFO's and the environment
An Eagle Rock resident spoke up about CAFOs and the role they play in the shortage of water and in the creation of pollution and then the use of taxpayer funds for clean-up.
Calling CAFOs an "enigma," McCaskill might have revealed her lack of knowledge in this area. Twenty thousand small farms have become seven thousand large ones, she said, suggesting they "go big to survive." However, she does worry about "big companies controlling the food supply." She says she wants specific examples of where the polluters are.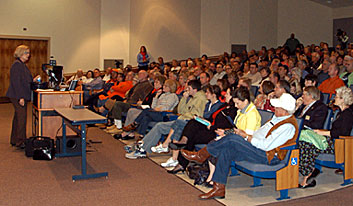 It was impossible to determine the make-up of the audience that assembled for Sen. Claire McCaskill's "Kitchen Table Talk" meeting in Joplin yesterday. Angry shouts from both Republicans as well as disillusioned Democrats were intermixed with rounds of applause. (Photo by Vince Rosati)
Honey money
Somebody asked about grant funding. Regarding the subject of earmarks, McCaskill said, "I don't do earmarks. Earmarks are a dumb way to spend public money." Not being a ranking member herself, she opposes their "honey pots." She compared the per capita earmarks in Alaska - $2,000 to that of Missouri - $22. "Do stuff on a competitive basis," she said, "not through lobbyists."
Ethics for politicians
"Politicians act like autocracy." "If we did a fraction of what's going on in Congress we'd be in jail already," a lady from the audience shouted. In general the audience wanted to know how to get rid of bad politicians.
Blagojevich [governor of Illinois recently charged with racketeering, extortion and fraud], he's going to jail, McCaskill replied, as he should. She described Kansas Gov. Kathleen Sebelius' run-in with the IRS as a need for simplification of the tax code. McCaskill explained that Sebelius erroneously deducted mortgage interest on her home after it sold for less than the mortgage balance.
Income tax and credit card tax
Shouts of "flat tax" and "fair tax" came from the audience. McCaskill said these alternatives have been debated for years. She did not voice her opinion about them.
A young girl's lament over having her credit card interest rate ballooned brought more anger. McCaskill tried to appease the audience by saying that a credit card bill is coming out of committee. She explained how the concept of "universal default" was used to raise the interest on everyone's cards, not just the abusers. The idea of issuing everyone credit and now clamping down on everyone was considered an anathema.
Mortgage mess
The audience definitely wanted revenge and people held accountable. Regarding the sub-prime mortgage mess McCaskill said it was unclear that crimes had been committed for indictments. Keeping government out of business is the reason behind government not having interfered, she said. McCaskill thought she could appease the ferment by assuring the audience that "banks in Joplin were solid as a rock."
"People with no skin in the game" sold mortgages that were sliced and diced, McCaskill said. Congress thought it was doing the right thing when it took away rules from investment banking. "How do we regulate them without harming business," she asked?, admitting that she gets chewed on by the right and chewed on by the left trying to maintain a middle of the road position.
Rather than lament a past issue, McCaskill said that Congress needs to look into the concept of reverse mortgages. "We have to fix this..or have the same situation as the sub-prime mess."
Druggies and jail time
A question from Seth Jackson of Lafayette House in Joplin brought on a discussion of the "drug court," or a supervised way of getting out from under felony charges.
"The incarceration problem is costing jillions of dollars," McCaskill said. Getting $35 and a bus ticket after time served doesn't cut it. We need to look at the system, the recidivation rate and the need for accountability, she said. She favors the drug court because it requires a figure of authority to work.
Educational issues
On the subject of No Child Left Behind McCaskill says that standards in knowledge and behavior should be reformed. Progress has to be measured, good teachers need to be rewarded and bad ones weeded out.
"If we don't make public education accountable," she said, "we won't be able to compete in a global economy."
Benefits for vets
A veteran in the audience stood up to make his case for increased benefits. It's about time somebody stood up for us. We'd been nickel and dimed for the last 30 years, he said. McCaskill replied that the veteran's budget has been funded under the new administration based upon the requests of veteran's agencies.
Trying to kick start optimism in the audience, McCaskill told them to have confidence in the stock market, that right now many companies were undervalued. Unfortunately, if she took a poll she might have found that the anger resonating from the audience was because they had no money for investments, that many were jobless or working for lower wages and greater hours.
There also may have been little understanding for how the government was going to cut a $1.3 trillion deficit. The sound of the money figure was threatening and prompted a shout from the audience regarding its effect on future generations--their children and grandchildren.
McCaskill tried to explain that Congress would be on a path to cut the deficit in four years by holding the line on discretionary spending, cutting entitlements, taking the waste out of the Iraq contracts, and most importantly that "reducing health care cost by 1% a year would change the whole concept of the deficit."
McCaskill said she hoped the audience understood how she was being accountable. She called the audience, "patriots for being here."
However, as an aside, just before leaving McCaskill admitted, "I had never had people yelling at me before." She added, "I'm not used to people being that rude."