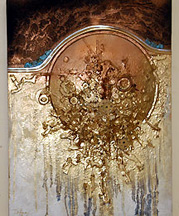 An entry by artist Marv Dahmen, a retired teacher from Carl Junction High School, who is known for his award-winning use of recycled materials, took best of show in the Webb City Library's recent competition. His nuts and bolts and gears and such, he once said, were leftover parts from his hobby of restoring antique cars.
Local artists contributed to a week-long Global Warming Exhibit held at the Webb City Public Library beginning April 4. In addition to the judged competition that was on display in which participating artists had created objects using 75% recycled materials, library patrons were shown a film on climate change produced by the National Geographic Society. They also were able to view and handle a collection of green products that were contributed by Walmart--everything from a recycled tee-shirt to a solar garden light and cleaning materials of many varieties that are kind to the environment.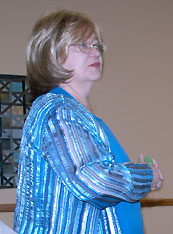 I want to thank the artists who contributed and the public who came in to make this a success, said Sue Oliveira, pictured at left, director of the Webb City Library. She and her assistant Vicki Bibb greeted guests who came to an awards presentation on April 10, the final day. The library was open in the evening especially for the occasion.
A grant from the Walmart Foundation and a contribution from Friends of the Library provided funding for the program and the Walmart gift cards that were handed out to the winning artists. Part of the mission of the Walmart Foundation is its support of environmental sustainability.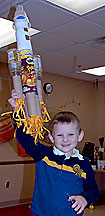 In the children's category the Woolverton brothers of Webb City received awards. Nathan, 4, at left, for his rocket man and Zachary, 6, at right, for his robot were all smiles over their achievements.
When asked whether the event would be repeated next year, Oliveira said although nothing definite has been decided, that the library was considering another way to encourage local artists. As to the details, she said that,"We haven't thought through it enough."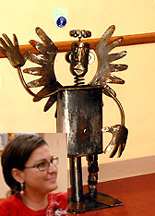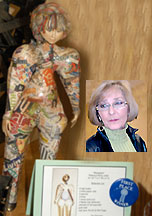 A mother and daughter are recognized for their artistic talent, exhibiting different styles. Rebecca Perry, at right, and her daughter Aston Stovern, at left, both won first place honors.
---
Rebecca Perry's materials list for her winning entry include:6 light bulbs, 3 toilet paper rolls, 2 spoons and forks, 1 sno-cone cup, 2 Webb City Sentinels, old rope and clay for a face, thumb and little finger.
---


Penny Shipley, at left, is shown with her 2nd place entry that was made of natural materials--grasses and reeds and the like that she painted and formed into an interesting abstract.
Connie Knudston's work at right also was awarded second place. It was entitled, "The Sum of the Parts" and consisted of metal strips that were fastenings. Knudston, like Dahmen was unable to attend the awards ceremony.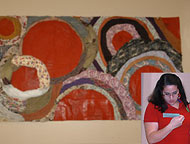 The final second place award went to Alexandra Anger for her use of unraveled rug material. She titled the piece, "Lowest Note Playable on Tuba."
Throughout the month of April over two dozen books on "going green" are being featured at the library. The non-fiction titles are for readers of all ages. The subjects include making things from recycled materials, edible wild plants, green living in general and even green investing.