Yasso and Reinertsen on the run
June 15, 2009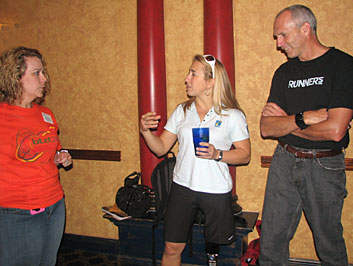 At left, Kirstie Smith, communication manager for the Joplin Area Chamber of Commerce, chats with Sarah Reinertsen and Bart Yasso at a luncheon held in their honor.
Two well-known personalities in the running world were honored at a luncheon held on June 12, 2009 at Mythos restaurant in Joplin. Sarah Reinertsen from Orange County, CA and Bart Yasso from Center Valley, PA had been invited to speak to runners in preparation for the 1/2 marathon and 5K race held during Joplin's Boomtown Days. Reinertsen also spoke to children at the Freeman East Pediatric Therapy and Development clinic.
Reinertsen is a crowd favorite everywhere. Her bubbly personality is infectious.
In October 2005 at age 30 she became the first person with a prosthetic leg to finish the Hawaii Ironman Triathlon, a challenging and strenuous race that required securing a spot by competing in the inaugural Honu Half Ironman Triathlon the previous June. She performed under tough conditions and on a very challenging course.
Mick Ward, a physical therapist and director of Freeman's Outpatient Rehabilitation and Sports Medicine Services, who had been invited to the luncheon, praised Reinertsen for her inspiration to kids with similar challenges.
During a recent event that Ward had organized, Reinertsen spoke about her prosthesis. Ward recounted how one child's response was, "Hey, I want that leg"--like it was bionic. And everyone's conclusion is that she definitely conveys that attitude.
Also fascinated by her stories, especially one with the same challenges, was a 15 year-old car accident victim who frequents Ward's Freeman clinic. In turn, "he is inspiring other people," Ward said, and that "becomes a chain reaction."
Growing up with a birth defect that led to her leg being amputated at age 7, Reinertsen admitted that she was "teased endlessly" by her school mates. But now she hopes that "disability is the new cool...the new black."
Reinertsen does not hesitate talking about her special prosthetics, how she has to maintain an even weight because, she says, her $36,000 titanium leg with its hydraulic knee "fits like a glove."
With the help of publicity from Runner's World and a stint on Nightline Reinertsen said that having been selected for a spot on The Amazing Race made her more well-known. Although she said she came in fifth with her partner in the reality TV show's competition, she said that a highlight of her life was the opportunity made possible by CBS with permission from the Chinese government to scale the Great Wall of China. After all, tourists, she reminded everyone, have to take the steps.
Reinertsen didn't enter Joplin's Boomtown races even though she would have enjoyed participating. She revealed that it was almost four weeks since she was diagnosed with a stress fracture of the ball of her good foot, and that it was still tender. How she was injured speaks volumes about her I-can-achieve-anything personality.
It seems that as a visitor to Disney's Blizzard Beach Water Park in Orlando she had to leave her leg at the bottom of a slide to avoid getting it wet. Obviously she couldn't make use of a wheelchair. Instead, believing she was an "iron man, she said that she hopped the 227 steps and repeated the feat several times on other slides. Even though the next day she experienced a "foot of fire," she completed a scheduled race.
What troubled her, she said was having to take a wheelchair to the gate at the airport. She called that, "pretty humbling" and concluded that she indeed had learned a lesson the hard way.
Every year Reinertsen says she offers a grant to a local teen with a new disability to compete in a triathlon. She also says that her book In a Single Bound: Losing My Leg, Finding Myself and Training for Life that she wrote with Alan Goldsher will be published by Globe Pequot Press in paperback form in September 2009.
Yasso travels the world
While Yasso called both his and Reinertsen's books "memoirs," he pointed out that his book, My Life on the Run co-authored with Kathleen Parrish and with a forward by Amby Burfoot, was about striving for "perfection"--although that is not to say he isn't humble. When accused of being "mentally strong" during his earlier races, Yasso, now 53, said he was "younger."
Besides revealing some of what he also markets as the "Yasso 800 marathon training schedule," Yasso's book reveals his adventures around the world and how to deal with life's challenges.
In remembering the past, for instance, Yasso said that in the 1980s he thought it was illegal to walk a race; so, for 146 miles he said that he basically ran. He no longer has the mindset that walking a race was "unethical."
Reinertsen's comment that she struggled with how "naked" to make herself in her book stimulated Yasso's stream of consciousness. One of his anecdotes describes how he was asked to speak at a pasta dinner the night before a race at the Kaniksu Ranch about 35 miles north of Spokane. He said he even had agreed to meet a date there.
"I got set up," Yasso said, after arriving and discovering that nobody was wearing clothes. Kaniksu was a nudist camp.
Yasso said he gets so many questions about the nude race that is revealed in his book. But, he added that the "questions are asked out in the hall" after his talks.
Based on where he's been and where he's run, Yasso's book also is a travelogue or geography lesson. It was difficult taking notes about all the places he's run that he rattled off.
In describing a race in Antarctica participated by the Inuits he said he had to run with his shoes tied on, adding that the wind during the summer solstice did help dry the course out.
Yasso also apparently was humbled by a race he ran in East Africa at the base of Mount Kilimanjaro. He said that he thought he "had wings" on his feet, but when he came to the finish line, "nobody was there." The Africans, he pointed out, run "very, very fast." In Swahili he apparently heard someone say, "look at that slow white man in the race."
Results for the 1/2 Marathon and 5K Race
Melissa Todd of Kansas city (MO), 34, was the top female finisher for the 1/2 Marathon. Her time was 1:21:24. Trailing her, about three minutes or less slower were Katie Hauser of Columbia (MO), 27, with a time of 1:24:04 and Meagan Nedlo of Norman (OK), 26, with a time of 1:24:24.
The overall finisher for the men was Kipruto Rotich of Columbia (MO), 28, with a time of 1:08:01. He was followed by Stephen Ariga from Texas, 35, with a time of 1:08:21 and Geoffre Kiprotich of Columbia (MO), 24, with a time of 1:08:48.
In the master's division Karen Plucinski of Joplin, 46, with 1:55:04 and Dean Casady of Rogersville (MO), 51, with 1:32:02 had top running times.
The top 5K finishers for the women were Courtney Wood of Neosho (MO), 16, with 19:51; Beth Good (town unknown), 16, with 22:26 and Sarah Whipple of Farmington (AR), 22, with 22:31.
Top scorers for the men were Caleb Hoover (town unknown), 16, with 16:34; Jacob Spence, Baxter Springs, 16, with 17:38; and Matthew Haase (town unknown), 18, with 17:46.
In the 5K division the top masters female was Jane Hutchinson of Joplin, 63, with 23:01 and the top masters male was Michael Carman of Granby, 45, with 18:06.
The races took place during the morning of Saturday, June 13, 2009 on a course established on Joplin streets located on the western side of the city. Awards were presented at Memorial Hall after the final entrant crossed the finish line on Joplin Street. About 500 runners signed up. For a complete rundown on the entrants and their times go here for 1/2 marathon and here for 5K.
---

Title - In a Single Bound: Losing My Leg, Finding Myself and Training for Life
Author - Sarah Reinertsen with co-author Alan Goldsher
Publisher - Globe Pequot Press/release date is 9/1/09
Availability - Pre-order from Amazon.com for $16.47 (subject to change).
---
Title - My Life on the Run--The Wit, Wisdom, and Insights of a Road Racing Icon
Author - Bart Yasso with co-author Kathleen Parrish and forward by Amby Burfoot
Publisher - Rodale Books/288 pp. (paperback, 5/12/09)/$11.53 at amazon.com
ISBN-10: 1605298271; ISBN-13: 978-1605298276