Potts announces US Senate candidacy
June 28, 2009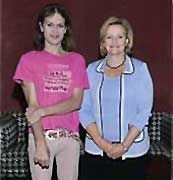 Missouri Progressive Party co-chair Midge Potts, at left, is shown with US Senator Claire McCaskill, a Democrat who successfully campaigned to break the chain of Republican victories by defeating Jim Talent in November 2006.
Midge Potts, who previously ran against Representative Roy Blunt in Missouri's 7th Congressional district 2006 Republican Primary, made an official announcement on June 25, 2009, that she intends on entering the race to fill Missouri's US Senate seat currently held by four-term Republican Senator Christopher "Kit" Bond. He is retiring. The announcement was made at the Magic Bean Coffee House in Potts' hometown of Springfield and was accompanied by music from Dis-/Un-/Anti-, musicians with empathy for the underdog.
She said she was tired of politics as usual in Missouri and hoped to break the bonds of nepotism that's put one relative after another in office. The current Missouri Secretary of State Robin Carnahan who is running on the Democratic ticket for the seat, the daughter of former governor Mel Carnahan and former US Senator Jean Carnahan, comes from a family with a lengthy history of public service. Roy Blunt, the Republican contender, has been a member of the US House of Representatives from Missouri 7th District since the beginning of 1997. His son Matt has served one term as Missouri governor.
Potts, who is the state co-chair of the Progressive Party of Missouri, said she made the announcement in conjunction with the Proposition One Nuclear Disarmament Tour so that she could highlight nuclear disarmament as the centerpiece of her campaign platform. Because the Progressive Party, affiliated with the Green Party of the US, currently does not have ballot status in Missouri it will have to gather 10,000 verified signatures in order to put her on the ballot in 2010.
"I fully support the Nuclear Disarmament and Economic Conversion Act that was first introduced into the House of Representatives by Washington DC Delegate Eleanor Holmes Norton," Potts announced. "If elected, I intend on introducing a version of the bill in the US Senate."
Her proposal would essentially dismantle the nuclear arsenal kept by the United States in proportion to the weapons maintained by other countries with nuclear capability and would convert the money spent on maintaining America's nuclear missile program on health care and other essential social programs. According to the Bulletin of Atomic Scientists, a nontechnical magazine founded by former Manhattan Project physicists after the atomic bombings of Hiroshima and Nagasaki, the US currently has over 5,000 nuclear weapons.
"As a fiscal conservative, I would also like to see a significant portion of the money saved by disarming American nukes used to pay down our 10 trillion dollar debt." Potts said, "Other issues that will play an integral part of my platform include canceling America's participation in NAFTA and the World Trade Organization, withdrawing all US troops from the Middle East, balancing the federal budget, abolishing the IRS and the Federal Reserve, as well as making it legal for American farmers to grow hemp and marijuana. I will also be talking about not-for-profit health care as a defense issue that could save countless lives in the United States."
Potts, who has twice run for a Missouri seat in the House of Representatives, is best known for her March 2007 protest in which she was standing behind former CIA operative Valerie Plame in a House Government Oversight Committee hearing with an "Impeach Bush Now" t-shirt. Photos of her also were published in the New York Times, USA Today and other major news publications after she stood with signs behind Bush administration officials, including Alberto Gonzales, Condoleeza Rice, and Robert Gates.
Potts says she is looking forward to a debate with Blunt and Carnahan.
Her biography may be found here.