IBT celebrates 60th anniversary during 2009
October 16, 2009
The man came forward all smiles with a strong handshake that would make the most timid feel welcome. He wore a shirt with the IBT logo embroidered on it. A visitor would think he was just one of the regular employees at the company's Joplin location on W. 13th Street.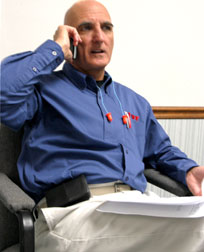 Steve Cloud, pictured at left with his angular features and distinctive shaved pate, is a third generation president of IBT, an industrial distribution company begun 60 years ago in Kansas City by his parents, the late Forrest L. and Bonnie Cloud.
He was in town to pay personal calls on his customers. He described himself as a "hands-on" kind of guy, sort of like a young Sam Walton who also often visited his stores to make sure everything was operating smoothly. Later on, Cloud was treating his Joplin employees to dinner and would repeat the gesture in 35 IBT branches, something hectic but consistent with the philosophy of the company.
Cloud set the record straight. After graduating from the University of Kansas with a degree in business and economics, he said he didn't just join the family company in a cushy job. He said he learned all aspects of the business, beginning with sweeping the warehouse floor and cutting chain.
When young Cloud attempted to apply what he learned in college, he said his Dad told him the theories "weren't exactly right," the pragmatic aspect was missing that only could be learned firsthand.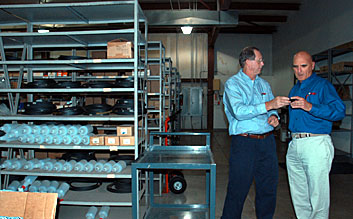 IBT president Steve Cloud, at right, and Joplin store manager John Hughes, at left, catch up on events while in the distribution center's warehouse.
IBT reached a fiscal year all time record from September 2007-08. It was not immune to the downturn in the economy that hit hardest in the spring of 2009 affecting the manufacturing sector. Sales dropped about 20% necessitating a layoff of about 7% of IBT's workforce. But Cloud said that sales have increased since a leveling off in June and that he was "very optimistic for the future."
Like many other companies, IBT has been affected by costs associated with healthcare, finding it necessary to look for coverage with a higher deductible. The company provides 80 per cent of the cost of a full coverage health care plan.
In the US amazing techniques are being employed by the medical profession, Cloud noted. "How do we pay for them?" he asked. "Maybe, society can't afford them. It doesn't matter if its government or society that picks up the tab," he pointed out.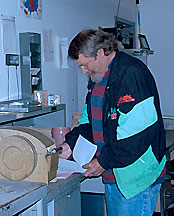 Joplin warehouse manager Carl Lewis looks over inventory sheets.
While IBT represents many blue chip American and international companies--Goodyear Engineered Products, Siemens, Dow Corning, Loctite, Honeywell, Georgia Pacific and Ingersoll-Rand to name only a few--it has diversified its wholesale operations. The latest expansion includes an Integrated Services Group for supply-chain management using technology to create an orderly flow of inventory and information and help employees work more efficiently and safely. This includes the design and building of fully automated robotic material handling systems.
Steven Cloud's son Kevin, 32, runs the video department in Merriam, KS. The department was launched in the 1970s to create training videos conducted by the company's bearing specialist to be sent to its 25 branches. The concept was expanded to include customers who wanted videos for their product distribution and today includes any type of training. As an example, Applebees has hired them to create training videos for their cooks and servers every time they introduce a new menu.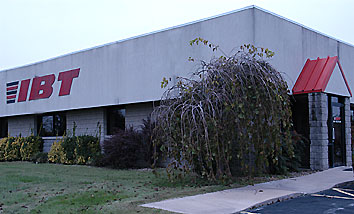 The Joplin branch currently with 10,000 square feet is no upstart company. Having been founded in 1968 when it was located at 313 E. 7th St., the current operation is considered IBT's most profitable. The store, that sells industrial maintenance supplies such as electric motors, bearings, conveyor belting, safety equipment and fluid power systems is proud to include major local customers in manufacturing, ethanol production and pharmaceuticals. An example of this close partnership would be TAMKO, a major manufacturer and supplier of building materials, also located in Joplin.
Corporate headquarters are located at 8400 W. 44th St., Merriam, KS. For more information about the company, go here.