Spiva Center sponsors brainstorming event
October 18, 2009
Eliciting ideas sometimes needs a novel approach. Some people are not used to offering suggestions. Others might get caught up in the story and never find the conclusion.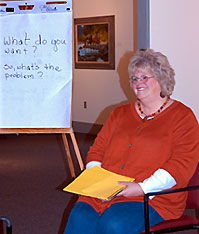 "We don't often have clarity," Ann Leach, pictured at right, told a group of artists and non-artists. They were assembled in the main gallery of the Spiva Center for the Arts on October 18. Leach, who is president of the Spiva Board of Directors, advertised the session as a way for the community to offer ideas to assist the expanding arts center in reaching a new plateau. The process, although it may have been similar to approaching behavior modification for decision-making executives, was Leach's own invention. And she proved she was a very capable coach.
To warm up the audience for the task at hand, Leach asked each of them to define something small and attainable for which they would be seeking a solution. "Clearly state what you want, then listen carefully to the solution offered," Leach instructed.
The example she gave was that she needed an easy filing system for work. She was too overwhelmed by piles of papers on her desk to do something about it.
"I'll come over to help you," was the immediate response offered by Kerstin Landwer.
"Everyone say, 'What a great idea,' Leach replied. She cautioned against allowing what she called a "monkey mind" to step in and overrun the idea with all the reasons it wouldn't work.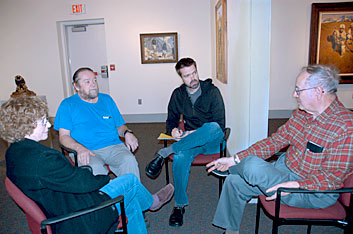 Artist Jesse McCormick, second from left, gathers with non-artists Veda Jones, Steve Inge and Jim Fleischaker in part to define a common interest that might bring them together. Socializing over a glass of wine was suggested as well as having the studio space in which to convene.
Individuals first participated in a one-on-one exercise seeking solutions to personal problems. Then they split into groups of three or four to outline ideas for Spiva growth and hash out what might be problems in their attainment. Topics to be considered were financial development, volunteer development and planning for the future. Promotion by city officials, hype by radio station hosts and word of mouth were considered prerequisites for future development.
Landwer said that reaching out to older adults should be a priority. A discussion on gifting Dave Ramsey-style ensued. She also suggested changes for Spiva's gift shop currently located out of view of the main desk. Besides stocking items that were more affordable, she suggested the addition of manufactured items and a location change for better security.
Regarding volunteerism, the training and rewarding of docents was discussed in terms of specifics. It was agreed that they should sign a contract, provide their own transportation if students and be utilized more as guides and historians. Diana Fleischaker, Spiva's volunteer coordinator, said that a guidebook for volunteers was in the works.
The debate that seemed to be common to most groups centered around how to bridge the gap between professional and amateur artists and create a community of people who want to hang out together. Establishing a studio space was one suggestion of Steve Inge, speaking on behalf of his group. Another was to crossover the interests of several organizations. One example suggested was to encourage the exhibit of paintings that could be enjoyed by patrons of ProMusica or the Joplin Little Theatre. An other suggestion was to link agencies on Spiva's website and to seek the cooperation of the Missouri Department of Conservation in planning outside painting events.
The discussion on allowing non-members to display art was met with some controversy. However, Josť Alvarez, Ph.D. professor of Spanish language, literature and creative language at Missouri Southern State University, volunteered to join non-traditional student Adele Thompson in organizing such an event.
Encouraging high school students to organize their own shows was a suggestion made by Randy Karst. "I put an art show together" looks great on a college entrance resume, Karst said. He also thought that such functions would get parents and others involved.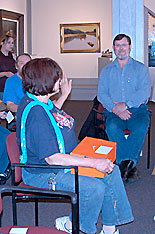 Randy Karst with hands folded liked the designation as "idea man." One of his ideas was to encourage the creation of a DVD containing artwork that would flash intermittently on a computer screen.
Karst also encouraged the incorporation of "deviant art also suggested by Landwer for any program that would attract kids.
Some of these suggestions already were put into practice by Antonia Ferlo, head of the art department in the Carl Junction school system. Ferlo helped plan the first annual Rhythm 'n' Hues, a jazz and art festival benefiting Spiva that last February featured several high school jazz groups and the art departments of Webb City and Carl Junction high schools. She has begun planning for the second festival for March 26, 2010.
Ferla believes that the art center should be run like a proselytizing church. While in some circles "proselytizing" is a dirty word, Ferla used the term to mean that the center has "to reach out," that "everybody is a member" and all are awarded opportunities to learn how to do things.