Three authors offer tips for life
November 01, 2009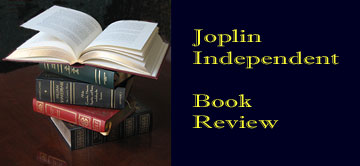 Two books, were called to our attention that in some way deal with finding a sense of self worth and with it dealing with what life offers.
Dougie Goes to School, the second in the "Dougie's Life Series," was written by 8-year-old Douglas Christie Jr. It tells the tale of how a little boy, with the help of his Mother, counters his fear of going to school.

Okay, so this kid, pictured at left, is the son of retired 14-year NBA basketball star Doug Christie and model/designer/author Jackie Christie and that has to give him a leg up. But it also suggests the importance of living and growing up with caring parents and the significance of having an open line of communication in which to share one's childhood concerns.
Dougie's sense of accomplishment, illustrated by having won a spelling bee on the first day of school, is further reinforced by the loving congratulations he receives after he arrives home. "Everyone clapped and cheered. They were proud of me," Dougie says.
Sharing his story of going to school, Dougie wants kids to know that no matter who they are, they can overcome anything they put their mind to. This theme of universality is displayed in the illustrations by Dottie Albertine. While the students she depicts are of many skin colors, their common goal knows no color boundary.
---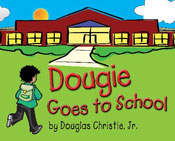 Title - Dougie Goes to School
Author - Douglas Christie Jr.
Publisher - Infinite Love Publishing; 1st edition (October 2009)
about 30 pp.
ISBN: 978-0-9794827-7-9

---
---
Following the suicide of her bi-polar son and then losing her husband to congestive heart failure, lay chaplain and author Kay Taylor Burnett claims to have sat on the side of a mountain for almost five years dealing with her grief. But during that time she wrote No Odes to Widows in which the characters mired in loss and grief find unique paths to personal resolution.
"Feel like you may be losing your mind?" widowed professor Doris Kemp asked her friend

"But Doris, I'm having trouble with things like names and phone numbers and appointments, much less coping with everyday life. Could it be Alzheimer's?" Katherine Bell responded.

"Trust me," Doris countered, giving Katherine a 'quick hug.' "I've been there. It's grief."
Susanna Perez, owner of a plant nursery, is the third friend with little more in common than her widowhood and taste for fresh bread. The three have met in the check-out line of the town's small bakery.

The author, pictured left, who has several literary accomplishments to her credit, says that she attempted to express the tangled maze of emotions of widows and those who have suffered life-changing losses by writing a murder mystery. Drawing the three women together is coping with the news of the mysterious murder of a young highway patrolman who leaves a widow with a small child. They also feel compelled to play detective to solve this crime.
While, perhaps, the novel's dénouement, that of the solving of the crime through a confession, leaves the reader a bit let down, the book does deal with important themes: heartbreak and disillusionment spare no one, conversation is an important tool for healing as well as faith and love of natural beauty and friendship helps bridge the gap of loneliness and despair.
"The book is more than a "who done it" murder mystery," Burnett explains. "It explores the themes of friendship, loss and overcoming grief. I think at last, widows everywhere have their own ode."
---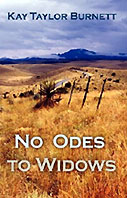 Title - No Odes to Widows
Author - Kay Taylor Burnett
Publisher - iUniverse; (April 24, 2009) 2009)
300 pp.; $18.95 at amazon.com
ISBN-10: 1440135975 ; ISBN-13: 978-1440135972

---
---
For those who consider themselves rednecks, well then, this book's for you. A Neosho resident has self-published a book entitled Silver 6ix - Memoirs of an Uncommon Common Man.
Mark Wilson has published the book under the pseudonym "Silver 6ix," yet hasn't hidden his true identity. Doing so, does give him literary license to embellish the truth but the reader has to guess when or if he has chosen to do that.
Those who grew up with him in Southwest Missouri-- Wilson graduated from Neosho High School in 1987--and later when he moved away to live in the big city of Oklahoma City, know what the facts are.
As an outsider one can only be taken by his stripping bare any pretenses and revealing events in his life that show he wasn't born with a silver spoon in his mouth. Tongue-in-cheek Silver 6ix tells us he lived in a single wide trailer on 40 acres within sight of his grandpa's 100 year old house, a fact, he tells us, that means his family was "in the upper middle class in the community."
One of his earliest memories, he says, was a school trip to a McDonald's in Joplin. Seeing the back end of the restaurant, he says, was as big as going to the World Series for a country kid.
Silver's recollections of growing up in the heartland include his escape from a tornado, his passion for the Oakland Raiders and involvement in high school sports, and later his rather poor choice in women.
His life after high school includes weekends with a diet of Jack Daniel's to counter the boredom of a 16 hour shift as a butt welder, his love of fast cars and his penchant for hanging out with an increasingly rough crowd and numerous fights over women and turf.
He finally gained a sense of direction, he said, when a friend urged him to attend the Oklahoma Christian University. This gave him the opportunity to join a missionary trip to the Ukraine where he met a Russian translator. Their on again, off again relationship was characteristic of many in which he was engaged.
"I found myself repeating, time and time again, this same pattern, of winning the girl, getting bored with her and then breaking up," he said. This realization leads to the chapter, "I'm Not the Marrying Type...And a Few Other Things I've Learned About myself."
Silver's descriptions should strike a common chord with locals, especially when he describes recognizable places and occurrences. He says he hopes to make a few bucks with the book and, perhaps, follow it up with two or three more.
---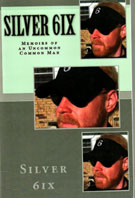 Title - Silver 6ix - Memoirs of An Uncommon Common Man
Author - Silver 6ix
Publisher - Silver Six Farm; (May 25, 2009)
208 pp.
ISBN: ISBN-10: 0982493363 ; ISBN-13: 978-0982493366

---