Organization seeks donations to solve crime
November 12, 2009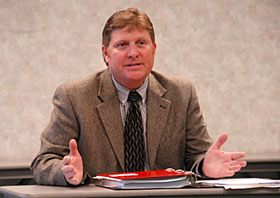 Kyle Hickam, president of the 13-member Board of Directors of Heartland Crime Stoppers, Inc., explains the need for this newly formed organization at a press conference yesterday at the Joplin Area Chamber of Commerce. (Photo by Vince Rosati)
Crime Stoppers, an international organization that provides a means of communication for members of the public to anonymously provide law enforcement agencies with information on crimes or suspects now will have a local chapter. Heartland Crime Stoppers is being organized to provide a way for individuals to make contact using a secure tips line or through the use of a secure web connection and offer monetary rewards for information offered that leads to an arrest. Each caller will be assigned a code number for the purpose of insuring anonymity.
Giving credit to Joplin City Manager Mark Rohr for the impetus to establish the group, Kyle Hickam, board president, emphasized that Crime Stoppers was not part of the police department, that no one from the police department was on his board, and that the anonymity of all tipsters would be absolutely maintained.
"It gives us another tool to fight those forces that we are trying to eradicate in Joplin. Most importantly, I've seen it be used effectively in getting citizens more involved in something that impacts us all," Rohr told us by e-mail.
With a target date of January 2010 to have Crime Stoppers operational, Hickam said that the board currently is in the fund raising stage. He announced a goal of raising an initial $10,000 in order to set up a kitty that would provide upwards of $1,000 for information leading to an arrest, help support annual dues of $300 to the national organization and provide for the funding of $700 for necessary software.
Announcing that the group collected $1100 in just three days, Hickam was pleased with the initial response from the community. Tax deductible donations may be made for as little as $50 or as great as a Legend Sponsorship of $10,000 that would provide for recognition of each donor on all promotional material. Since the group filed for 501 (c)3 status, all donations are tax deductible.
The Crime Stoppers concept started in 1976 in Albuquerque, NM. According to the group's history, a teen was shot and murdered during a robbery, and in spite of weeks of investigation no clues turned up to identify the perpetrator even though the crime occurred with witnesses in a well-traveled, well-lit area of town on a busy Friday night.
The need for a way for the public to offer anonymous tips became apparent as well as a way to raise money to pay for this information. Police could not offer rewards for anonymous information. The assistance of the media also became significant in order to communicate with the community.
Word of the success of this initial program spread quickly. Other U.S. programs were formed under the banner of Crime Stoppers U.S.A. In 1984 the group became international with the organization of groups in Canada.
For information regarding how to make a donation contact Hickam at (417) 624-8443.