Driving the Jefferson Highway
November 12, 2009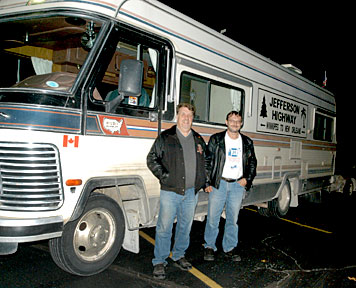 Gary Augustine and Mike Conlin, L-R, are shown alongside the motor home that they drove down the Jefferson Highway, stopping overnight recently in Carthage.
With all the hoopla about Route 66 few people may be aware of The Jefferson Highway, the first transcontinental road to traverse the North American continent from north to south and possibly the first dedicated international highway in the world.
Mike Conlin and his friend Gary Augustine decided to validate what they could discover of the road. Beginning in Winnipeg, Manitoba, Canada the two are driving the 2300 mile route that will take them to New Orleans, hopefully, Conlin says, before his wife's birthday next Thursday (November 19, 2009). Their ultimate destination is St. Charles and Common streets, one block from the French Quarter where they expect to be met by a motor cycle police escort that will take them to a monument marking their end (actually the beginning) of the route.
---
Just before reaching a turn, he [the driver] may see on the blue and white marks, instead of the monogram J.H., the letter R. or L., advising him although the road may run straight ahead, the Highway turns to the right or left...At intervals, he will see a letter D. or X., giving warning that he is approaching a dangerous place in the road or a railroad crossing. At other intervals, he will see enamel signs bearing the design of a palm tree on the south end and a pine tree on the north end with the words Jefferson Highway, and he concludes he is on the Jefferson Highway which reaches from pine to palm..... --From "The Jefferson Highway a Great Route," (Joplin Globe, March 1922)
---
Mike Conlin checks a map depicting the Jefferson Highway. The route was home to quite a few notable figures in history, including Jesse James, Charles Lindberg, Wyatt Earp, Cole Younger and Harry Truman and was the location for several Hollywood movies including Easy Rider that was filmed in Baton Rouge, LA.
"The Jefferson Highway is pretty well all gravel," Conlin said, illustrating with his fingers how much his car being towed behind Augustine's motor home was full of dust. The story of the car, by the way, is an adventure in itself, as somewhere along the route it "caught on fire" and wasn't any more useful than for storage.
"Unsecured WiFi is helping the Jefferson Highway," Conlin said. He and Augustine parked overnight where they had access to the Internet. Besides adding pegs to an electronic map, Conlin was preserving memories along the way by posting photos on a special Jefferson Highway facebook page.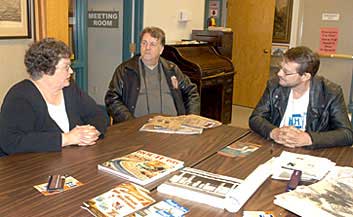 Michele Hansford, director of the Powers Museum in Carthage, chats with visitors Gary Augustine and Mike Conlin about their "Pine to Palm" motor tour.
Conlin/Augustine's stop in Carthage at the Powers Museum on West Oak marked about the halfway point of the trip that took them through 234 towns. "We, maybe, stopped 100 times so far, Conlin said. Meeting so many people along the way, mostly from museums, is a blur in his mind.
Powers Museum Director Michele Hansford underestimated the amount of time it would take the adventurers to travel from Butler, MO, their last stop, to Carthage. It seems that they were awestruck by the countryside around Lamar and had stopped at a dam to take photos.
"15 miles per hour" was what Augustine said they were driving on the gravel. As night approached he and Conlin decided to rejoin 71 Highway to reach their next overnight destination, dinner with Hansford and her husband and the use of the Carthage Walmart parking lot..free use, Conlin reminded everyone, but where they then might "drop 50 bucks" for incidentals.
Their trip along the highway that they dubbed from "Pine to Palm" is quite an adventure, taking them through more than a half dozen states. Although south of Kansas City the old route splits in two and follows towns along what is now 69 Highway in Kansas and 71 Highway in Missouri, the two chose the Missouri side to reach Carthage. In the morning they are hoping to get a flavor of the Kansas side after meeting author/historian Janette Mauk in Pittsburg and visiting Scotty's Classic Car Museum in Arma.
History of the Jefferson Highway
Edwin Thomas Meredith of Des Moines, IA, founder of the monthly farm journal Successful Farming and eventually President Woodrow Wilson's Secretary of Agriculture, devised the idea of a north-south road connecting the Gulf of Mexico with Canada in order to provide farmers with decent roads for transporting their goods to market. The Jefferson Highway Association was formed to lay out a route from New Orleans to Winnipeg that became nicknamed the "Palm to Pine Highway." Meredith became the association's first president and on his second day the main terminal points were established to include New Orleans and Shreveport, LA; Muskogee, OK; Joplin, Kansas City and St. Joseph, MO; Des Moines, IA; St. Paul and Minneapolis, MN and Winnipeg, Canada.
The national directors of the JHA voted to propose a double route from Joplin (zinc and lead mining center)--one through Missouri that included the towns of Harrisonville, Butler, Lamar, Nevada, and Carthage and one through eastern Kansas that included Pittsburg. A debate ensued over which of two routes from Harrisonville to Lee's Summit would be the official one, and in 1918 it is said that the then Jefferson Highway Director J.D. Clarkson announced that the "West Route" would win out, not the least influenced by the fact that 60 members of the Jefferson Highway Association lived along this stretch, including D.M. Gregg whose farm would benefit financially.
While the Jefferson Highway existed as a named highway for only a few years until it fell to a standardized numbering system in about 1924, historians today are attempting to keep the name alive through museums, monuments automobile tours and annual celebrations.
Conlin/Augustine leads this group of Jefferson Highway aficionados. Said Conlin, "I can't wait to drive the route with my Harley."
---
Photos by Vince Rosati
---