Blunt heads health care round-table discussion
January 10, 2010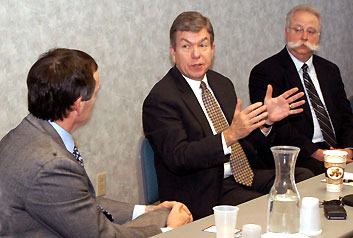 Congressman Roy Blunt explains his position on health care to Gary Duncan, president/CEO of Freeman Health System, at left. Included in the discussion is Robert Dodson, a surgeon on the staff of St. John's Mercy Regional Medical Center in Joplin. (Photo by Vince Rosati)
Missouri Congressman Roy Blunt moderated a round-table discussion on the impact of health care changes currently being debated in Congress. The event, that brought together 17 leaders of the area's health care community, was held last week at the Joplin Area Chamber of Commerce.
Essentially what the group concluded was that health care reform currently being considered by Congress would do little to cut spiraling health care costs, that continued cutting of reimbursements to doctors and hospitals would affect treatment options and cause physician shortages, and that instituting a penalty for not getting insurance would create a new relationship between people and government that would make the latter even more intrusive.
Blunt said that he had introduced legislation that would limit medical liability cases as the best way to control the rising cost of medical care, that Republicans had sent tort reform to the Senate seven times in 10 years but it didn't get to the floor. He suggested that "tort reform cuts the need for a CAT scan for people coming into the ER with a headache."
"There needs to be corners cut," agreed Scott Brothers, CIC, president of the Insurancenter and vice president of Missouri Association of Insurance Agents. However, he also thinks that a proposed eight per cent penalty for not providing insurance would cause small businesses to drop plans.
Risk pools and portability (being able to purchase health insurance across state lines) were Blunt's suggestions for further controlling the rising cost of insurance coverage.
Missouri has a backlog of liability cases before current legislation became in force, commented Dottie Bringle, a senior vice president at St. John's Mercy Medical Center in Joplin. Staff surgeon Robert Dodson offered that medical liability issues "jack up the price of equipment."
Bringle also mentioned the cost factor in having to treat illegal aliens and labeled that "more and more of a burden" especially in Missouri where Medicare reimbursement, she said, was "very slow." To that Blunt expressed concern over the use of "self-verification" as a method of determining the legitimacy of resident status.
"Our fear is if we put people on plans that don't meet costs, we will not make up with quantity," Gary Duncan, president/CEO of Freeman Health System said. He cited the closing of St. Louis-based SSM Healthcare's St. Francis Hospital as an example of not having enough reimbursements to meet costs. "We will see that more often elsewhere," Duncan said.
Blunt expressed concern over the burden of cost not being met by rural hospitals. The mention of Sen. Ben Nelson's amendment to provide extra funding for rural hospitals in Nebraska in part in exchange for his vote for the Senate health bill brought snickers in the room.
Rick Keller, executive director of Spring River Christian Village, said that continued cuts would lead to the need to cut personnel. "We've become an industry of compliance not quality," Keller said.
Blunt said he was surprised over not hearing much from governors and seniors, whom he said might be affected by as much as a 20 per cent cut in Medicare reimbursements. Executive director of the Area Agency on Aging Region X, Carolyn McLaren said that seniors' apparent complacency is because they are not believing cuts to Medicare will happen.
Suggestions for cutting health care costs included creating incentives for wellness. Blunt suggested a penalty for not leading a healthy life, the need to focus on health rather than sickness with more wellness testing to detect problems down the road. "The government never has done enough to keep people healthy," Blunt said.
Editor's note: It should be clarified that Blunt in referring to a "penalty for leading a healthy life" was suggesting that insurance policies should be incentivized. As an example, 22,000 white collar Safeway employees were offered incentives for wellness that drove down health care costs and lowered insurance rates.