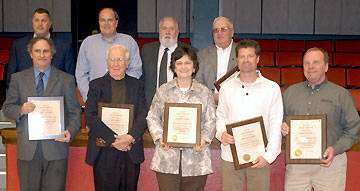 Posing with city officials and receiving recognition plaques at the Joplin Boards and Commissions Dinner are (Top row, L-R) City Manager Mark Rohr, Kyle Denham, Mayor Gary Shaw, and Maurice Clark. (Standing, L-R) Paul Teverow, Ned Chase, Gloria Turner, John Donaldson and Terry Hicklin. A number of those to have received plaques were not in attendance and consequently missing from the photograph.
Citizens who serve as members on the 25 boards, committees or commissions were invited by the city of Joplin to attend a recognition dinner on January 26, 2010 at Joplin Memorial Hall. Special gratitude was paid to 26 citizens who completed their terms either in 2008 or 2009 on 15 of those volunteer assemblies.
Those assembled bow their heads as Joplin Council member Melodee Colbert-Kean gives the invocation.
A list of boards and commissions may be found here. Anyone interested in volunteering to serve the city may find a fill-in application form here to list their qualifications and names of boards or commissions on which they wish to serve. All applications are held in the files of the city clerk for two years.
Photographer Vince Rosati captured some of the camaraderie of the evening. Click on the following thumbnails for larger shots: