MOCAP unites business and education
March 12, 2010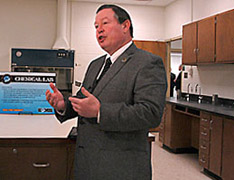 Dr. Bruce Speck, president of Missouri Southern State University, describes the university's role in the newly formed Missouri Center for Advance Power Systems Research (MOCAP) while standing in the center's main room.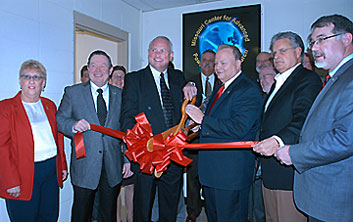 A ribbon-cutting ceremony to mark the establishment of the Missouri Center for Advanced Power Systems Research took place on March 12, 2010, in the entrance to the facility at the Anderson Criminal Justice Center on the campus of Missouri Southern State University in Joplin. Holding one end of the ribbon on the left is MSSU President Bruce Speck and on the right is Missouri Rep. Ron Richard (R-129). With scissors in the center are Randy Moore, president of EaglePicher Technologies, LLC and Missouri Sen. Gary Nodler (R-32).
Dr. Bruce Speck, president of Missouri Southern State University, was lead speaker in the introduction of the Missouri Center for Advanced Power Systems Research (MOCAP), a cooperative venture started more than three years ago that pools the resources of several state universities, private industry and business organizations. Joining Missouri Southern are the Missouri University of Science and Technology, Missouri State University, University of Missouri-Columbia, EaglePicher Technologies, Joseph Newman Innovation Center and the Joplin Area Chamber of Commerce.
In defining the role of a university, Speck said that while creating good citizens was a significant part of the educational process, creating an economic engine that ultimately provides tax revenue benefiting the school was equally important.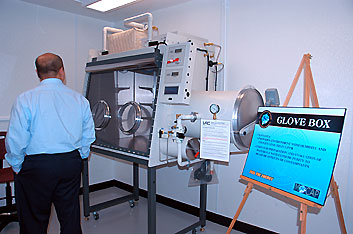 The Glove Box is one of the pieces of equipment in place in one of the rooms of the lab. It provides a low humidity and oxygen environment used for the preparation and evaluation of materials with extreme purity to measure the effects of contaminants.
MOCAP, a 501(c)(3) organization, is the brain child of EaglePicher Technologies. It establishes a center that will provide students majoring in engineering (electrical and chemical or materials science), chemistry and physics, who are juniors and seniors, a minor course of study (20 credit hours) in energy storage and related technologies. While the nitty gritty of running the program still needs to be worked out, it will include instruction delivered in person, over the internet, via live streaming video and using collaborative learning software.
"We could possibly attract graduate students to the program," explained Bob Higgins, manager of contract research projects for EaglePicher. "The exact requirements still have to be worked out by the MOCAP board." Higgins did say that the first class would be taught in the fall 2010 and that the course of instruction would not just be about batteries but also fuel cells and capacitors.
Thanks to the American Recovery and Reinvestment Act of 2009 $2.4 billion was appropriated for transportation electrification and EDV battery and component manufacturing initiatives with approximately $3.9 billion earmarked for energy storage and smart grid technologies. President Obama recently said that he would like to see the creation of one million electric-drive vehicles whose major components are mostly Lithium-based batteries and ultra capacitors by the year 2015.
EaglePicher Technologies with $125 million in revenue for fiscal year 2009 is a leader in designing batteries, battery management systems and energetic devices for defense, aerospace and the medical industry. A wholly owned subsidiary, they recently were sold for $171.9 million to the OM Group (NYSE-OMG), an international company headquartered in Cleveland, OH.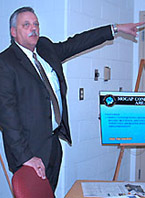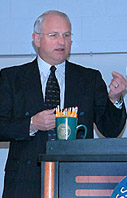 Officials from EaglePicher Technologies discuss the importance of MOCAP. At left is Darrell Ideker; at right is Randy Moore.

Randy Moore, the president of EaglePicher Technologies, said he was "excited over the prospect of specializing in education about batteries." He called the local facility the "only lab in the nation dedicated to a battery program that would be replacing the one chapter that currently appears in a physics book.
"It's easier to recruit people who've seen Joplin and like what they've seen," commented Darrell Ideker, EaglePicher's programming manager, referring to those who would be part of the new program. In the past he said his company had trouble finding qualified people wanting to come to Joplin.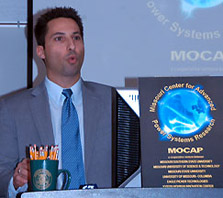 Jason Hall, pictured at left, executive director of the Missouri Technology Corporation, an arm of the Missouri Department of Economic Development, spoke of the need to encourage innovation and entrepreneurship in the state. In technological advancement, Hall said that Missouri's rank was 49 out of 50.
"We're doing something about that poor showing," Hall said. He enumerated programs already established in plant science, animal health and nanotechnology and spoke of the need to make continuing investments like MOCAP.
He credited Missouri with being in the top 10 states for the biosciences but implied that Missouri was lagging behind its neighbors: Kansas with its $650 million agriculture bio-defense lab and Ohio's having created over 40,000 new jobs.
"We need the workforce to grow and expand [a company like] EaglePicher," Hall said. He looks forward to the passage of SB895, the Missouri Science Innovation Reinvestment Act, that basically would loan money for the advancement of existing technology companies or give tax credits to encourage start-ups.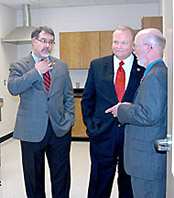 L-R, Tom Flanigan (R-127), Sen. Gary Nodler (R-32) and Bob Higgins, EaglePicher Technologies' manager contract research projects, share ideas.
Senator Gary Nodler and Speaker of the House Ron Richard were credited with helping to get legislation passed that incentivizes the program--from SB 55 that changed Missouri Southern's name and allowed for joint degree programs and SB 389 that created incentives for the pooling of tax dollars by colleges.
"The ability of state educational institutions to respond creates a template for the future...to becoming a leader in technology in the nation," Nodler said. "I'm very proud of this outcome." He thanked "divine providence for bringing these things together."
Introduced as "Mr. Economic Development," Richard said there was "no disagreement over putting people to work." He spoke highly of creating partnerships and ending the battles for recognition that pitted the University of Missouri against other state universities and even Springfield against Joplin.
For more information about earning an advance power systems minor, contact Dr. Tia Strait, dean of the School of Technology at Missouri Southern by phoning (417) 625-3155 or by sending an e-mail here.