Roy Blunt teams up with Sarah Steelman
March 21, 2010
In the foreground Rep. Roy Blunt and Sarah Steelman, newly named chair of Small Businessmen and Women for Blunt, address a group of Joplin area entrepreneurs during one of Blunt's "Jobs for Missouri's Future" bus tour stops.
The American Ramp Company on McKinley Street in Joplin was the setting for a discussion on March 19, 2010 led by U.S. Senate candidate Roy Blunt and his newly named assistant, former Missouri treasurer Sarah Steelman. The event was an opportunity to introduce Steelman as chair of a new coalition they are calling, "Small Businessmen and Women for Blunt." She decided to take a leave of absence from a teaching position at Missouri State University in order to tackle this job.
The audience, seated around a conference table shaped like a skateboard, were dominated by men with the exception of the wife of the owner of MSW, Inc., a Carterville manufacturer of restaurant furnishings, who was introduced by her husband as a co-owner. However, she didn't speak.
Speculation has it that Steelman and her new group were named to help garner the female vote. If that is so, the obviously nervous new chair has her work cut out for her.
Regional chairs who were named to help lead the coalition include: for St. Charles County, Al Gonzalez, owner of DOTEC in St. Charles; for the southeast region, Eddy Justice a State Farm Insurance agent from Cape Girardeau; for the southwest region, Jeff Laymen with Laymen Group of Morgan Stanley in Springfield; for the northeast region, Phillip Potterfield of Ren Potterfield Trucking in Monroe City; for the northwest region, Duane and Donna Turk, franchise owners in St. Joseph and for Jackson County, Bev Worth of Worth Harley Davidson in Blue Springs. No one from the Joplin area has yet to be named.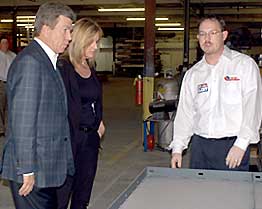 Jim C. Moss, far right, CEO of the skater-owned American Ramp Company, considered the world's largest skatepark provider, explains operations to Rep. Roy Blunt and Sarah Steelman on their recent visit to the Joplin plant.
No opportunity presented itself to ask Steelman her motivation for reversing her role as Blunt's political foe--she once called him a "big spending Republican" and "another white guy in a suit" when she was contemplating running against him for the Senatorial seat about to be vacated by Christoper "Kit" Bond.
"She understands what people in the White House don't," Blunt said of his almost opponent at what he called his "355th campaign event." And as for priorities, both agree that job creation should be at the top of the list.
Blunt spoke several times about the "high cost of health care." In paying for the proposed health care legislation, he offered several alternatives: debase the currency and pay back the expense in cheaper dollars, not pay it back, or raise taxes and the latter, because of clean energy legislation, to be coupled with higher utility bills, especially in Missouri with its reliance on coal.
Steelman labeled 2010 as the "most critical election year we've had in years." "The government shouldn't control your lives," she told the audience. "That's going in the wrong direction. People want their country back."
Perhaps, it was because Joplin was the last stop in the tour that had included St. Charles, Rolla and Springfield that Steelman seemed to take a back seat in expressing her views. In actuality, she doesn't mince words in discussing her political views on her website Freedom Center NEXT Generation.
Some members of the audience speak
Terry Hicklin, owner of Candy House Gourmet Chocolates, voiced his concern over the SBA getting the authority to set fines like OSHA. While he added that safety measures must be fixed, he said that they are expensive and often what he called a "farce." His response was to the concept of government restricting economic freedom and strangling small businesses.
"The SBA is the lowest funded operation," Hicklin said. He claimed that red tape put off his company getting financial support and that having to seek refinancing after only three years was too short a time to build up any equity in the business.
As if the uncertain economy isn't bad enough, Curt McCoy, co-owner of MSW, Inc., mentioned how he was concerned over "so much uncertainty on the government's side." This lack of trust was further expressed by Ryan Jackson who sells scrap metal in both domestic and international markets. He said he was asked by his overseas clients if the US government were going to treat inflation like that of their own countries--that is, issue more money.
Costs of Cap-and-Trade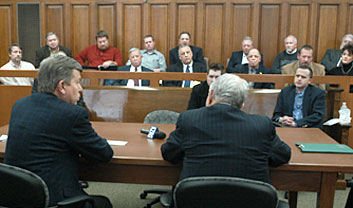 With their backs to the camera, from L-R, Rep. Roy Blunt and Sen. Christoper "Kit" Bond face a "jury" of assembled community and business leaders at a meeting sponsored by the Economic Security Corp. in Joplin last month .
At what may turn out to have been an unprecedented event Sen. Christopher "Kit" Bond joined Rep. Roy Blunt (MO-7) at a round table discussion. The topic was the high costs of cap-and-trade policies for Missourians. The two Republican Congressional leaders, who have jointly done much to get legislation passed that was meant to improve the lives of their constituents, met at the offices of the Economic Security Corp. in Joplin to face a partisan crowd of community and business leaders. However, they both agreed that the issue of cap-and-trade and its carbon regulations was not a Republican or Democratic issue but one that affects the entire state of Missouri, since 82% of energy in Missouri is derived from coal.
The Waxman-Markey ACESA bill was passed by the House of Representatives last June by 219 to 212 with 44 Democrats voting against it. Meant to address the issues of global warming and transform the way the nation produces and uses energy, the bill establishes a cap-and-trade system that sets a limit on overall emissions of heat-trapping gases while allowing utilities, manufacturers and other emitters to trade pollution permits, or allowances, among themselves. With the tighter cap over the years presumably industry would be compelled to find cleaner ways to make energy. John Kerry, Lindsey Graham and Joe Lieberman currently are trying to work out a compromise bill in the Senate. The Clear Act would make fossil fuel polluters pay heavily for their emissions.
In speaking about the economic consequences, Blunt said that a 14% drop in the CO2 standard will cost lowest income people $620 more for utilities per year. "They are the last people to get new windows...," Blunt said.
Keeping Missouri's energy costs down had been seen as a way to re-locate jobs to the state. In considering the argument made by Sen. Barbara Boxer (D-CA) that "green" jobs would be created from solar power, both Bond and Blunt countered that the Democratic green jobs and cap-and-trade agenda would result in green jobs for China and Malaysia where many solar plants are opening because wages are cheaper and bureaucratic regulations are lower. These "green" jobs bought with public subsidies--as much as a $20 per megawatt subsidy on taxpayers--wind up supporting jobs outside of the US, they concluded.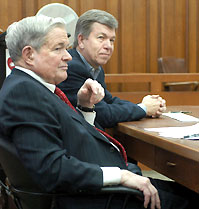 L-R, Sen. Christopher "Kit" Bond conducts a round table discussion with Rep. Roy Blunt who is campaigning for his Senatorial seat.
The effect of higher energy costs was discussed by several members of the audience. Troy Conway of Conway Trucking said that his company has seen a dramatic increase in the cost of diesel, citing a 40-cent hike over 2009 price levels and anticipating over $3.00 per gallon in 2011.
"The mentality of absorb the cost or pass it on is erroneous," Conway said. "The private sector should be left to clean up its own act."
One manufacturer's representative talked about losing competitiveness factoring in hauling products. "There's no room for absorbing additional costs," he said, "and money is not available for loans." A manager of a small processing plant in Carthage with 20 employees said that the company's very high electric bill equals the wages of ten of their employees and the Superintendent of schools in the same community, while noting that his district is as energy efficient as it could be, said he was "very concerned" if utility bills go up any higher and consequently make money for education dry up. And a administrator from a small nearby community told of how spiraling utility costs would reduce city services drastically.
Steven Schneickert, maintenance manager for the 2-year-old McCune Brooks Regional Hospital facility, proposed looking towards "efficiency standards and other technologies and incentives to reduce carbon." He created a spreadsheet showing the charges incurred by the hospital from January 2008 to October 2009, including the cost passed on to the facility when the municipal supplier (Carthage) cannot generate its own power and must "buy off of the grid" to avoid a brown-out. Adding on charges for carbon credits and other regulations as well as changes in healthcare, the cost of which, remains unclear, Schneickert was forced to ask, "How would this be a good thing?"
"Let's think through in a more permanent detail of what happens to these carbon credits and carbon," Schneickert said. "There are so many businesses and entities in this great nation hanging by a thread, fighting to compete in a global marketplace."
According to Amy Bass, director of corporate communications, Empire Electric Company's Director of Environmental Policy, George Thullesen, was in the audience. Nobody knew his name. At the time Empire hadn't submitted to the Public Service Commission their newest rate hike.
---
Photos by Vince Rosati
---