IgniteChurch.TV lives up to its name
April 02, 2010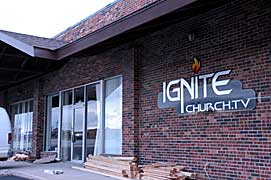 Most people know it as the old Consumer's grocery store, behind the Sonic, off of the corner of 7th Street and Maiden Lane but for IgniteChurch.TV it's their new place of worship.
"It's not just a bigger building" says Senior Pastor Heath Mooneyham, "It's an opportunity to serve more people in the downtown Joplin area."
The Church itself is little more than a year old but in that short time they quickly outgrew their current building at 7th and Virginia and knew they had to expand. The building became available to them just two weeks ago.
From the passion of only two people, the Church has grown to about 225 members. And once the facility is introduced to the public that number no doubt will increase dramatically.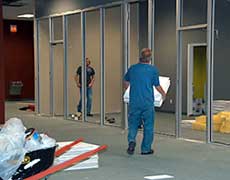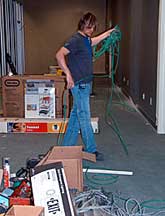 Workmen who are members are scurrying to complete the interior of IgniteChurch.TV in time to worship Jesus on Easter Sunday.
A wide tiled entrance opens up into a large area where a 62" HDTV in its carton still leans against the wall. The main sanctuary will have multi-colored carpet tiles, a sound system and stage. The Church already had established itself with a hi-tech image, and a live band is an integral part of their service.
The new layout allows for a separate section for children, grouped by age. A brick wall is the focal point of one room that has a raised platform stage.
In a leap of faith the leadership began working on their new sanctuary round the clock with the hopes of making sure the gospel will be heard on Easter Sunday, one of the most important days in the Christian faith. What still had to be done before Sunday was to tack up new drywall and paint it and lay down carpet.
"We'd like to invite the entire community to share our good fortune," Mooneyham said. Sunday morning services are at 10 a.m. and 11:30 a.m.