Citizens say, vote 'no' on Propostion A
April 05, 2010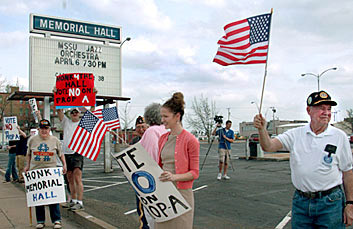 A group of concerned citizens met in the parking lot of the Joplin Memorial Hall and staged a protest along Seventh Street. Their message to passing cars was to "vote NO" on Proposition A during the election to be held the following day on April 6, 2010. An affirmative vote would turn Memorial Hall into a museum, and they were opposed to that.
Their opposition states:
They believe that Memorial Hall needs improvement but becoming a museum was not the way to achieve it.
They support the original vision and purpose for Memorial Hall as it was dedicated in 1924.
They claim that the museum board, the museum director Brad Belk and the Joplin City Council have failed to consider the wishes of American Legion Post 13 that initiated the building of the Hall in 1919.
They believe that Proposition A ignores the current benefits of the Hall in its present role as a money-making facility.
They think that no other combination of venues in Joplin are able to "fill the gap" that losing Memorial Hall would leave and citizens would be left without a local entertainment venue.
They believe that Proposition A, if passed, would destroy a well-used building instead of looking for other unused space downtown and benefiting the revitalization of Main Street in the process.
They believe that the proposal allows a publicly owned property to be taken over by a private organization, the museum board.
They believe that Proposition A taxes individuals to pay for the operations of a private non-government organization.
They believe that the proposal would hurt the local economy by raising taxes and removing economic activity that would find its way to Oklahoma or elsewhere.
They believe that the museum should not be subsidized by taxpayers who have no voice in how the new museum complex would be run.
They think that the operating costs of the new museum would be nearly 10 times higher than they are now and that this increase is not justified.
Many other locations are available to the expansion of the museum. These are the people who believe that Memorial Hall should not be repurposed. Click on the thumbnails for a larger photo.