Joplin wishes Bach a belated happy birthday
April 26, 2010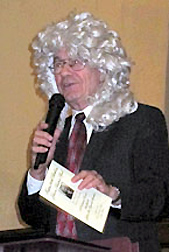 Meredith Williams, at right, a long-time member of the music department at Ozark Christian College in Joplin sports a wig to talk about Johann Sebastian Bach at a birthday celebration honoring the famous composer. He said the wig, that his wife Heather said, brought to mind a mop, was the best he could find in the Joplin area to suit the occasion.
A happy 325th birthday celebration for Johann Sebastian Bach took place April 25, 2010 at the First United Methodist Church in Joplin. The event originally scheduled at Ozark Christian College for March 21, Bach's date of birth, had been postponed due to an unexpected snowstorm.
Meredith Williams holds the title of director of alumni publications & conventions & media relations at OCC but he also has contributed to the department of music since 1967 when he joined the OCC staff. He also is known for his wit.
Introducing Bach in part as a man who had no musical training, who traveled extensively, who never wrote music for children and only fathered a couple of them, who wrote a cantata about the vice of drinking tea and who never saw the inside of a jail, Williams then proceeded to tell the large audience before him that, perhaps, the music historians among them were shaking their heads for a reason. All that he had said was false. He then took the opportunity to present correct information giving over a dozen performers the time to individually position their sheet music and accoutrements.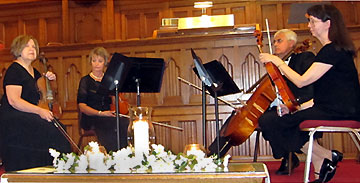 Sheep May Safely Graze was the first Bach piece performed on violin and cello by the Heritage String Quartet from Forest Park Baptist Church in Joplin, pictured above. Williams explained how the secular meaning of the song originally found in the Hunt Cantata (No. 208), that of an allegory in praise of hunting, later became exemplary of the teachings of the Christian church.
Included in the 20 or so secular cantatas in Bach's prolific output is The Coffee Cantata (No. 211). While not performed that afternoon, it became the subject of one of Williams' interludes. A girl fond of drinking coffee, Williams said, was the object of her father's disaffection. When he advertised for a disciplinging suitor for her, she proudly announced that she would only accept the advance of one who did not object to her coffee drinking habit.
It should also be noted that Williams owned up to Bach's having 20 children with two wives, seven with his cousin Maria Barbara Bach and 13 with Anna Magdalena Wilcke, the daughter of the town trumpeter. Ten of his children died in infancy.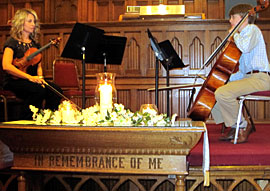 Christian and Gina Atteberry from the First Presbyterian Church of Joplin wait to perform with Karen Dolanc on piano as part of the Dolanc Trio.
Christian Atteberry, a student at Thomas Jefferson Independent Day School, was the youngest performer flawlessly rendering one of Bach's exercises for students, Invention No. 8 and Gigue from the fifth French Suite. Later plucking the cello, he accompanied his mother on violin and Karen Dolanc on piano, performing the lilting melody Air in G. Performing another practice piece created by Bach for young students, Little Prelude in C was Gary Jordan of the First Presbyterian Church of Webb City on trumpet.
Pamela Volkl, an organist at St. Phillip's in Joplin, told the audience to close their eyes as she performed the quick but smooth tempo of Bourrée in E Minor and Das wohltemperirte Clavier I, Prelude I (BWV 846) on an electronic harpsichord. "The well-tempered clavier" is especially popular for modern keyboard rendition.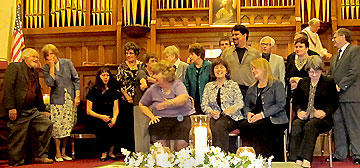 The Joplin Area Organists Association, founded by Gloria Sanborn, seated sixth from left, has as its mission the desire "to encourage the appreciation of all kinds of organ music in the Joplin area and to provide opportunities for like-minded persons to gather and share this joy."
Bach was born in Eisenach, Germany on March 21, 1685. He didn't venture too far from his home turf, Williams finally admitted. He definitely wasn't a man of the world. He did perform for Leipsig dignitaries who were celebrating the birthday of Elector Frederick Augustus. Performing Baroque Alleluia from Auf schmetternde Töne , BWV 207a was Dr. Mary Anne Andrews, an organist at Grace Episcopal Church and First Christian Church of Carthage, accompanied by 1st trumpet, Keith Garber and 2nd trumpet, Matthew McDowell.
After spending a month in jail, Bach was finally released by the say-so of his employer, a duke for whom he had refused to continue to compose and play music. He was hired by Prince Leopold who allegedly doubled his salary. Largo performed by Dr. Andrews and John Archer of the First Congregation UCC of Pierce City on piano was part of a rich, secular music program for the prince.
Not to leave any of the fine performers out, Adagio Cantabile was performed on the organ by Dr. Ray Willard of Pittsburg State University; Toccata in d Minor with its familiar three notes was played on the organ by Carolyn Orbin of the First Christian Church of Joplin; My Spirit Be Joyful from Cantada No. 146 and Sleepers Wake, A Voice is Calling saw Craig Smith on trumpet accompany Clark on the organ and Prelude No. I from the Well-Tempered Clavichord, one of the most influential pieces and part of a modern movie theme, was rendered by pianist Marcia Ball of Forest Park Baptist Church in Joplin.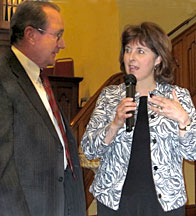 Williams took off his wig to give the mic to Glenda Austin of Joplin.
"Blizzarded out," according to composer Glenda Jackson of Joplin and performed elsewhere in the interim, A Little Bit of Bach lost its premiere status. The piece that has been published by the Willis Music Company, was dedicated by Jackson to the Joplin Area Organists Association. With its familiar notes integrated throughout the piece, it was described by Jackson as a "duet with a little bit of Bach and a lot of Glenda." It was performed on piano by Gloria Sanborn and Karen Dunaway.
Williams with wig restored said that Bach's music languished for more than 100 years after his death. German composer Felix Mendelssohn, he said, at the age of 20 (circa 1829) revived it by performing the St. Matthew Passion BWV 244.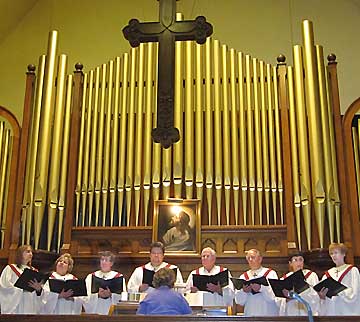 Jesu Joy of Man's Desiring, a cantada usually part of a program the Sunday before Christmas, was the tribute's final performance. It was sung by First United Methodist's Ensemble consisting of Karen Buchanan, Karen Dunaway, Linda Unser, Melissa Belk, Jud Fisher, Chris Belk, Larry Sanborn, and David Haralson.
In summary, Williams noted that Bach was a musical craftsman who created compositions for the wishes of his employers. However, a deeply religious man, Bach believed that music's purpose was in the glorification of God and furthering the human spirit. He encouraged anyone interested to travel to the Concordia Seminary Library in St. Louis where Bach's Bible may be viewed.
As you leave today, he told the audience, "reflect on Bach's life's purpose of glorifying God."