Joplin Humane Society welcomes visitors
May 10, 2010
Visitors could see it in their eyes. They definitely could hear it in many of their voices. "Adopt me" was the plaintive appeal. The most successful in the adoption process belonged to what could pass for Jack Russell terriers; well, as long as one didn't ask an American Kennel Club member.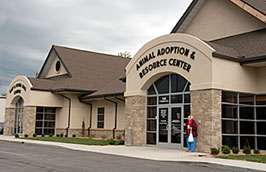 The Joplin Humane Society held an open house and behind the scenes tour on May 1, 2010 at their new facility, 140 E. Emperor La, off of N. Main Street. The community packed the building lured in by the promise of free hot dogs and Kit Kats, then becoming under the spell of the animals who knew that being caged there was not a good thing.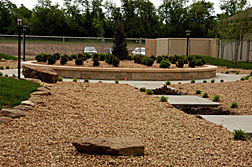 Set around a large green space that will be used for exercising the animals, the U-shaped facility has wings for dogs and cats, potential space for exotics and special rooms for getting acquainted. Volunteers assist in the selection process.

The adoption fee is $60 and includes a $35 deposit for spaying or neutering the animal, de-worming and initial shots that were provided when the animal entered the shelter. A driver's license is needed for identification, a carrier to bring home felines and further ID if you look younger than 18. Special discount coupons often appear in their newsletter.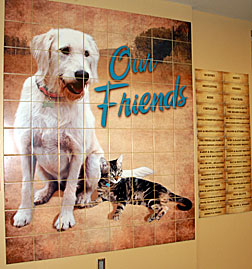 There are many ways to donate to the shelter. For donations of $100 to $400 recognition may be given to your cat or dog alongside the 7'x7' murals created by local artists that are displayed in the cat and dog adoption wings. Prominently displayed in the front lobby is a mural depicting a cat and dog for donations of $200, $400 or $800. For information on becoming a member of the organization go here. And their wish list includes food, towels and blankets (no comforters) and 24" granny squares for cat cages, treats, toys, cat litter, dog crates, paper plates for canned cat food, cleaning and office supplies, alcohol and big stuff including new laptop computers, a digital picture frame, video camera and weed wacker for yardwork.
Featured pets as well as donation information may be found here.
The shelter, a 501 (c)3 non-profit corporation, is open from 1-6 p.m., Mondays through Fridays and 10 a.m. to 3 p.m. on Saturdays. The phone number is (417) 623-3642. Karen Aquino is the director and Lisa Buehler is the manager.
Enjoy these photos taken at the open house. Click on each thumbnail for a larger view.