Who will be the new VP at Missouri Southern?
May 19, 2010
Missouri Southern State University President Bruce W. Speck has announced the selection of Dr. A.J. Anglin as the new vice president for academic affairs at Missouri Southern State University. He will begin his duties on Monday, June 14, 2010 and fill the post currently held by Dr. Brad Kleindl, interim vice president for academic affairs who will return to teaching next fall.
"I feel Dr. Anglin is a perfect fit for my administration and this university," stated Dr. Speck. "He brings a tremendous amount of experience, and he will be a strong leader for the academic community at Missouri Southern."
"I am delighted to join the administrative team at Missouri Southern," Anglin stated. "It will be my goal to work closely with the faculty to build on Missouri Southern's strong reputation as an outstanding regional university."
---
Dr. A.J. Anglin visits first
Dr. A.J. Anglin, pictured at left, the first candidate for the position of vice president for academic affairs at Missouri Southern State University told the assembled faculty on May 13, 2010 that he was "restless" and that he wants to do what he "loves best--working with faculty and serving students." He claimed not to be seeking the position for the money because he said he was very fortunate not to have been hurt by the downturn in the economy.
"I love life. I smile a lot. I'm happy," Anglin said in rapid succession but added that "not everything we do is pleasant."
'We can do with your sunny disposition" was a comment made by Holly McSpadden, associate professor of English and philosophy. She was voicing the concern of a large number of the faculty that think that Missouri Southern has "gone backward in concept" since Dr. Bruce Speck took over the office of president of the university.
While not touching the specific issues affecting Southern other than dwindling finances, Anglin spoke of addressing issues collectively, using various strategies and improving programs relative to increasing enrollment numbers. He stressed his desire to work with donors and told of his experiences as a college president in the '90s when money was flowing from small business. He also said that he has specific loves including nurturing honors programs.
But a problem with finances was not what other members in the audience wanted to hear addressed. When pressed with how he would handle problems at Southern, Anglin said that the six institutions to which he was involved were "significantly better" than when he started. He spoke of being "accessible," of working "one-on-one" and that he "never robs the integrity of another person" nor would he let faculty rob his integrity.
Regarding the number of positions he held and his longevity, Anglin referenced having traveled--"done that" and now was looking for a final position where he could make a difference. Regarding his age, he said that "what is needed here is mature tolerance."
While recognizing his frailties and imperfections, he sees his first few months as "establishing credibility, " "empowering deans and developing a rapport with them." "We will get through this because we are a community of scholars," he said.
In June 2008 Anglin retired from his post as vice president for academic affairs at Waynesburg, a university with 2,250 students and three satellite campuses in the Pittsburgh area. He also served as president of Trinity Christian College in Palo Heights, IL, from 1996 to 2002.
Previous positions included vice president for academic affairs at John Brown University in Siloam Springs, AR; vice president and academic dean at Aurora University in Aurora, IL and at Taylor University in Upland, IN, where he also served as dean of instruction, director of faculty development and professor of chemistry. He was visiting professor of physical chemistry at Indiana University and Ball State University.
In naming his first college as [Christ-centered] John Brown University, Anglin admitted he was "proud of being a hillbilly from the Ozarks." He earned his Ph.D. in physical chemistry from the University of Arkansas and received a National Science Foundation (NSF) research grant at Brandeis University. He also attended the Institute for Educational Management at Harvard University.
Anglin has owned a home on Beaver Lake in Arkansas for the past 12 years.
Dr. Thomas Winter speaks second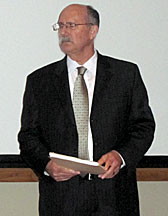 With notes in hand Dr. Thomas Winter, pictured at left, the second of three candidates for the position of vice president for academic affairs, addressed the faculty and staff at Missouri Southern State University on campus in Joplin on May 15, 2010.
Before fielding questions from the audience, Winter gave a prepared speech in which he declared that education with an international focus was essential to prepare students for the realities of the 21st century and by this he did not mean through foreign travel alone but by having faculty incorporate international studies in their curricula. He spoke of not wanting students to lose a "competitive advantage in this world." He defined a liberal arts education as one that integrates practical skills.
Often quoting education pundits, Winter set out to define how he would help Southern achieve its mission of educating students from Southwest Missouri. He prefaced his comments by declaring how many members of his family had gone on to impressive careers after having had a Southern education. His intent might have been to show his local connection or that a Southern education had not failed to prepare his relatives for successful careers.
The mission/vision is a shared one...owned by the total institution not just the trustees and the president," Winter said. Not denigrating the role of the president in guiding the board, Winter called for a "culture of collaboration," including faculty learning from each other as a way to enhance instructional ability. He said he also believed that "diversity must be celebrated" and that "no subject in the world must not be debated on this campus."
"I don't know what I want to be when I grow up," Winter confessed. He said he was "constantly learning" and that teaching skills and knowledge "were rarely included in doctoral programs."
While his background was in private parochial schools, Winter sees more similarities than differences when compared to public institutions. He defined state institutions as having a "unique trust" and a "rich heritage of partnering with the surrounding community" which he claimed should be solidified. Regarding issues of spirituality, he did not see them ignored at Southern.
Audience have their say
Dr. Holly McSpadden reiterated her question to Winter that she had asked the first candidate--that she saw Southern's moving toward more of a junior college status due to budget constraints--lack of faculty development and funding for paid sabbaticals--and wanted to know what his vision was.
Winter's response was that "peers can mentor for one another." Until funding could be re-introduced, he said that programs should be kept alive that induced faculty development.
"...Faculty renewal is critical but trade-off is necessary," Winter said. Removing sabbaticals is necessary to retain base salaries or full pay-off on retirement.
In response to Dr. Joy Dworkin's concern that the faculty were not given a say in articulating the vision for the future of the university, Winter claimed the need for a "consensus" while stating that the ultimate vision comes from the board and the president.
The innuendo from the audience seemed to express a concern over dumbing down of academic expectations and loss of control over the scope of what was taught, discouraging peer journal publishing and innovative ideas and as Dr. William Kumbier brought up, discouraging best possible teaching through removal of tenure track positions.
Winter said he was committed to providing 'some stability so that issues can be addressed." But he refuted the need for peer journal publishing quoting the work of the lateErnest Boyer, partnering with other disciplines rather than just pursuing individual publication. While he said he believed very strongly in the importance of tenure in higher education, he understood the reasons why tenured faculty might not be retained.
Regarding the institution of graduate programs online, Winter said he was a "cautious fan of it." When asked about a department's ability to decide the scope of its programs, he replied that Abilene (his current employer) has left that to the department but that he "doesn't know if that's right." It's an "open discussion in his mind."
With a background in social work, Winter spoke of using "high impact practices" or the need for intense mentoring for students from under represented groups, non-traditional students and minorities. He interpreted MSSU's mission as "not to be a selective institution" contrasting it with Truman State which he assumed required a higher ACT score for admission.
Background
Winter is currently vice provost at Abilene Christian University. He earned his Ed.D. in higher education leadership from the University of Arkansas in Fayetteville. He earned a master's degree in social work administration and planning from the University of Texas at Arlington, conducted post-baccalaureate theological studies at Princeton Theological Seminary and earned his undergraduate degree in biblical studies from Abilene Christian University. He also was a member of the class of 2004 at the Harvard University Institute for Educational Management.
At Abilene Christian University, Winter served as vice provost, associate provost, interim assistant to the provost, director of the baccalaureate social work program and program director for the Social Service Administration program. As a faculty member at Abilene Christian, he advanced to professor of social work and is a member of the graduate faculty.
In addition to his academic career, Winter was director of child and family services for Children's Homes, Inc., in Paragould, AR and administrative director at Christian Services of the Southwest in Dallas. He also served as a campus caseworker and director of group care social services at Christ's Haven for Children in Keller, TX. He has authored a book and numerous articles.
When asked why he wanted to leave Abilene after 26-years, he said his decision was a combination of personal and professional reasons--the CAO position was not available where he's at and his desire to be near his parents who live in this part of the country.
Dr. Abdul Turay is final candidate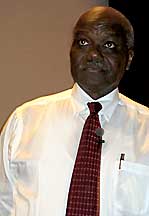 "We from the South...good afternoon," Dr. Abdul Turay, pictured at left, repeated, forcing a rather laconic audience of faculty and staff at Missouri Southern State University on May 17, 2010, to respond to his greeting. Turay is the final candidate for Southern's position of vice president for academic affairs.
Wandering around the audience the man from Mississippi with roots in the West Africa country of Sierra Leone, said he wanted everyone to feel comfortable about his style of administration. Often bitingly frank and very self-confident, Turay hoped to be chosen to set leadership by example and bridge the gap between the faculty and the president that has created what he called a "dysfunctional family."
In his response to Dr. Holly McSpadden's question regarding MSSU's declining role as a university, Turay said that the development of a strategic goal has to come from the faculty. Yet he included himself in what he called a "performance matrix" where he would be held accountable for mandating faculty productivity in teaching, research and service to the community and their profession.
Steven Sciavo, associate professor of computer information science, questioned how productivity could be faculty-driven when they were being faced in part with larger classes and more sections.
"What is happening at MSSU is happening at institutions around the nation," Turay responded. Short term solutions were needed to deal with the dynamics of the economy today. In defining Southern as a "tuition-driven" institution, he said enrollment goals had to be set and once these goals were attained, reserves could be created that would address pay raises or hiring.
"You cannot engage in water cooler conversation," Turay said, eventually quoting Chrysler's Lee Iacocca and his mantra of "lead, follow or get out of the way." It was leadership that Turay believes is missing from Southern.
The "water cooler conversation" comment got Turay in trouble when eventually a member of the English department obviously defining it as typically less than of a professional nature wanted to make sure that he wasn't taking the faculty's discontent lightly. As part of this discontent, Dr. Joy Dworkin wanted to know what things the faculty would be asked to compromise. Academic freedom? --no. Promotion and tenure? --no.
When compromising...not necessarily give up your values, your beliefs was Turay's response. This led to Dr. Dale Simpson's question, "Is eliminating tenure-track and hiring [based on] a one year position part of the economic conditions?" Turay passed the buck to the department chairs, holding them responsible for making a case for reinstating the tenure-tract position.
Considering the squabbling, library director Wendy McGrane asked Turay why he wanted to be here. His answer included the things that he said excited him: creating quality students, being a part of the international component and the exchange program that sends students to teach in a foreign country, and the chance to revamp the graduate program to which his response was, "six students makes no sense."
Turay put some of his marbles into the establishment of an office to assist faculty in attaining money, presumably in lieu of pay raises. Grant assistance was his answer for solving a money crisis, including how to raise funds for the international mission. His proclamation that "Woodrow Wilson will give you money to finish that book, for crying out loud," was not questioned nor was it clear how much he knew about the grant office already established on campus. His idea to establish monetary awards for major faculty accomplishments seemed to quickly degenerate into "just a simple thank you will go a long way."
"Cooler heads," "Common sense" and "synergy" were key factors that Turay believes will solve the stalemate at Southern between the faculty/staff and the administration. "If nothing is done then you have grounds," he concluded.
And the audience clapped. Whether it was for him or whether it was for the final end of the interview process will yet be determined. While evaluations handed in by the faculty and staff no doubt will be taken into consideration, the final choice of candidate is up to President Bruce Speck with the advice of the Missouri Southern Board of Governors.
Background
Dr. Turay from 2005 to the present is provost and vice president for academic affairs at Tougaloo College, in Tougaloo, MS. Prior to that he was dean of research and graduate studies at Western Carolina University in Cullowhee, NC. He held other administrative and faculty posts at Southern Illinois University, Radford University, Mississippi State University, Jackson (MS) State University and the University of Oklahoma.
He earned his Ph.D. from the University of Oklahoma and his graduate degree from Atlanta University and his undergraduate degree from Morehouse College, both in economics and both in Georgia.
He has authored four books on international business and written numerous articles, book chapters and cases for various publications. He received the Outstanding Achievements in Research and Scholarly Endeavors from the Radford University African-American Faculty and Staff Association in 1995, a leadership and service award from the Southwestern Social Science Association in 1993 and other honors including Fulbright Senior Fellow and the Malone Faculty Fellow from the National Council on U.S. Arab Relations.
Stephen Smith, manager of the news bureau at Missouri Southern State University contributed to these reports.