Flying is life changing, says Joplin pilot
May 28, 2010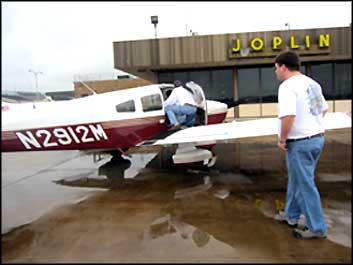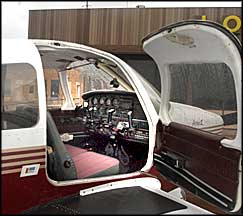 Above at right, Adam Fast, an officer of the Joplin Flyers, prepares to board the club's 1978 Piper Archer II craft. At right, a glimpse at avionics for the Piper Archer II includes: N/A N/A individual cylinder CHT/EGT gauge, Precise Flight, Inc. standby vacuum system, Garmin GNS-430 instrument-certified GPS and Piper AutoFlite II wing-leveling autopilot.
Adam Fast, secretary of the Joplin Flyers, a club promoting personal aviation in the local area, won't deny that flying is an expensive hobby.
"Flying has taken a hit because of the economy," Fast reported. "People just starting may be discouraged right now."
Student loan financing may be available for those who want to make a career out of flying, but for those hobbyists who have the itch to learn this method of transportation, Fast, a 2006 graduate of Missouri Southern State University, believes that joining a club that provides the planes is the way to go.
Founded in 1967 The Joplin Flyers currently has a dozen members. They are allowed unlimited but reasonable access to the aircraft on a first-come, first-served basis. They recently upgraded their craft with the purchase of a 1978 Piper Archer II and a 1965 Piper Cherokee 180, both that seat four.
"I haven't met an airplane I didn't like," Fast said. "And there are so many fun places in which to fly." What Fast wanted to get across was that "flying was life changing."
"All of those bad vibes about airplanes come from the media," Fast said. "They don't have a clue."
The club generally has a coffee klatch daily at 9:30 a.m. "All of us know each other," Fast said. "If anyone had asked just about learning to land, we sure as heck would have questioned that."
"Lebanon [MO], Bolivar [MO], Springdale [AR], Rogers [AR], Turkey [MT], Benton [KS], Paola [KS] and Ponca City [OK]" are some of the places that Fast rattled off within 200 miles of Joplin that have fly-in facilities with good food. And with the plane as collateral, Fast said that a pilot can get a loaner car to use as needed.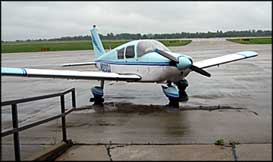 This 1965 Piper Cherokee 180 is the smaller of the two planes owned by the Joplin Flyers. It seats four and costs slightly less to fuel up than the club's Piper Archer II.
"I landed once on a grass strip in Beaumont, Kansas [near Wichita]," Fast recalled when he stayed overnight at the historic Beaumont Bed and Breakfast Hotel. He described how he taxied down Main Street with the cars. What would have been a long drive with boring terrain, he said "became a blast." And he could see his plane from his hotel room.
Another grass strip, he said, is at Gaston's White River Resort in Lakeview, AR on Bull Shoals Lake. The resort caters to trout fishermen.
"Length of runways, radio frequencies, weather," all this information is now an app on a cellphone as Fast was quick to demonstrate. He talked about the different approaches to the airports, some circular. Landing at Driggs Airport in Idaho with an elevation of about 6200 feet was "cool," he said, because you are "flying into the mountains."
"People need to know what a good resource we have in the Joplin Airport," Fast said. Missou Aviation flight instructor Matt Zeimen, standing nearby, agreed. He pointed out the light that flashed to designate a runway incursion and spoke of higher visibility lines.
Fast thinks that general aviation at the Joplin Airport may be overlooked--not welcoming. "Put a Ferris wheel out there," he joked, remembering that the airport in Van Nuys, CA had playground equipment.
"There may be wives out there interested in flying...maybe not solo...but just to be able to take over for their husbands, if necessary," Fast said. He doesn't discourage anyone old enough from getting the bug.
For more information about the club and its fees go here.