Complexity of Jerusalem revealed
May 29, 2010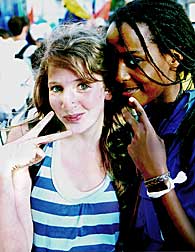 Photographer Marcelo Bendahan captures the look of Israeli society in his book of photos depicting Jerusalem.
Jerusalem is a city of many contrasts. It is a melting pot of people from all over the world who have sought sanctuary there. Jerusalem's residents represent many religions and cultures and when they mingle in the streets they display contrasting attire--from the habits of nuns from around the globe who live in many convents scattered throughout the city to the ultra orthodox Jews with their tefillin, their yarmulkes and top hats and sideburns called peyot and to the Muslim women and their hijabs.
Photographer Marcelo Bendahan in his book Jerusalem Always (Maestro Books, 2010) has set out to capture the mosaic of people of Israel's largest city and its atmosphere where ancient streets lie in the shadows of modern buildings. Having spent many months living with his family in Jerusalem in 2007-08, Bendahan didn't want to photograph what could be found in numerous tourism brochures. Of course, that didn't mean that the reader wasn't going to see shots of the Western Wall or the glistening Dome of the Rock but to view those familiar scenes taken amongst rooftops or illuminated by the sun just peaking over the horizon.
"During the months I lived in Jerusalem," says Bendahan, "I would awaken as the sun began to illuminate the city, and roam its streets and alleys, observing the colorful mosaic of inhabitants and pilgrims as they began a new day. I would join them for religious festivals and cultural events, a night on the town or a stroll in the park."
Many scenes are panoramic spreading across the spline of the book such as the sun rising over the Mount of Olives, an Arab souk with its colorful wares and stone streets or the Old City of Jerusalem protected by the walls that Sultan Suleiman the Magnificent built in the sixteenth century. Others capture intimate moments--the photographer suddenly appearing and capturing smiles and shared secrets.
Bendahan, 40, a Spaniard, graduated from the School of Communication of Madrid and began his professional career in 1995. His previous books of photography include Amsterdam Always and Melilla Viva, an enclave in North Africa belonging to Spain for over 500 years.
Explaining the photos are captions by Heidi Gleit presented in both English and Spanish. Gleit, a graduate of the University of Pennsylvania's international relations program currently resides in Tel Aviv where she is editor of a magazine called ERETZ.
"I hope that this book succeeds...[in] bringing the awesome beauty of the city to life," writes Bendahan.
Yes, there are pictures of young Israelis with their weapons at hand but the turmoil that requires them is not depicted by Bendahan. For those who have or have not visited this special place this coffee table book will thrill anyone seeking serenity between its walls. And the excitement will linger for a long time to come.

Title - Jerusalem Always
Photographs by Marcello Bendahan and text by Heidi J. Gleit
Publisher - Maestro Books (Feb. 23, 2010)
182 pp.
$31.50 at amazon.com
ISBN-10: 9080939668
ISBN-13: 978-9080939660
Product dimensions: 12.1x11.1x0.8 inches

---