Artists gather to form a coalition
June 29, 2010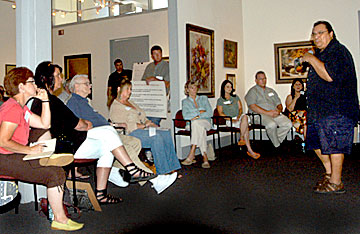 Jorge Leyva hypes up a crowd of fellow artists, asking them to come together to build a community whose voice will assist in dictating the future of the arts in Joplin.
"There's no more fantastic a time than right now to build a community," artist Jorge Leyva told the audience whom he patted on the back for sharing their excitement with him. "We're creating something not done before."
But what happens when a bunch of right-brained people get together? Well, a lot of talk, some of it off of the subject at hand, and snail-like in action. But then, there's a mover like Marta Churchwell to the rescue.
Churchwell was part of the more than 60 artists working within a 50 mile radius of Joplin who assembled at the Spiva Center for the Arts on June 24, 2010. Organized by Leyva, Jed Schlegel and Jeff Youngblood the meeting's intent was to form a regional artist organization.
Schlegel enumerated the benefits of an artists' coalition that everyone agreed would be more successful than individuals in getting grant money and creating art patrons through pooled advertising. He also chastised those whom he described as not striving to be professional.
---
The Joplin public doesn't buy Joplin art...use lethal force?...or try education.
---
"Believe in one another" was Youngblood's suggestion. "Stop fighting for crumbs; learn how to share the cake." For the "that-will-never-happen-here" attitude, not mincing words, he said, "screw that."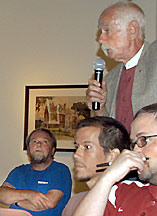 Carthage artist Larry Glaze, pictured at right with mic, is an example of success that was everyone's goal. His advice was to establish a strong artist's presence. He said he distributes over 2,000 business cards every three months and advertises heavily in magazines. His "Antler Art of the Plains," Southwest art accessories that include sculptures, carvings and chandeliers sell for several thousand dollars apiece and have included an American eagle base commissioned by former President George W. Bush.
After Churchwell spoke up, enumerating the steps needed, several joined her in volunteering to set up a true organizational meeting. For more information contact Leyva by phoning (417) 483-9490 or sending an e-mail here.
Beshore advocates for continued support for the arts
Joplin resident Sharon Beshore, past chair of the Missouri Arts Council, spoke in support of the creation of an arts and entertainment center at a city council envisioning session held June 26.
"There is a tremendous groundswell of enthusiasm, motivation and purpose with citizens in our area for arts, culture and more entertainment," Beshore said. "Citizens and visitors from all socioeconomic and age levels expect cultural amenities, along with their parks, sports, recreation and educational opportunities."
In a historical perspective Beshore cited how the arts were part of a blueprint in 2007 in part tied in with the sustainability of downtown Joplin. Connect2Culture was created in 2009 by Joplin metro area business, civic and arts leaders, she said, to encourage the development and growth of this culturally enriched community. In addition, she complimented the Joplin Area Chamber of Commerce Cultural Affairs Committee for their role in producing Dancing with the Joplin Stars, the Anthony Benton Gude Mural Project and the Arts Building Community arts calendar and fundraising project.
Using the facilities at the Joplin Senior Center, City Manager Mark Rohr gave a brief overview of the DO It Process (Determine Objectives for an Improved Tomorrow) followed by a review of the city's current Blueprint to the Future. The public again was encouraged to provide input for the planning process. Mayor Mike Woolsen admitted that the city's conservative use of funds and current economic situation make actual goal setting difficult.
Galleries spring up in Joplin
Teaming up with Jessica Calvin, Youngblood has opened up Momentum 8 Studio and Gallery at 809 Main St. It contains a boutique that sells hand designed goods including wallets, jewelry, note cards and t-shirts.
A soft opening will take place June 30 for the Rose Gallery located at TJ Formal, 508 N. Range Line Rd., (across from the Japanese Steak House) Joplin. Roanna Rose (soon to be Mrs.) and her sister Trish Courtney will collaborate.