Keeping alive water issues
July 05, 2010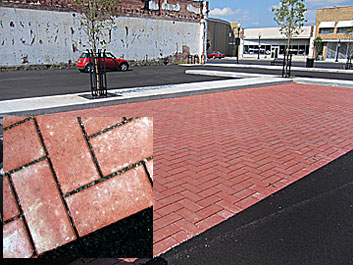 The inset shows a close-up of "pervious pavers" that are part of the special construction used by the city of Joplin for a parking lot at 8th and Main. The special material slows the speed of stormwater runoff that potentially could contaminate nearby streams.
The state of water in the 4-state region was the subject of a forum held at the Wildcat Glades Conservation and Aububon Center on June 26, 2010. Guest presenters included Bob Kulp, director of the Newton County Health Department; Dan Johnson, collection systems engineer for the city of Joplin; Chris Pistole, education director of the Audubon Center; Bob Nichols, chairman of the Tri-State Water Resource Coalition and Ron Phelps, organizer of stream team #48.
"Nearly every stream in Newton County is on the federal 303(d) list for contamination," announced Kulp. Since he floated the local streams 35 years ago, he said trash has gotten worse in and around the stream beds, specifically discarded diapers. He especially called exposure to the waters of Hickory Creek a "real public health risk" and was concerned over the number of kids in diapers he now believes are in the swimming areas. "I'm not sure diapers are as waterproof as they say they are," Kulp said. While Kulp said that cattle and poultry litter poses a risk to the streams, especially after a heavy rain, he credits human waste with posing the highest risk.
A glance at the 2010 303(d) list found on the Missouri Department of Resources website shows that streams in the state were determined to be polluted as early as 1994 and remain part of the growing number of contaminated streams recognized today. Local creeks include Turkey (hands down the worst), Shoal, Clear, Indian, Lost, Lone Elm Hollow and Center Creek. Pollutants include bacteria and metals like lead, mercury and cadmium.
Section 303(d) of the federal Clean Water Act requires that each state identify waters that are not meeting water quality standards and for which adequate water pollution controls have not been required. The Missouri Department of Natural Resources dragged its heels in creating an up-to-date list.
Ravaging stormwater
One way to describe the effects of stormwater runoff, Joplin's collection systems engineer said, was "on the increase." As an example, Johnson described an average neighborhood, 14 one quarter acre lots, as creating a total of 64,380 gallons of run-off from each of the 1500 square foot roofs, driveways and the street in one city block. The object of stormwater management, he said, was to reduce the flow of water that creates flash flooding and the movement of sediment, including grease and oil, pebbles, and brake shavings to the streams.
As an engineering student he said he was taught to reduce the flow of stormwater by creating wider ditches. Now, he admits, a greener approach replaces concrete embankments with new erosion control methods.
Johnson complimented Silver Creek's efforts to get a sewer system. The up-to-date system ready in October will use a "first flush" pre-filtration system.
During a dry spell dust, organic material, bacteria and air pollution particles build up on impervious surfaces like roofs and driveways, Johnson explained. A first flush diverter built into the stormwater treatment system prevents the toxic flow from the first rain from overwhelming the system and flowing as allowable excess runoff into streams.
Dangers of sediment contamination
Pistole called sedimentation as the number one danger to streams. Even though a natural process, he said that higher rainfall events--two inches or more has become average--is creating greater erosion problems. He spoke of a domino effect. The particles that land in the streams block sunlight, kill aquatic vegetation, lower dissolved oxygen, create higher temperatures and disrupt fish life leading to a hole in the food chain. In addition, he said that sediment fills in nooks and crannies that serve as habitats, act as a sponge for pollutants and cause problems for treating drinking water.
The solution in agriculture, Pistole said, was the use of no-till methods and terracing and buffer strips. Cattle should be kept away from stream beds, the forestry industry should stop clear cutting practices and new construction should be required to use erosion fences.
Water report
The chairman of the Tri-State Water Coalition as expected had nothing new to report. In spite of having spent "beaucoup bucks" on research and the hiring of an executive director, the group's efforts to create a solution to a looming water shortage debated for decades still is stymied. Nichols admitted that recommendations by their consultant firm were shot down, that 14 sites explored for a reservoir have met with opposition from landowners and pressure to make decisions has been watered down by heavy rain. Requests to the Corps of Engineers to buy water from existing lakes that they manage have met with bureaucratic delay tactics and besides moving water from afar is not deemed economically feasible.
What someone told the group, Nichols admitted, was that "clean" should be associated with "drinking water" and that a clean-up of the streams should be a priority. Regarding a quick answer to the water shortage problem, he said that instituting water conservation practices should be the goal of most communities.
Stream teams to the rescue
With his wife Ann, Phelps has been running stream team # 48 since 1989 when they moved into a house abutting Shoal Creek. They now are active in SWOST--Southwest Ozarks Stream Teams overseeing the Elk and Spring River watersheds and abiding by the motto, "stream teams helping stream teams."
"We need more young people in the program,"Phelps told the audience of mostly senior citizens. He encouraged them to get their grandchildren interested in protecting their future.
Statistically, Phelps reported that there were 4,268 teams in Missouri collecting 869 tons of trash, planting 1469 trees and committing 132,283 hours yearly to do this and also test the water. Now that's progress.