Joplin Airport gets new carrier
September 10, 2010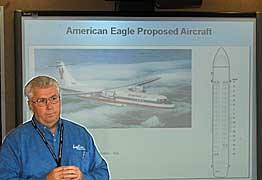 Joplin Airport manager Steve Stockam reveals the ATR-72 aircraft, a French-Italian twin-turbo prop, that will be put into service. It is one of a fleet of about 39 that American Eagle operates. (Photo by Vince Rosati)
by Mari Winn Taylor
The city of Joplin yesterday was in a hurry to get the news out. Steve Stockam, Joplin Airport manager, announced that travelers using the airport would be able to fly daily to Dallas/Fort Worth based upon a two-year award from the US Department of Transportation as part of its Essential Air Service (EAS) program. American Eagle plans to operate two daily nonstop round trips from Joplin to Dallas/Fort Worth for an annual subsidy of $2,778.756, operating 66-passenger ATR-72 aircraft (yep, prop planes again rather than regional jets).
With the Transportation Security Administration's usual warning barking only at us and echoing off the dozen or so cars in the airport's parking lot, we entered the terminal. Only the FOX commentators from the TVs broke the stillness within. Nobody was pacing the huge ceramic compass rose, lounging in the chairs, or reading the posters that document the history of the airport. The large, well-lit $15.5-plus million terminal, described as "truly the front door of our community" by Stockam at its September 2008 dedication, was deserted. Without the hassle of continuing air travel, it seemed like a great place to practice yoga moves or simply to escape.
Good-bye, Great Lakes, without regrets
Great Lakes Aviation gave notice of its intent to terminate its scheduled air service at Joplin and Fort Leonard Wood early in June. Amid mounting complaints over Great Lakes' service to Kansas City, probably, was more than a small cheer for change.
I tried to support the service but worried at least twice whether I would be the only early morning passenger and, if so, whether my flight would be canceled because of that. Once I even phoned Great Lakes and didn't hang up until I received an assurance that the flight wouldn't be canceled like a couple of others during the week. Returning from Chicago on my changeover back home I upgraded to first class on a couple of occasions just so that I would be among the first to exit in order to make a dash for the Great Lakes' gate. Other travelers moving more leisurely apparently found themselves stranded overnight.
Hello, American Eagle, and deja vu
"American Eagle's proposal is the only one that meets the statutory requirement for a 15-seat or larger aircraft, provides ticketing and baggage arrangements and offers a large number of connecting opportunities to the national air transportation system through American Airlines' Dallas/Fort Worth hub." That was Joplin's suggestion to the DOT in their decision-making. The other option, providing a 9-passenger Cessna Caravan, came from family-run Air Choice One who wanted to provide four flights a day to and from St. Louis with no guarantee of through fares. (When I think of small planes, I think of fog, and considering weather, that, maybe, I should have my will in order.)
Oops, a loophole
Officials at American are no dummies. While listening to what Mike Mooney, Joplin's air service strategy and development consultant, said was the potential in the Joplin market for customers--300,000 passengers, American still asked for the caveat that they be allowed to exit on 120 days notice. The city of Joplin agreed.
Joplin Mayor Mike Woolston, a real estate broker for Pro 100 Realtors, spoke about the need for adequate air service. He cited being "still in the game" for two economic development projects being negotiated with firms from the Dallas/Ft. Worth area. (Continuing to push for Joplin expansion at the peril of the city's low cost of living status, still tolerable traffic conditions and crime rate is another subject worth discussing, later, maybe.)
Stockham said,"It's all about jobs and making sure people have money to support their families." American at Dallas/Ft. Worth with its 750 departures to 150 cities--with both domestic and international connections, he said, was a good fit for appealing to the needs of expanding or developing companies that might provide employment opportunities with them or in an accompanying growing service industry.
"All we need is for the community (business implied) to support and use the service," Stockam said. His appeal was for everything to be done to make sure American is successful so that Joplin can grow out of EAS like Manhattan, KS did. He didn't mention Manhattan's minimum revenue agreement with its carrier that is backed by the city and state.
American, where did we hear that name before?
At the start of the decade Joplin was serviced by Northwest Airlink to Memphis, then TWA to St. Louis and briefly Ozark Airlines. 9-11 was blamed for the demise of Northwest and American's reduction of flights in and out of St. Louis after buying TWA.
In March 2004 Trans States Airlines/American Connection, Joplin's only carrier, filed for EAS status in order to meet its operating shortfall and continue to provide service to St. Louis. That EAS contract ended and Mesa's subsidiary Air Midwest took over, followed by US Airways Express/Midwest Airlines, Island Air (they backed out) and Great Lakes with its destination of Kansas City. My recollection was that the Texas market was covered but only very briefly, with flights cancelled for lack of passenger support.
What about leisure travelers?
At the time of the airport dedication, Adolpho Castillo, then president of the Tri-State Hispanic Chamber of Commerce, said that he thought Joplin needed service south rather than north. His prediction was that traffic at the airport would increase dramatically if there were a connection to Houston or Dallas/Ft. Worth.
Personally, I'd love to see Castillo's prediction come true. Free parking, a pleasant terminal and minutes from home are definite pluses for choosing my hometown airport. Prop planes, multiple stopovers, high non-competitive ticket prices, and bad service are not.
No date has been set for the transition of service from Great Lakes to American Eagle. Stockam, however, ensures uninterrupted service with passengers holding tickets to be re-booked or their tickets refunded without a penalty. It should be noted that the inauguration might not take place until after the first of the year. Additionally, no fare structure has been discussed.