The Amazon is explored at the Gockel Symposium
September 26, 2010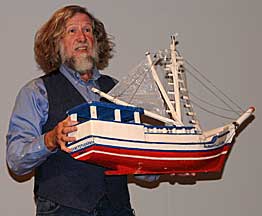 James Bogan, pictured, wears many hats--poet, author, and professor of arts, languages and philosophy at the Missouri University of Science & Technology in Rolla. But he brought his favorite hat, filmmaker, to the Missouri Southern State University Gockel Symposium on September 23, 2010. He also shared with the audience his coveted handmade model boat, the Amazon Queen.
The Adventures of the Amazon Queen (2007, Dark River Films) was the latest documentary of those he created after lecturing in 1986 at the Federal University of Para in Brazil as a Fulbright Fellow. The film was the highlight of his lecture on the geography of the Amazon River and what it takes to make a documentary about it.
Bogan began his lecture by asking the audience to name any of the 10 major tributaries of the Amazon, the 4,185-mile long Brazilian river whose headwaters in the Peruvian Andes were re-established in 2008. Someone suggested "Rio Negro" and was awarded with what he called a "junk emerald," which he pulled out of a small drawstring cotton sack. Another response, the Branco, brought a similar prize. Then Bogan slowly named the rivers.
What Bogan was trying to show was the scope of the Amazon, the largest river in the world in terms of total discharge of water and by current consensus among geographers the second longest river, just slightly shorter than the Nile, although that still might be up for debate.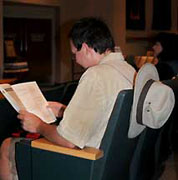 An audience member has chosen his attire for the long journey down the Amazon. He brought his hat, too.
With his partner Diogenes Neal, Bogan tells the story of Manoel, a 19-year old Brazilian boatmaker, who painstakingly bolsters soft palm material into creations fueled by love. With flashbacks to the Amazon Queen's creation and filled with much philosophical insight, the viewers see how the boat was caught in the jaws of an alligator, its interaction with a boa constrictor and how it ran aground trying to compete with cargo-laden vessels. In every case the boat is saved by passing strangers, repaired and set on its way to eventually reach the open waters of the Atlantic Ocean.
Be prepared to carefully watch the credits, Bogan announced as the film reached its conclusion. Interspersed with the titles, the little boat is shown still traveling the waterways to most incredible places.
"The engine of this voyage is fueled by desire," Bogan said.
Known by the locals as the "crazy gringo," Bogan admitted that it sometimes took skilled sailors to navigate the boat. He also confessed to using the same trickery that Orson Welles used--a trick of the mind.
According to Bogan's estimate, the documentary took 30 hours to make. He admitted the need to borrow five rolls of film from someone's freezer in order to complete it.
Actually, in reality, Bogan said the film took 12 years to make factoring in looking for backers. In answer to how much the film cost to make, he said he didn't know, and, that if he did, he'd probably be depressed.
David Grann is keynote speaker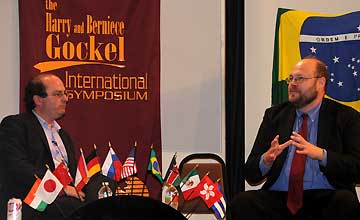 Author David Grann, at left, takes part in a question and answer session after his talk at Missouri Southern State University's Gockel Symposium. Moderator for the evening, at right, is Dr. Eugene Berger, associate professor of Latin American history at MSSU.
New Yorker staff writer David Grann told the audience he was susceptible to keratitis. He doesn't hunt. He doesn't camp out, and he sometimes gets lost on the subway on his way to work.
In spite of these limitations Grann chose to spend five weeks in the wilderness of Brazil. As many before him had tried to do, he was in search of the mystery behind the disappearance of Percy Fawcett, a British explorer who in 1925 vanished in the Amazon with his 21-year old son and son's friend during a quest to find a lost ancient civilization Fawcett had dubbed simply "Z."
Grann discovered Fawcett after researching an article on Conan Doyle, an author whose novel The Lost World is based upon Fawcett's obsession. While for decades adventurers and scientists searched in vain for evidence of Fawcett's missing party and/or the lost city of Z, with many having died from disease or starvation or simply having disappeared, Grann was able to capitalize on information gleaned from logbooks shared by Fawcett's granddaughter that would lead him to a more precise direction that Fawcett's party took. While Fawcett was drawn into the jungle with "a machete, a compass and a divine sense of purpose," Grann had spent more than three years verifying information and convincing himself that he was on the right trail...although he had to admit that Fawcett's obsession may have become his own.
Grann is nagged over not having found forensic evidence of Fawcett's demise. But rather than venture into unchartered areas--60 tribes, Grann said, remain uncontacted and an area the size of Belgium remains under indigenous control--he had a genuine moment of panic.
"I cursed Fawcett. I blamed it all on him...then I had a sense of consequence," Grann admitted. He nipped the obsession that had overwhelmed him and returned home to his wife and son.
Some people still think that Fawcett found "Z" and entered another dimension. Grann's trek into the jungle included subsequent discussions with friendly natives who may have been the last to see Fawcett alive. None of them would have traveled into "enemy" territory as Fawcett had done. None of them thought he was still alive.
Grann's jungle adventure led him to a 1800 AD, pre-Colombian settlement surrounded by a moat. It was shown to him by Michael Heckenberger, whom he described as a "white settler."
Sadly, Fawcett is not alive to learn about the discoveries made by Heckenberger who first began spending extended periods in the remote upper Xingu region of the southern Amazon in central Brazil living with natives and making friends with tribal chiefs. The young scholar was shown dramatic evidence of the remains of a centuries-old network of urban communities that dispelled the notion that the Amazon region was "untouched" before the European explorers arrived. What astonished him and his cohort at the time--James Peterson--were the shards of pottery they found that had been deliberately smashed to make mounds. Their intricacy suggested the existence of a higher level of civilization.
It is doubtful that Fawcett and his party found these villages before their disappearances, but that cannot be completely ruled out. However, consider what an incredible twist of fate that would have been.

The Lost City of Z: A Tale of Deadly Obsession in the Amazon and Grann's first book was a #1 New York Times best seller and chosen as one of the top books of 2009. It has been translated into more than 25 languages. The book currently is being considered for a movie by Brad Pitt's Plan B production company, Grann said. No release date has been announced.
Information about the late Harry and Berniece Gockel whose estate funds the annual Gockel Symposium at Missouri Southern State University-Joplin may be found here.