Introducting Joplin's new red fire truck
September 29, 2010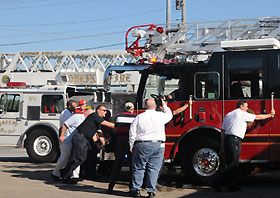 Joplin firefighters, city officials and the public helped move a new 100-foot aerial ladder truck into Fire Station #1 by pushing it into the station's bay, as part of an"Apparatus Retirement and Housing Ceremony" held yesterday (Sept. 28, 2010). The ceremonial push came after an official introduction of the new equipment and the retirement of the 1986 truck--white with Gothic gold lettering, seen in the background--as a group of interested citizens stood outside the main station on 303 E. Third. The new truck was ordered last February from Pierce Manufacturing of Wisconsin.
---
Fire safety demonstrations will be provided by firefighters when the public has another opportunity to view this new fire truck. The truck will be on display at a weekend truck show presented by Chrome Shop Mafia. The "Guilty by Association" Truck Show is being held at Four State Trucks located on South Highway 43, near I-44. The Fire Department will attend the event from 10 a.m. to 5 p.m. on Friday, Oct. 1, 2010, and from 9 a.m. to 6 p.m. on Saturday, Oct. 2. (Truck show hours are 8 a.m. to 10 p.m.)
---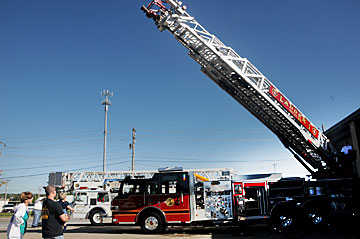 An operator begins to open up the aerial ladder while a fireman and his family look on.
Looking up at the aerial ladder slightly moving in the breeze, Deputy Chief Mitch Randles explained that it has to sway, comparing it to the Gateway Arch. "The aerial is more stable and user friendly," Randles said, dispelling the notion that any firefighter would have qualms over mounting it.
The new 100-foot ladder is two feet shorter than the one it has replaced but it is made out of aluminum. "The old one was steel, Randles said, "and had to be painted to keep it from rusting."
Safety features now include having the bucket in an enclosed area, air bags on the passenger side and rollover protection. In spite of the added safety, Randles said that the department would "make sure that everyone was trained before the 43-foot long vehicle hit the streets," probably some time in mid-November.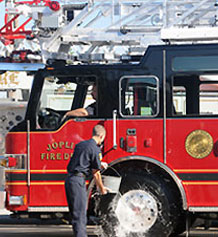 Wheel-washing was part of the ceremony introducing the new Joplin Fire Department's aerial ladder truck.
The ladder truck was purchased with funds generated by the Public Safety Tax passed by voters in November 2006. It was built to fire department specifications, and cost $826,678. During the public information period prior to the sales tax vote, it was estimated that it would cost $1 million, but bids came in lower than expected, due to a competitive environment in the recent sluggish economy.
Lynn Onstot, public information officer for the city of Joplin, contributed to this article.