American Eagle to begin service to DFW, Feb. 2011
October 25, 2010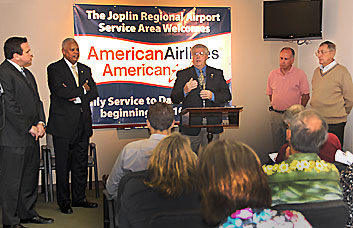 The conference room of the Joplin Regional Airport was filled with a number of people interested in finding out details of the new service that will be offered by American Eagle/American Airlines in February 2011. Center stage are (L-R) Brett Hooyerink, manager communications/advertising for American Eagle; Dale E. Morris, American Airlines managing director/state & community affairs; Steve Stockam, Joplin Airport manager; Joplin Mayor Mike Woolston and Joplin Airport Board member Jim Zerkel.
I have discovered in life that there are ways of getting almost anywhere you want to go, if you really want to go, attributable to poet Langston Hughes, was quoted by the American Airlines representative who spoke. It is not clear what the intent was of Dale E. Morris, managing director/state and community affairs, in quoting Hughes other than to inform the audience of the significance of the new service between Dallas/Fort Worth (DFW) and the Joplin Regional Airport by its affiliate, American Eagle Airlines. The service is part of the FAA Essential Air Service agreement that pays the airline roughly a $2.78 million subsidy for providing two daily non-stop flights.
Calling DFW one of American's "cornerstone markets," Morris said the link between the two airports would open up travel to 250 cities and 40 countries. In addition, American's affiliation with oneworld®, the global airline alliance, partners them with 10 international carriers, making booking an international flight seamless from Joplin.
His comments were geared toward the representatives of business in the audience. Brett Hooyerink, American Eagle's regional business development manager, said that he will be connecting with them to ensure that the airline's business model meshes with their travel needs.
But the majority of those in the audience were more interested in learning how much the plane tickets would cost. Reticent at first over giving specifics, Hooyerink replied, "obviously we want to be competitive" but he immediately stressed the significance of filling up the 64-seat ATR turbo-prop aircraft, currently scheduled to depart on February 11, 2011, for DFW at 7 a.m and 3 p.m. and return to Joplin at 1:30 p.m. and 7:25 p.m. (On February 10, 2011 one flight is scheduled for take-off at 3:30.)
It should be noted that American's flights are classified as "Economy Super Saver," "Economy Saver" and "Economy Flexible." The cheapest fares are non-refundable; charge for checked bags; and have a varying ticket change charge, no same day standby and no prioritized rebooking.
Although fares sometimes change with the next breath, at about 3:30 p.m. on October 25, 2010 we found the following fares for a Valentine's Day jaunt from Joplin to DFW, leaving February 14 and returning the next day (based on fare tiers): $140/$233/$917 each way plus tax. This compares to one-way fares plus tax of $238/$551/$684 for Springfield; $39/$135/$654 for Tulsa; and $175/$335/$941 for Northwest Arkansas. Package fares with connecting flights could be considerably cheaper, depending upon final destination.
These particular fares force travelers to DFW to decide whether saving $100 each way per person is worth the added travel time, gasoline expense, tolls incurred traveling to and from the Tulsa Airport, not to forget fees for parking. However, Morris, in reiterating the need to be competitive, did not discount the future consideration of special fares for Joplin.
"Negotiations with the City, the FAA and the airline industry to get a good quality carrier didn't fall into place until now," Mayor Mike Woolston admitted. Proud of Joplin's top quality airline terminal, Woolston sees the advantages of having a good hub as the destination, worldwide connections, and a one-process ticket, things that the present carrier Great Lakes Aviation has failed to provide in connecting Joplin with Kansas City. Of course, he also hopes for competitive pricing.
Joplin's aviation consulting firm, the Boyd Group, earlier in early 2010 conducted a study that concluded that the Joplin Airport had to bring in a brand name carrier. Trans State Airlines/American Connection connected Joplin to St. Louis in 2003, added a third flight with a 30-passenger Jetstream 41 in January 2004 and then in March 2004 filed for EAS status. This marked the beginning of involvement with the FAA and subsequent service that did not meet the needs and demands of local travelers. (It should also be noted that thanks to Senator Christoper "Kit" Bond and Representative Roy Blunt in September 2003 the first installment of federal grant money to improve air service in Joplin was made culminating in a new terminal, tower and runway improvement.)
In a Leadership Joplin Symposium call to action on November 23, 2003, the question was asked, "how can we, the business community, show support and actively enhance the Joplin Regional Airport's viability and our quality of life." The answer that remains as pertinent today and then was, "Given the state of the airline industry today...for Joplin it is truly a case of 'use it or lose it.'"
Here's hoping that the business community finally makes the connection.