Blue Fiddle introduces themselves to Joplin
November 14, 2010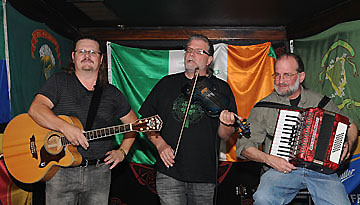 The acoustic trio Blue Fiddle entertains with their own blend of music influenced by Celtic and American traditions.
"If the tree falls in the forest and nobody is around to hear it" is an old riddle pondering whether the tree makes a sound or not.
The dismal weather could atone for the lack of patronage at the Blackthorn last Friday evening when the Fort Smith, Arkansas group Blue Fiddle took center stage. Cracking jokes about the empty tables in the room but undismayed Joe Hamilton on guitar, Tom Ware on fiddle and mandolin and John Lindquist on the accordian indeed filled the room with sound, performing their own rollicking version of Irish/"Celtic" music, many songs from their recently released album (Trueside Records) of the same name.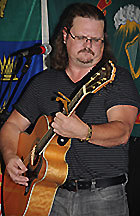 Joe Hamilton is Blue Fiddle's lead singer. He has traveled the world and appeared with such artists as Bob Weir, Leon Russell, Buckwheat and others. He released three CDs on the Hype Record label with them and his compositions receiving critical acclaim. He and his friends Tom Ware and John Lindquist in 2004 performed together in a St. Patrick's Day show. "It just worked," he said. They have been together ever since.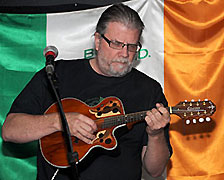 While Tom Ware, pictured performing on his mandolin, has done shows with Willie Nelson, Three Dog Night and Nitty Gritty Dirt Band as well as the Dubliners and the Clancy Brothers on the Irish side, and many more too numerous to list, he is not too proud to wear another group's t-shirt.
Ware is the main writer with compositions honored by the Arkansas Songwriters Association and Billboard Magazine. He claims to have gotten his fiddle tune inspirations from his great grandfather whom he described as a bit "off beat." The tunes cut across all boundaries with universal themes of wars, women and whiskey that, anyone can attest, go well with toe tapping while sipping a Guinness--one of the beers on tap at Blackthorn.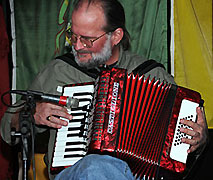 On accordian, banjo and vocals, John Lindquist, a.k.a. "Johnny Squeeze," has played with an eclectic mix of musicians. His jazz ensemble, the John Lindquist Trio, is a regional favorite.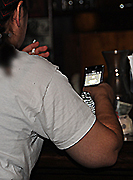 While the reels and polkas in which Lindquist performed solo should have encouraged everyone to get with the beat--like eying the tabletop wondering if it would hold their weight--a girl at the bar with a cigarette in one hand and a cellphone in the other was completely oblivious to what was happening around her.
Commenting about the new generation, Ware said, "everybody has their head in a computer. Nobody's interacting."
And Ware, of course, was not oblivious to technology. Programmed on his phone was a marquee in movement that continuously read, "Blue Fiddle Tonight." It was their inspiration to keep performing.
An eerie introduction preceded a song entitled "The Devil That You Know." Coming home "slooshed"--the devil that you know is better than the devil that you don't.
The repertoire also included a folksy song about "chasing the dream in the little red bus." The lyrics romanticized the VW bus that Hamilton said he used to travel across the highways of America, but he confided that he had to retire it when he got used to heat and air conditioning.
A lone voice in the audience yelled out "beer" when Hamilton announced the "favorite thing in Irish culture" would be the subject of the next song. "That, too," Hamilton replied as he began to sing about an Irish wake.
The group is scheduled to perform on November 26 at the Squid & Whale Pub in Eureka Springs. They will be at Waxy O'Shea's at Branson Landing on December 3. Show time is 9 p.m.
For more information about the group go to their new website here.
---
Photos by Vince Rosaty (sic)
---