Shirley fosters interest in all things historical
December 17, 2010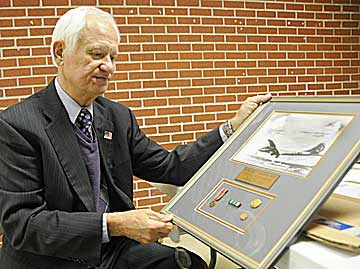 Allen R. Shirley, president of the Joplin Historical Society, holds up a framed memorial to the crew of the Enola Gay.
History is often taught in the public school system as dry facts. Students memorize them to pass exams and then promptly clear them from their minds. Seldom do these students become excited over what they are taught.
That wouldn't be the case if Allen R. Shirley were their teacher. Consummate collector of things historical and president of the Joplin Historical Society, Shirley promotes the concept of "connections" to describe how history changes history or how historical research involving a personal connection becomes more meaningful.
With the concept of connections in mind, Shirley has amassed a collection of historical artifacts, including 300 newspapers. His purchases, he says, have some connection to the 4-state area, being a Civil War buff or just a random topic to which he can make a connection, sometimes after extensive research.
One of his favorite possessions is a framed photo of the Enola Gay, the name given to the B-29 bomber that in August 1945 dropped the first atomic bomb to be used in war by the United States Air Force in the attack on Hiroshima, Japan. Besides the autographs of pilot Paul Tibbets Jr., navigator Theodor Van Kirk and bombardier Thomas Ferebee, medals and a piece of the skin of the plane, what makes this $85 purchase significant---discounting its current higher appraised value--is its connection to World War II and the role Shirley's father played in it.
With his hands surrounding the frame, Shirley was reminded about how after serving in the European Theater of Operations his Dad was stationed set to invade Japan. "As a soldier"--Shirley served in the Korean War--"you always think you're gonna get killed," he said. Shirley's comment led into a brief discussion of the moral issue, whether dropping an atomic bomb affecting the Japanese population was justified in view of the numbers of troops and innocent civilians whose lives were saved by the forced surrender of the Japanese.
"I'm glad my Dad didn't have to be part of the invasion of Japan," Shirley said. "If he had, I might not have been around."
Displaying a copy of the Cincinnati Daily Gazette, published on July 7, 1863, just four days after the Battle of Gettysburg, Shirley called attention to the newspaper's front page and mass of tiny words that required exceptional eyesight in which to read. He also described how the cotton content and acid-free paper used prior to 1880 remained flexible in contrast to the more recent cost effective acid-based variety.
Referring to the Confederate general opposing the north's General Grant, Shirley mused that "the Battle of Gettysburg was Lee's greatest mistake." Get him started and this specific newspaper account will trigger his overwhelming knowledge surrounding the Civil War and specifically how this battle was its "turning point."
"Folding an acid-based newspaper is its 'kiss of death,'" Shirley revealed. He produced a copy of a newspaper printed on May 23, 1914 that unfortunately had a brittle brown fold. What attracted him to that edition, he explained, was that it contained an article about Bonnie and Clyde on the actual date of their deaths.
"The dated day of the event is more valuable," Shirley said in explaining his purchase decision, involving an account of the now-legendary outlaws who held law enforcement at bay before exiting from their hideout on 34th Street and Oak Ridge Drive in Joplin.
Shirley described another one of his newspaper purchases as having an ad for the "new Ford's Theater" on page one while on page two a speech by Abraham Lincoln was published. He labeled that "irony of a single sheet of paper."
Explaining that newspapers came in various sizes, including one merely 4"x4", Shirley lamented that of any size a "newspaper may be a thing of the past." But collecting what already has been published, he said, is his way of preserving it.
"That's what a newspaper looks like," Shirley told a student whose intellectual curiosity might be stimulated more by facts surrounding the popularity of certain entertainers than by what the name of the current vice president might be or even an understanding of the sacrifices made by combatants in war. He does give concession to a younger student whom he recalled had been taken aback after noticing in one old newspaper that "a bale of cotton sold for 50-cents." Shirley called that preservation of history as the "wow factor."
Working with Becky Brill, grants coordinator for the city of Joplin, Shirley hopes to set up a program in which an historical item would be spotlighted on television and then showcased at the Joplin City Hall for up close and personal viewing. He hopes that this will spark an interest in history--further historical research on the item and its subsequent exercise of the mind.