Sweet Dreams showcases cars, trucks and bikes
January 29, 2011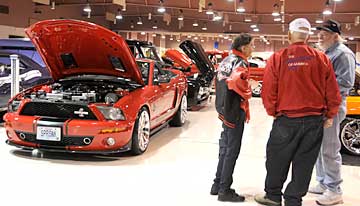 Car and bike buffs mill around the 25th Annual Sweet Dreams Car and Bike Show held in Joplin.
The Sweet Dreams Car and Bike Show is back at the Holiday Inn Convention Center in Joplin for the 25th year and is being held from January 28-30, 2011. We found out about it through the grapevine which set us to wondering why there wasn't more PR.
A scattering of visitors showed up yesterday, mainly parents with children in tow. What seemed to attract the children the most was the quite talented man who fashioned animals out of balloons of different sizes and colors. This led us to believe that in this technological age Tonka trucks and cars were no longer favorite toys. And Grandpa's mid-life crisis equivalents were not attracting the attention that they used to.
For sale signs were scattered about on the vehicles, an indication, perhaps, that this very expensive hobby for some is being replaced with paying the mortgage, utility bills and eating. We also noticed that less expensive model engines were used in the process of restoration.
We assume that Friday was not representative of the number of folks interested in the show and that more would take advantage of this family-oriented event as the weekend progressed. Exhibitors did have an opportunity to schmooze...and isn't that also what this kind of event is all about?
For more information about Sweet Dreams Car & Bike Shows go here.
A sampling of vehicles appears below. Click on any thumbnail for a larger version.