Mardi Gras New Orleans' style comes to Joplin
March 09, 2011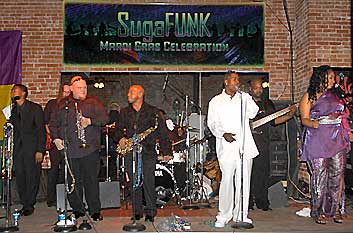 A group of musicians from Baton Rouge, Louisiana, came to Joplin to show the locals how to have a good time. The band SugaFUNK performed last night at JB's Piano Bar, 112 S. Main St., as part of a Fat Tuesday celebration hosted by Angelique and Dr. David E. Hargroder.
"My brother Christopher was founder of the band," Angelique said. "SugaFUNK's sound is so amazing. We think it's unfair that only Louisiana gets to hear them."
Performing a combination of funk, jazz and R&B, the band wanted Joplinites to be able to experience what a true New Orleans Mardi Gras celebration was. And it didn't take long for guests to line the bandstand swaying to the music.
In addition to the music, guests were treated to authentic New Orleans food. A native of Shreveport, Louisiana, Angelique shared her recipe for gumbo made with rice, sausage, chicken and secret spices and broth that made it unique.
Large containers of crayfish were presented throughout the night as well as potatoes and corn. Dessert consisted of pecan pralines (David's recipe; he's a Crowley, Louisiana native) and Louisiana-style King Cakes, cinnamon-roll-like cake inside with traditional Mardi Gras colored sprinkles on the outside. Very rich...and very yummy.
Mardi Gras, which means "Fat Tuesday" in French is a New Orleans institution since the early nineteenth century, and is marked by glitz and glamor or ostentatious attire and the wearing of lots of beads. Many guests at JB's took advantage of the opportunity to show some style. For those who didn't come adorned, they had their choice of beads piled on tables, hanging everywhere, or handed out generously.
For a glipse at some of the revelers, click on the thumbnails below.
For a video of SugaFunk during band practice go here. For booking information call (417) 483-9978./small>