How Joplin earned its naughty reputation
March 15, 2011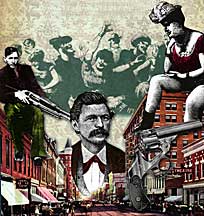 This image from the postcard collection of Galen Augustus provided the cover illustration for Larry Wood's new book, Wicked Joplin.
Wicked Joplin The name should get everyone's attention.
For those who are unaware of Joplin's notorious past, freelance writer Larry Wood, himself a resident of Joplin, has written a book that will satisfy your curiosity. Through interviews and newspaper and court records, the author has compiled the juiciest details. He also provides illustrations, including one of downtown Joplin before the wrecking ball destroyed many of the historical buildings.
"What my research revealed is that not only was Joplin known as a wide-open town almost from its birth, and not only did that reputation persist well into the twentieth century, but it was also a reputation that was richly deserved," Wood tells the reader in his introduction.
Chapter headings sprinkled with quotes from the Joplin Daily Herald and the Springfield Times, court testimony and other authors' observations offer delicious enticements to what follows. From Joplin's early growth and the "reign of terror" to the days of whiskey and women, gambling and gunmen, Wood traces Joplin's development in the late nineteenth century to the early twentieth. Wood's account, of course, includes retelling of what happened at the garage apartment at 33471/2 Oak Ridge Drive when owner Paul Freeman's tenants, Bonnie Parker, Clyde Barrow, W.D. Jones as well as Clyde's brother Buck and his wife Blanche shot their way to safety when law enforcement unexpectedly showed up.
While Wood says that not much was recorded about the activities on the third floor of the infamous House of Lords, he did find in court records an abundant number of instances when "proprietors" were fined for keeping a bawdyhouse or for serving liquor without a license. He goes on to describe how one of the very early madams, Lizzie Greenma, was involved in a murder case. When a warrant for her arrest was issued, she failed to appear, according to records. Wood surmises that she probably skipped town because he could not find anything further about her. This was not the case apparently for other madams of early day Joplin including Bertha Brooks. Alice Snyder and Martha Bynum and later Mollie Fisher, Mollie Tate and Emma Enslinger. However, in listing the fines for prostitution, Wood concludes that the oldest profession "was not prosecuted vigorously."
In a discussion of Joplin's founding fathers John C. Cox, Charles Schifferdecker, Patrick Murphy and Thomas Connor--whose memory is preserved as street names--Wood dispels the notion that these were simply benevolent men. Regarding Murphy, whose name is preserved by residents of historic Murphysburg, the area to the west of downtown Joplin, research showed Wood that Murphy was indicted at least twice in Jasper County Circuit Court for leasing buildings for gambling purposes.
"We don't think of these men as lawbreakers," Wood writes. "Yet it is not surprising , given that Joplin was a place where nearly everything was allowed, that even many of the town's founding fathers got caught up in the vice."
The book ends quoting a recollection by Maxine Hansford Gammon. She was a former World War II young army nurse stationed at Fitzsimmons General Hospital in Denver Colorado at the time that General Dwight D. Eisenhower gave an address via shortwave radio.
Wood writes "At one point during the speech General Eisenhower announced that the ban on American GIs socializing with German frauleins had been lifted. 'Now,' proclaimed the general, 'Berlin will be like Joplin, Missouri on a Saturday night.'"
Ike's home town of Abilene, Kansas was a stagecoach stop. It wouldn't have taken much for Joplin's reputation to reach the residents there.
---

Title - Wicked Joplin
Author-Larry Wood
Publisher - The History Press (1st ed., Mar. 4, 2011)
107 pp.
$13.59 (softcover) at amazon.com
ISBN-10: 1609490932
ISBN-13: 978-1609490935

---