Jeans lecturer dissects John Dillinger
May 01, 2011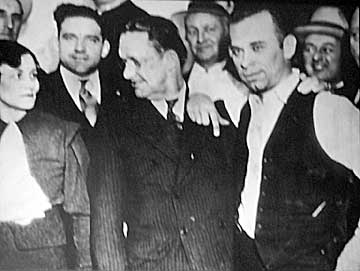 Notorious outlaw John Herbert Dillinger is seen with his arm on the shoulder of Lake County, Indiana prosecutor Robert G. Estill. Sheriff Lillian Holly is standing to the left of Estill. This staged photo in the Crown Point jail shows the lack of propriety of law enforcement in the 1930s. Dillinger, who was arrested with his gang in Tucson, AZ and brought back to Indiana to stand trial after robbing the First National Bank of Indiana and killing a police officer, escaped from the jail using a gun that was smuggled in. A reporter eventually dubbed Dillinger the "Harry Houdini of bank robbers."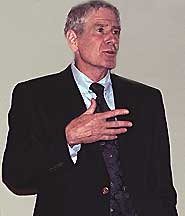 Noted John Dillinger historian/lecturer Dr. Elliott Gorn, pictured at left, said that every time he is in Chicago he is drawn to the Forton/Lincoln Alley where the notorious outlaw was shot and killed by law enforcement officials.
Speaking on the topic of "John Dillinger and the Great Depression," Dr. Elliott Gorn, professor of American history at Brown University, was featured at the Seventeenth Annual Jeans Lecture in History. Jeans family members, Dr. Virginia Laas and Buck Jeans were part of the audience at Missouri Southern State University-Joplin on April 28, 2011, and they learned how Dillinger, a product of a modest farm family, rose to become one of the most notorious outlaws in American history. A specialist in nineteenth and twentieth century American history, Gorn especially is interested in iconic figures with working-class life, masculinity and the history of violence-- themes that run though much of his research.
The son of John Wilson Dillinger who operated the J.W. Dillinger Groceries and Meats of Mooresville, IN, and Mary Ellen Lancaster, John Herbert Dillinger was born in 1903, four years after the birth of his sister, Audrey. The loss of his mother at the age of 7 and his father's re-marriage two years later, Gorn said, along with poor child rearing, are theories for the son's increasingly errant behavior--that intensified by his eventual exposure to criminals while at the Indiana State Prison, the place to which he was transferred in 1924 after demonstrating poor behavior at an Indiana correctional institution.
When Dillinger met what was to become the core of his eventual gang in 1933, he was serving 10-20 years for following the advice of his father and admitting to attacking Frank Morgan in Mooresville, a crime he committed with an ex-con and pool hall friend named Ed Singleton. Singleton, who had hired a lawyer, Gorn said, got a light sentence. It doesn't take much to conclude that Dillinger was pissed.
Pardoned by the Indiana governor during the Great Depression, Dillinger, Gorn recounted, performed a series of bank robberies in the Midwest, netting in one heist as much as $25,000 and becoming credited for the line, "Give me the money, honey." Arrested for one of the robberies, Dillinger escaped, freed by men he had previously aided.
In January of 1934 after holding up the First National Bank of Indiana and the shooting of Police Officer William O'Malley, Dillinger was arrested with his gang in Tucson, AZ and transported to the Lake County Crown Point Indiana jail. A crime spree that was considered a regional problem, according to Gorn, became an FBI jurisdictional matter when Dillinger crossed state lines after escaping from that jail. Dillinger apparently also embarrassed the heck out of the Lake County Sheriff Lillian Holly, after hoodwinking (or being abetted by some) at least 10 prison officials--some say with a wooden gun but more likely with one smuggled in to him--and escaping by using her car.
At this point Dillinger had to think he was invincible. His involvement with a newly formed gang including Lester M. Gillis (a.k.a. "Baby Face" Nelson) brought about more spectacular bank robberies, Gorn said, and after a successful shootout, an escape to St. Paul with one of his many girlfriends. (The latest of native American decent, Evelyn "Billie" Frechette, is captured after having accompanied Dillinger to a family reunion in Mooresville, Gorn notes.)
To further earn the title of "Harry Houdini of bank robbers," bestowed upon him by a reporter, Dillinger with his gang slip out of the back window of Little Bohemia, a lodge used by them while in northern Wisconsin.
Gorn further describes the scene this way: "Baby Face kills agents; agents kill innocent people."
This "our gang comedy" of law enforcement finally is dealt with after the Hayes Commission during the presidency of Franklin D. Roosevelt determines that Dillinger-types should not be glorified. A New Deal on Crime leads to an expansion of power of law enforcement and the eventual success of FBI Director J. Edgar Hoover and FBI Midwest Bureau Chief Melvin Purvis in bringing about Dillinger's demise.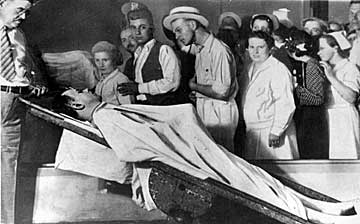 Spectators file past the body of John Dillinger. The original photo, edited for inclusion in local newspapers, fostered the legend that Dillinger had a gigantic appendage--so large an erection that he grew faint because of loss of blood to his brain. Seamy stories with lots of illicit sex were said to appeal to working class women escaping their dull lives.
Dillinger must have finally felt the heat of the law when he decides to undergo plastic surgery that almost kills him. What he didn't take into account was human nature that will turn on a dime for self-preservation. So, when his latest girlfriend Polly Hamilton and Anna Sage, a brothel owner who is promised immunity from deportation, accompany him to the Biograph Theater on N. Lincoln in Chicago, he realizes too late the trap set for him. He is gunned down by law enforcement in the Forton/Lincoln Alley to which he tries to escape. After his death, "crime does not pay" becomes a mantra.
Why someone who robbed banks and challenged authority becomes such a hero was answered by Gorn who gave a short lecture on society during the Great Depression. "People believed that bankers were crooks," Gorn said. Support of Dillinger's exploits becomes an emotional resonance for class justice.
People of the time believed that Dillinger had a rollicking good time defying the law, Gorn said. The Depression years needed an infusion of excitement to be sure. Live hard, die young becomes appealing, if only as third party exhilaration.
Dillinger is usually seen in photographs with a smile on his face, Gorn reminds the audience. He's smiling even when his life may be in danger. "Isn't this fun? Wink, wink. Crime doesn't pay. Sez who?" Gorn has Dillinger concluding.
The Jeans Lecture in History is named in honor of Dr. Virgil and Virginia Jeans, long-time residents of Joplin. At the time of their passing, contributions in their memory were made to the Missouri Southern Foundation, and it is that support that funds the lecture series. Funding also has been provided by a U.S. Dept. of Education "Teaching American History Grant." Guest lecturers have appeared every year since 1995.