Censorship: Reading between the Lions (sic)
May 09, 2011
by Mari Winn Taylor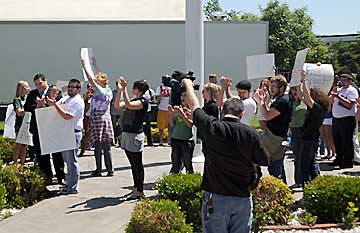 Supporters of Thom Hanrahan, instructor in communications at Missouri Southern State University in Joplin, gather around the flagpole on the campus oval on May 6, 2011.
Although Hanrahan, pictured at right, no longer will be teaching at Southern after the current semester, he is being recognized by the Missouri Southern Faculty Senate for his five years of service to Missouri Southern and his role as adviser to The Chart-- fostering "a quality publication for which he should be very proud." The resolution is being read by Dr. Cliff Toliver, pictured at left, professor of English and philosophy and a faculty senate member.
During the throes of a Missouri Southern State University campus activities board picnic a resolute line of students and faculty made its way from the lion statue outside of Webster Hall to the Oval where they gathered around the flagpole awaiting the arrival of a man held in high esteem. A show of solidarity for MSSU newspaper adviser and journalism instructor Thom R. (T.R.) Hanrahan was held on May 6, 2011, in reaction to Hanrahan having been relieved of his teaching duties after five years' service. His last day is slated for July 15, 2011.
Aaron DuRall, a marketing and communications student at Southern, told everyone to "show your love to the greatest teacher ever on staff." (Of course, that and about a buck and a half will get anyone a cup of coffee at Starbuck's--this demonstrating my cynicism as a reporter and rage over the school's decision. The tipping point had to be the Region 7 Award of Excellence that The Chart received from the Society of Professional Journalists for a "series of editorials on the turmoil involving the university president.")
Dressed in a pale rose and white striped shirt and matching rose-colored shoes and a straw derby hat, Hanrahan was quickly overwhelmed by emotion as he joined the obviously appreciative crowd.
"Those in class know what I'm about," Hanrahan said, after accepting several awards from both the students and faculty. Being selected 2010-11 Outstanding Teacher in the Communications Department by a vote of senior communications students was a no-brainer.
As for an issue of First Amendment Rights, Hanrahan said that he was "not making that argument at all." He didn't have to. He taught his students well. They were making the argument for him as attested by the placards held high by those assembled, not the least being, "Free speech is a right."
To the argument made by university officials that they "wanted to go in a different direction," Hanrahan replied that it was their "prerogative to make the change." He considered himself honored to be part of the senior class for which he felt gratified having made a difference in their lives."
"We're going out together," the non-tenure track instructor quipped.
Part of his legacy is a strong work ethic. "Love what you do, work harder than the guy next to you," Hanrahan said, able to take credit for why one student stayed in school when the going got tough. It was no wonder that he received a group hug.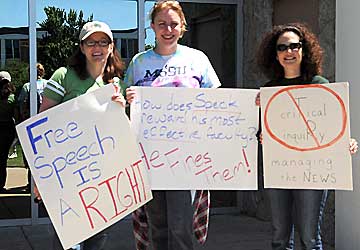 Tenured faculty members in the Missouri Southern department of English demonstrating their support for soon-to-be ousted professional staffer Thom Hanrahan are (L-R) Joey Brown, Hillary Fogerty and Joy Dworkin.
Standing at the edge of the crowd were Stephen Smith, manager of the news bureau and Dr. Chad Stebbins, director of the Institute of International Studies at Southern. Dr. Stebbins was no doubt there in support of his son Brennan, a graduating senior and The Chart's award-winning editor-in-chief. When asked whether he was there in support or just curiosity, Smith answered, "Let's just say we're in proximity," suggesting that when one can't answer an evasion was called for.
The fact that several faculty and adjunct staff "hung out" at the event was noted by Dr. Joy Dworkin, a tenured professor of English who's been very vocal in an attempt to foster faculty rights.
When attempting to deal with the issue of why faculty aren't more vocal in support of a fellow staffer, Dworkin recounted a conversation with Dr. Bruce Speck, president of Missouri Southern. He wanted proof that faculty are afraid to show support for fear of losing their jobs. Imagine that.
By the way, I ran into Speck later in the day at the St. Avips Ball. I couldn't help but comment that it had been a "lovely day for a picnic." His reply made with a sparkle in his eye (the sun may have been casting its final rays) was that "it was a lovely day for all sorts of things." Yes, at that point I pictured Napolean with his hand in his frock.
Chart investigative articles
A copy of the e-mail sent by Globe publisher Michael Beatty to Speck dated April 6, 2010 made public by a Freedom of Information request filed by Brennan Stebbins was published on the "Turner Report" here. Randy Turner, a former newspaper reporter/editor, had been following what seems to be obvious events that led up to the Hanrahan firing, including a possible deal made between the local newspaper and the college that would insure more "feel good" stories about the university. Whether these articles were meant to guarantee continued advertising from the university and its major supporters is a question subject to much speculation.
Covered were:
In 2008, the university's student enrollment director ordered copies of the school paper to be removed from a high school recruitment fair because of a story on declining campus enrollment.
In 2009 Missouri Southern student journalists also were the first in town to report on the planned closing of a campus child development center and to generate effective protests.
Also in 2009 was the attempt to find out more facts about the liaison between Speck and former private, not-for-profit Kansas City University of Medicine and Bio-sciences president Karen Pletz and a deal to develop a medical school in Joplin. However, Pletz was fired because of alleged embezzlement before any deal could be struck.
Speaking of alleged embezzlers in 2010, Norman Katz, was revealed by The Chart as neglecting to state his complete background when seeking a job as a teacher of accounting. He was forced to quit.
To cite the overly quoted but true saying, "A picture is worth a thousand words," we offer the following photos that make me embarrassed to read the article posted without photos online on The Joplin Globe by otherwise ace reporter Roger McKinney. Click on a thumbnail for a larger view.