Joplin mural project is introduced
June 17, 2011
Dave Loewenstein of Lawrence, KS is a prize-winning muralist, writer and print maker. His community-based murals may be found in several places across the U.S. as well as in Northern Ireland.
After planning and fund-raising that took place beginning in the summer 2010, The JACC Committee for Art in Public Places, chaired by Sharon Beshore, decided to hire Loewenstein to guide a project that would reflect the values of the Joplin community. The concept of the project, of course, was modified to include the effect of the May 22, 2011 tornado that changed the lives of so many of Joplin's citizens.
Citing a book by Eva Cockcroft and John Pitman Weber entitled, Toward a People's Art, Loewenstein at an evening meeting with local artists held at the Spiva Center for the Arts on June 9 described how the community-based mural movement brought about social change in the art world. He told how this kind of art speaks to a large audience and contrasted it to "museum art" that he said includes "art put in galleries by people of money."
Just what the subject of this community art would be or how it could be expressed was open to much debate. Ideas suggested included creating something that allowed people to share memories, an envisioning of a place change or as, Linda Teeter suggested, an expression of hope for the future. Debbie Reed suggested a photographic exhibition. Marta Churchwell mentioned creating a "box of stuff with a story behind it."
Many agreed that Joplin's identity as a "tornado ravaged" city should not be the main focus.
The suggest of Patrick Tuttle, Joplin Convention & Visitor's Bureau director, that the mural be located downtown and that it include a tourist element, was met with much criticism by those believing the city should not be playing a dominant role.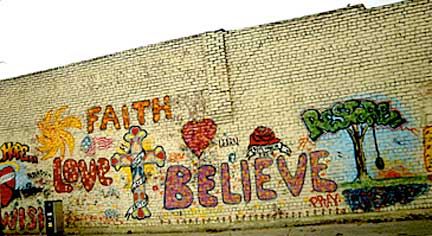 Some local artists did not wait to express themselves. Jim Bilgere and A.J. Alejandro painted this graffiti "Love Bomb" on the side of the damaged building of the former Su Dom Tai Karate Studio, on the southwest corner of 20th and Main in Joplin. The work includes a bandaged heart and words like "believe" and "faith" against a backdrop of a ravaged Joplin building. (Photo by Adele Thompson)
"Art can be a litany of possibilities," Loewenstein said. He hoped that the project would "reflect the best or most articulate idea" and that it spur on art in other forms like choreographed dance, perhaps, based upon the mural's design.
Loewenstein estimated that the project would include a period of three weeks for design planning. He announced that funding is available for hiring one apprentice mural assistant who would be willing to commit to the 2 to 2-1/2 month project occurring between July 8 and September 30, 2011, and to leading future community-based mural projects in Joplin. Those interested should fill out an application that may be found at the front desk at Spiva. The person selected will receive a $2,000 stipend.
Also assisting Loewenstein will be Nichlolas Ward and Amber Hansen who will be filming a documentary on the subject of community-based mural art. Their intent is in "capturing how art creates community," Hansen said.
Another interesting idea coincidentally made
That it could be part of the restoration of the town was suggested by FEMA spokesperson, Susie Stonner who came to a meeting at the Joplin City Hall. She described a Grand Forks, MN Development Project that included the revitalization of a playground. Children were asked artistically to describe "what they liked the most," she said, and that their artwork was then preserved on ceramic tiles that circled the play area.