Joplin Tomorrow to aid business
June 21, 2011
As many as 450 businesses were destroyed by the tenacious May 22, 2011 tornado that affected the employment of about 4500 people and claimed the lives of 155 people as of today.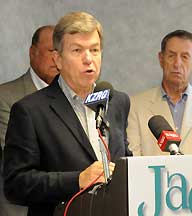 Citing that there was just so much the federal government could do, especially for the uninsured, U.S. Senator Roy Blunt, pictured, took the podium at the Joplin Area Chamber of Commerce on June 20 to call attention to those individuals who want to step up to help in the business recovery effort. He praised Home Depot and St. John's for their swiftness in putting up temporary facilities until permanent reconstruction could be completed and spoke of the special enthusiasm the Joplin business community has for aiding in its own restoration.
It's the first only tent store in the history of the company, Blunt said referring to Home Depot, adding, "they hope." Blunt, who was accompanied by his wife Abigail, left early to meet with representatives of businesses affected by the storm.
Blunt had been called upon to introduce former U.S. Senator John C. Danforth whom he claimed was a prime force in establishing a program to help restore the Joplin business community. Although Danforth chided Blunt for the latter's enthusiasm in crediting him with steamrolling recovery efforts, Danforth rightfully was responsible for supplying $500,000 in seed money that liquidated the holdings of the Danforth Foundation, a private philanthropic foundation begun 84 years ago by William H. Danforth, president of Ralston Purina Company, and his family.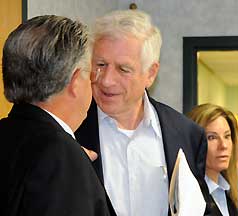 U.S. Senator John C. Danforth catches the ear of Missouri Senator Ron Richard prior to introduction of Joplin Tomorrow, a new program to raise at least $10 million to help revitalize the tornado destroyed Joplin business community. Nearby is Abigail Blunt, the wife of U.S. Senator Roy Blunt.
The Danforth Foundation funds will be part of those deposited in an account set up by the Commerce Bank chosen to administer what has been dubbed "Joplin Tomorrow," a 501 (c)3 tax-exempt program that will differ from existing federal aid programs to businesses, such as those administered by the Small Business Administration, because its goal is to assist companies that want to build in the community for the first time in addition to expanding or modifying operations previously established.
The concept of expanding business and employing more was something that attracted Danforth who considered the SBA loans a "wonderful program" but limited in scope. In speaking of the "spirit of Joplin realizing itself," Danforth said, "I want to help you do it." He praised the Joplin business community within seconds of hearing of the foundation donation for saying, "we'll match that."
He called Jim Bracht "the greatest fundraiser," and joked, "where was he when I was in politics?" Others that he mentioned included The Ray and Myrl Grace Trust, Rudy and Dorothy Farber, Ed and Alison Hershewe, Jerry and Nancy Perry and officials at Southwest Missouri Bank.
In the concept of business helping business, the Missouri Chamber of Commerce pledged $25,000. He hoped that individual chambers would also contribute. And he said he was going to other parts of Missouri to get contributions.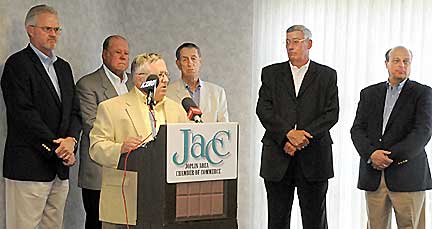 At the podium is Dwight Douglas, recently named chairman of Joplin Tomorrow. Accompanying him are board members (L-R) Mike Palmer, Glenn Brown, Mike Pence and J.D. Sellers. Also pictured in Rob O'Brian, president of the Joplin Area Chamber of Commerce that provided strategic planning funding.
Joplin Tomorrow's five-member board serving without compensation are Dwight Douglas, general counsel for Freeman Health Systems, as chairman; Michael Palmer, vice-president of Transmission Policy and Corporate Services for Empire District Electric, as vice chair; Glenn Brown, retired CEO of CFI as secretary and board members including Mike Pence, retired owner of Electric Motor Supply and J.D. Sellers, former CFO of Eagle Picher Technologies, LLC.
The fund will make both revolving loans and equity investments (no interest loans) as it deems fit. A couple of times, it should be noted, Douglas stressed the importance of creating a well thought out business plan in order to qualify for the program. It is hoped that, in complementing government and other aid, the program will help companies that otherwise might significantly struggle to get back on their feet.
For more information go here.
Photos by Vince Rosati