Rusty describes his dog's life for readers , 4-8
July 12, 2011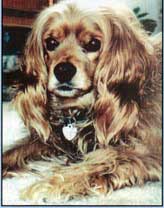 The real Rusty, a stray who wound up at the home of author Janus Moncur in Tennessee, says he "escaped from a puppy mill to find a good life."
A new book by first time author Janus Moncur--well, actually it's a tale told by Rusty, a puppy mill escapee, to Moncur--receives our kudos for being a great read to/or for children. Rusty -n- Nikki, Doggie Lessons in Life and Love not only lets the readers establish a rapport with two likeable canines but it also exposes them to some tough subjects, like puppy mills and animal abuse, adoption issues for older dogs and domestic violence.
Rusty is not the only endearing character in the book. The reader also meets Rusty's mom, who is looking out for his welfare when it becomes obvious that he is not "saleable" at the puppy mill where he is part of a larger litter and Frankie, a tough tiger cat experienced on the streets who acts as Rusty's protector and guide after Rusty's escape. Nikki is an older and wiser animal shelter captive who befriends Rusty after Rusty is caught by an animal control warden, yet with whom the readers must concern themselves as her date to be euthanized approaches.
Dogs like Cleo, a furry white pure bred-looking puppy, get more easily adopted from the shelter but the author wants to see more older dogs adopted. As for why shelter animals are chosen over those from a puppy mill or pet store, Nikki describes what she calls "mutt-power."
"Well, some say us mutts have mixed-up breeding, but we have the best of all of our breeding combined," Nikki explains. "And some say it's because we are dogs being saved, so we are forever grateful to our new humans."
To further endear the readers to animals at the shelter, they are introduced to a group of puppies with differing personalities named Lou, Blue, Coo, Boo and Too, that had been abandoned by their owner in a park. Nikki, as an older dog, takes it upon herself to school these pups in the ways of humans. And they've learned their lessons well, especially in how to show their discontent towards humans labeled "mean ones." This advice is followed toward the end of the book when Rusty and Nikki defend their "good human" against the actions of an abusive boyfriend.
The life experience of Moncur--having worked with animals for years as a rescued-dog owner, animal rights speaker and online pet store owner--is evident in the author's choice of story-line. As a dog lover from the age of 8, she has appealed to young readers whom she believes are the biggest advocates for animals. She also successfully has explored the concept of "nice people vs. mean people" in terms that children would understand.
A portion of the profits of the book will be donated to animal charities.
---

Title - Rusty -n- Nikki, Doggie Lessons in Life and Love
Author-by Rusty as told to Janus Moncur; photography by Jim Greene
Publisher - Mon Coeur Publishing, LLC (1st ed., Jul. 23, 2007)
68 pp.
$14.95 (softcover) at amazon.com
ISBN-10: 0978652924
ISBN-13: 978-0978652920

---