Yakov Smirnoff brings laughter to Joplin
July 20, 2011
by Mari Winn Taylor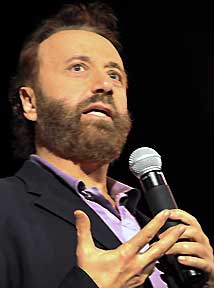 Those residents that accepted tickets for "Stand Up for Joplin," a free show organized by comedian Yakov Smirnoff, pictured at left, but didn't use them made a big mistake. The large number that did fill many of the seats downstairs and on the balcony at the Taylor Performing Arts Center on the campus of Missouri Southern State University in Joplin were in for a treat.
The audience had prior knowledge that they would be part of an event being filmed last night (the evening of July 19, 2011) for future broadcasting. We consequently were prepped on how to clap, hoot and holler and show appropriate emotion on cue. Comedians that performed throughout the evening seized opportunities to poke fun at everyone for this bit of cooperation.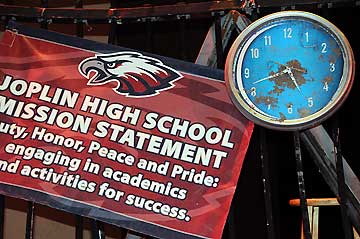 Several pieces of tornado debris were used on stage as a backdrop for the performers. Prominently displayed was the steeple from one of the destroyed churches, a solitary door, a twisted metal girder and a muddied school clock whose hands never made it to five o'clock or else were moved back by destructive winds.
One joke had to do with moving the debris inside...as if the audience didn't see enough of it outside. Other jokes had the audience laughing at themselves, making light of living in the Bible belt, being conservative Republicans and vehemently supporting their views.
Comedians who participated included Bill Chott (The Ringer, Wizards of Waverly Place), David Koechner (Anchorman: "The Legend of Ron Burgundy," Talladega Nights: "The Ballad of Ricky Bobby," The Office), Brett Butler (Grace Under Fire), Jeff Allen (Comedy Central) and Michael Jr. (Comedy Central, The Tonight Show with Jay Leno and Jimmy Kimmel Show).
While a lot of the material for the comics (some claiming residence in California) was autobiographical, most of it concerned situations to which the audience could relate--well almost. Consider what could be made of high school students being forced to attend classes in the mall. But there was a "pregnant moment," as my Dad would call it, when reference to Gay Pride in New York brought only a whimper of applause and the slight reference to Missouri being a traditional marriage state. And don't forget that the audience had been well primed beforehand to react.
Michael Jr. wanted the audience to leave with laughter. He brought and distributed for free copies of his DVD, Funny for a Reason dedicated "for my friends in Joplin, MO," that he autographed after the show. Michael Jr. couldn't help but stare out at a sea of white faces. His observation about that, however toned down, brought a reaction from me. Hey, wait a minute. Why was that? (I'll have to ask Jim West some time what was up with that.) The free tickets were advertised for everyone.
Smirnoff himself visited Joplin six days after the F-5 tornado on May 22, 2011, destroyed almost a third of the town. He said he visited makeshift shelters and at command posts talked to volunteers and firemen and law enforcement personnel that came from many surrounding areas, and he felt helpless. What he told them was that he wished he were stronger so that he could lift "that car, that house, that tree." When he was told that his presence lifted everyone's spirit, he realized that he had a role--to bring laughter to the people of Joplin.
What Smirnoff wanted to create was a show with humor that would benefit Joplin Schools. Interspersed among the comedic acts were celebrities, like Don Johnson that had ties to Missouri. They made an appeal from a large screen on stage. Their role was to solicit money from members of the upcoming TV audience for the reconstruction of the Joplin schools. One has to be reminded that the humor was also meant for this future listening audience. One can only imagine how the final take will be edited. It was reassuring to see that some filming was done by our own Darin McCann of KODE-TV.
Of course the show wouldn't be complete without Smirnoff's recounting of how he came to America with his family from Russia. Seeing an "America Loves Smirnoff" sign in New York where his family disembarked, Smirnoff is said to have developed an excuse for his signature refrain, "Whaaaat a country!"
In sharing a clip he took of his annual pilgrimage that he takes to Thousand Oaks, CA, Smirnoff introduced the audience to Raymond Ziff, 98 and his wife Irma, 95. The couple, who celebrated their 78th wedding anniversary last April, were his symbols of how laughter, in their case the fountain of youth, can help anyone get through the worst of tragedies.
I don't know when or how the program will be distributed on TV. Anyone who wants to donate money, services or items to the Rebuild Joplin cause now should go here.
Here's some photos I took from the front row, a great vantage point but well earned after coming early and shifting from foot to foot waiting for the doors to open and not as promised at six o'clock. Apparently, Gary Bandy and crew were inside the auditorium doing the news and weather.
Perhaps, some explanations are in order. 'Sorry but I don't have the name of the comedian in the red pantsuit; her role was to warm up the audience and she was very good at it. The group of kids are from Joplin High School; they sang the national anthem. The Joplin resident in the white tee shirt with the "I am Joplin" motto is Ellen Desmond; she was selected from the audience to embellish a skit on stage. Yakov pretends to break up the two comedians embracing; they are extending the gay rights message brought up earlier. Several shots of humor associated with the tornadic destruction were shown on the screen; one not shown is of a pick-up missing its roof with the message, "For sale, half price." The fellow on stage was blindfolded and asked if he could identify what was in a large padded envelope that the comedian held in his left hand; when he answered "no," the comedian pulled out the sign from the envelope showing that the fellow was indeed clairvoyant. (Yeah, a bit of Branson humor here.) In the first of the final three photos the comedians are taking a bow, a couple proudly displaying their bald heads; prior to that bald men and hat-wearing had been bantered about. The final shot is of Darin McCann shooting audience reaction. Click on a photo to start a slide show.