Heat is no deterrent for Joplin recovery workers
July 28, 2011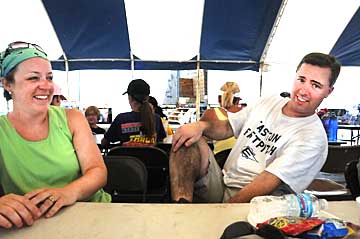 Volunteers Adrienne and Jerry Garvey stop for lunch under the tent in a parking lot at the devastated Joplin High School. After coming from cleaning up a Picher Avenue property, Jerry Garvey was demonstrating how dirty he became, especially after mixing dust with sweat during the day's record 104-degree heat.
by Mari Winn Taylor
The parking lot on the 20th Street side of the ruins of Joplin High School was a beehive of activity when I met Adrienne and Jerry Garvey. The Garveys who currently live in Lancaster, PA are not strangers to Joplin. She was a producer, then reporter for KODE-TV from 1999-2001, he a transferred manager of the now destroyed Pizza Hut on Range Line Road. They had met while students at Evangel University in Springfield and moved to Joplin still practically newlyweds. He was a Cleveland, Ohio native, she a native of Lancaster.
Jerry Garvey was on a business trip when he found out from TV reports that a strong tornado had just hit Joplin. He immediately phoned his wife. After sharing what little information was being reported at the time, they both knew that they had to come to Joplin to help in the recovery.
"For days we couldn't get a hold of our friends," Adrienne said. This anxiety re-triggered their commitment to make the trip.
To contribute to the recovery effort the Garveys set a goal of raising $5,000. They were excited after receiving the contribution in one lump sum from their local church, the Victory Church of Lancaster; they then received an additional $545 from the Christian Temple Church of Uhrichsville, Ohio, their stop along the route to Joplin where they dropped off their daughter, 8, and son, 2 with enthusiastically willing grandparents.
The Garveys said they had chosen to assist members of the Ignite Church, not, perhaps, because they knew of its lead pastor, Heath Moneyham's somewhat unconventional manner, but because they had heard from friends that the church had quickly and efficiently organized a relief effort. (Go to Help Joplin Rebuild, Ignite's website, to understand how the church is contributing.)
Since arriving in Joplin on Monday of this week, the Garveys have been helping to level houses and clean properties. Referring to a house on Picher Avenue, Jerry said, "It's piece by piece demolition." "There's just no roof." What he added that made the task much harder was the tongue-in-groove hardwood found throughout.
Helping with the piecemeal effort were kids, volunteers from St. Louis and states like Nebraska and Kentucky, the Garveys said, trying to remember all the locations. "The cool thing is that people just show up," Adrienne noted, adding "the more hands the better." And she recognized that local people are so grateful.
Adrienne said she was amazed over the number of people who want to help in some way. For instance, a local man who just came by asked her to make a selection from a box of work gloves he said were donated by his sister who lives in California. She added that there also is no shortage of food and water from other generous contributors.
Undoubtedly, never one to wilt, Adrienne said they had come from a 119-degree heat index back home and that it prepared them for Joplin's similar weather. "I hate to complain [about the heat]," Adrienne said. "We didn't lose anything...that's part of what sacrifice is."
To share in the Garvey's experiences, visit Adrienne's blog here. The Garveys also are looking forward to returning to Lancaster where they plan to share their experiences with their local church members.
Storage sheds are being built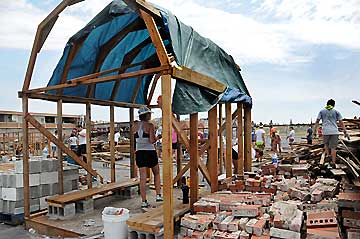 A youthful worker stands within the framework of a storage shed, one of many under construction. The ruins of Joplin High School appear in the background.
Matt Frederick of Harrodsburg, KY, who gave his age as 50, prefaced his remarks by commenting about how heat affects kids of today...not like when he was younger.
"We put kids to good use wherever we can," Frederick said, referring to the large number working on building storage sheds for people who lost their homes in the tornado. He was calling attention to the young volunteers who were removing nails from pieces of recycled wood stacked high in piles at this recovery center on the high school parking lot facing 20th Street; others were cutting longer boards to size.
Contributions of metal will be used to frame the structure and solar panels will provide electricity. The compact building presumably will be used to store household goods salvaged from the ruins, although Frederick would not be surprised if somebody wanted to live in one of them.
Frederick said that contributions of doors desperately were needed. The units, sitting in various stages, can't be completed without them.
The following photos are in recognition of those helping in the Joplin recovery. Please click on any photo to start a slideshow.