Winning contest brings money for Joplin parks
August 23, 2011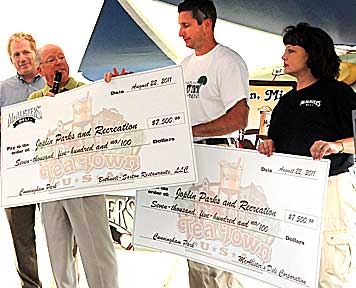 Joplin City Parks Director Chris Cotten, third from left, accepts checks for $15,000, from McAlister's CEO Frank Panky and Craig Bothwell, the local franchisee. The money, the result of winning a contest to vote Joplin "tea town USA," will be earmarked for the reconstruction and improvement of Joplin parks destroyed in the May 22, 2011 tornado. Pictured also at far right is Nova Fancher, McAlister's general manager.
Some people could be seen scurrying off with the containers of free iced tea in their hands. Others found themselves lingering. Something exciting seemed to be happening as local residents gathered under a tent set up on the corner of 26th Street and McClelland Boulevard in Cunningham Park last night (Aug. 22, 2011).
Most people clapped when checks for $15,000 were passed along to Joplin City Parks Director Chris Cotton by Craig Bothwell, representing McAlister's Deli. The money from the local franchisee and a corporate match is the result of Joplin having garnered the most votes in a Tea Town USA contest sponsored by the company. The Joplin location gathered 38,759 votes, the most of 300 other stores.
Other checks for $1,000 representing tips from the St. Joseph store location and for from the Joplin location for $1223.13 were presented to Greg James, local director of the American Red Cross. Tips left for McAlister employees are given to the charity of their choice.
Cotton has offered a new vision for Cunningham Park. Once boasting 116 shade trees, two pavilions, tennis and basketball courts and playground equipment, the park underwent extensive damage from the May 22 tornado, destroying these features. He hopes that the insurance settlement and donations will be used to bring the park back better than it even was.
McAlister's Corp. represents a Mississippi-based chain of "fast casual" restaurants founded in 1989 by Dr. Don Newcomb, a retired dentist, and his sons who converted an old gas station in Oxford, MS. Currently owned by Roark Capital, the company has 300 franchises and growing. In Joplin McAlister's is located at 2330 S. Range Line Rd.