Sixteen days to say good-bye
August 30, 2011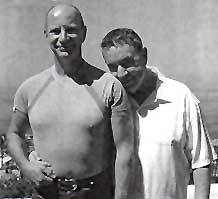 Pictured are David Hallman and Bill Conklin at Casa de los Arcos in Puerto Vallarta where they stayed every February for many years. (Photo compliments of the author)

by Mari Winn Taylor
For what may seem to be an intimate good-bye, author David G. Hallman wants the world to share in his accounting of the last difficult days of what was once a 33-year romance. August Farewell (iUniverse, 2011) tells the story of 16 days in August 2009, advanced chapter by chapter, between Friday August 7 when his lover, previously smitten with MS was diagnosed with advanced stage pancreatic cancer, until Sunday, Aug. 23 when Bill Conklin died.
It may be novel for many readers to be exposed to the life of two gay men. But Hallman's description of his panic over coming across as a nerd on the first date, the revelation of their "love at first sight," and how a jealous friend failed to railroad their relationship are situations not unlike any heterosexual relationship.
When they first met, Hallman describes his friend as "energetic" and "athletic," having an animal magnetism that was compelling. While he called him "Mr. Perfect," he lets the reader discover any faults--whether he displayed a "mischievous spirit" or simply was too much of a practical joker, whether his independence was a positive trait or whether his strong-willed nature lacked a bit of finesse. The reader gains glimpses into Conklin's personality each chapter as Hallman escapes the pain of witnessing his friend's diminishing capacity.
Says the author, "...I learned long ago not to interrupt Bill when in full flight, correct him in public or kick him under the table. Such gestures were always counterproductive with him, to my usual embarrassment."
Of course, Hallman does not claim to be without weaknesses not the worst of which was falling asleep while entertaining dinner guests. He also may be the one to acquiesce when challenged by his partner.
Chapter interludes also describe their life together, filled with music and art and the many trips they shared while Hallman worked for United Church of Canada addressing environmental issues worldwide. Especially poignant are accounts of times spent taking a romantic ride on the Nile at sunset and roaming the streets of Cairo, a trip to Moscow, scalping tickets in Milan in order to see a performance of Don Giovanni at La Scala for which they had failed to get advanced tickets, and the many winters spent in Puerto Vallarta. We're told of trips that included visits to cemeteries and gravestones including that of Oscar Wilde, Richard Tauber, Eva Peron and Marlena Dietrich. Besides memories of these trips, we learn that their condo with a picturesque view from a wall of windows is filled with memorabilia of a life together, including a signed Dali etching, Coronation in Vienna, a reminder of one of their favorite cities.
Describing the deaths of parents and a brother who committed suicide, Hallman says that he's "been down that road far too frequently in the past few years"...and "planning funerals doesn't get any easier." His computer becomes covered by tears as he reads responses from family and friends to the news he relates to them.
Conklin's dream of walking with Jesus, we are told, saves him from having irrational thoughts --going to hell over having killed his parents--because he ordered rolled oats for his Dad in the hospital which eventually caused him fatally to choke and for his mom because he acquiesced to her plea for removal of her breathing tube so she could die.
Conklin's own debilitating condition where at times only a furrowed brow are a sign of distress may lead the reader to ponder euthanasia although such an idea is never mentioned. As Conklin's symptoms increase, he stops eating, losing the ability to swallow and the capacity to speak. He is attended to by home health care workers that do their best to keep him from experiencing pain. Home health care rather than hospitalization is an option that Hallman thinks is underutilized.
Finally, the author sets the scene: The sun has set. The music is playing softly. A candle is burning beside [Conklin's] Jesus picture. After a nap from which he wakes up with a start at 10:20 p.m., Hallman sits down on a chair beside Conklin's bed, takes his hand, says "Good-bye, my darling, I love you" one last time, hears deep breaths that become silent and knows that his lover is finally "out of pain" and "at peace."
The book concludes rather nicely with a photo album chronicling Hallman's and Conklin's life together, an e-mail death notice to family and friends, details of the memorial service, a list of recorded music selections that were their favorites and finally Hallman's good-bye during a service of internment. One favorite musical selection is offered.
Lyrics
|
Nat King Cole lyrics
-
Unforgettable lyrics
---

Title - August Farewell
Author - David G. Hallman
Publisher -Rising Star/iUniverse, Inc.(Jan. 21, 2011) 165 pp.
ISBN-10: 1450286364
ISBN-13: 978-1450286367

---